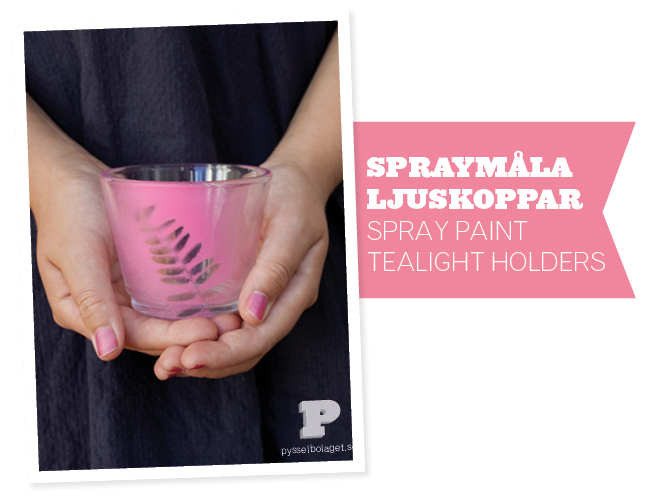 Vi fortsätter med vår ambition att hålla sommaren kvar så länge som möjligt. Ni missade väl inte våra spraymålade kuddar! Med hjälp av små blad och vanlig sprayfärg dekorerar vi idag enkla ljuskoppar av glas. / We continue with our quest to make the summer last as long as possible. I hope you didn't miss our fabric spray painted pillows! Today we'll be decorating tealight holders using tiny leaves and regular spray paint.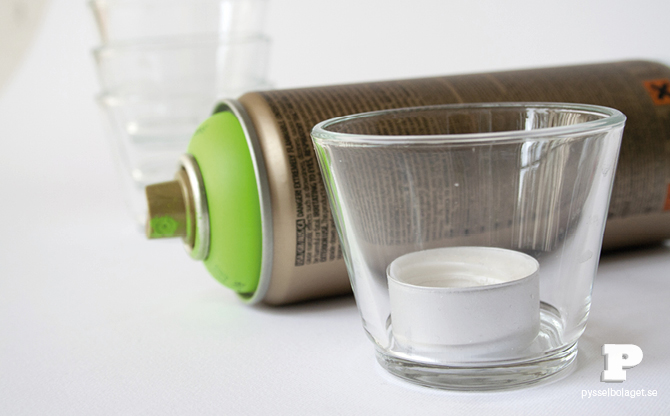 Ni behöver ljuskoppar i glas, våra kommer från Ikea, och sprayfärg. Ni behöver också små platta blad. / You need tealight holders in glass, ours are from Ikea, and spray paint. You also need small flat leaves.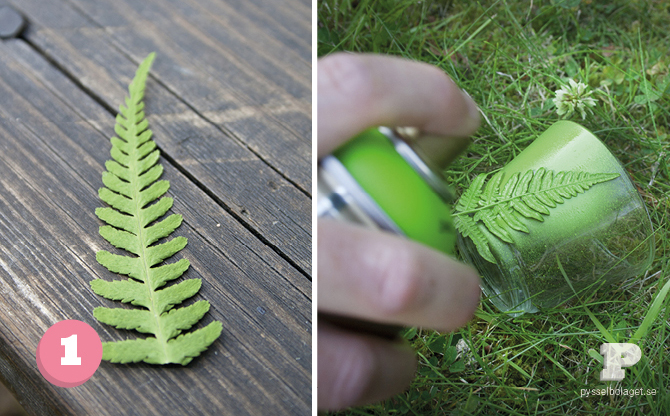 1. Beskrivningen till våra ljuskoppar är kort och enkel. Börja med att leta upp fina, platta blad i olika former. Lägg ljuskopparna på en oöm yta med god ventilation, placera bladet på ljuskoppen och spraya försiktigt. Sprayar man för hårt eller nära blåser lövet bort. / The instructions for this craft are short and simple. Start by gathering pretty, flat leaves of different shapes. Place the tealight holder on a rough surface with good ventilation, place the leaf on the tealight holder and spray gently. Don't spray too hard or near the leaf, it can blow away.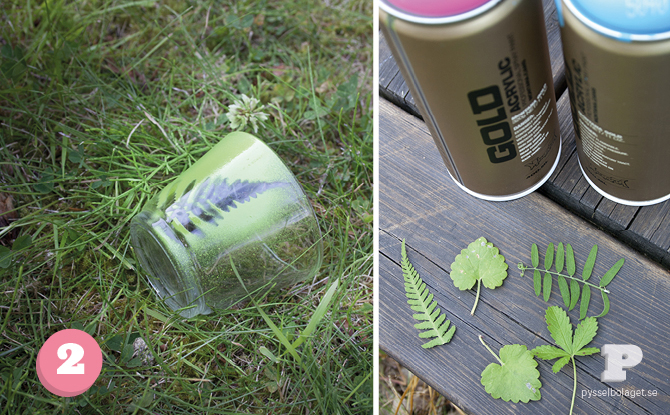 2. Lyft sedan försiktigt bort lövet och låt ljuskoppen torka. Klart! Vår lilla samlig blad ligger och vänta på att bli förevigade. / Then carefully lift off the leaf and let the tealight holder dry. Done! Our tiny collection of leaves waiting to be craft material.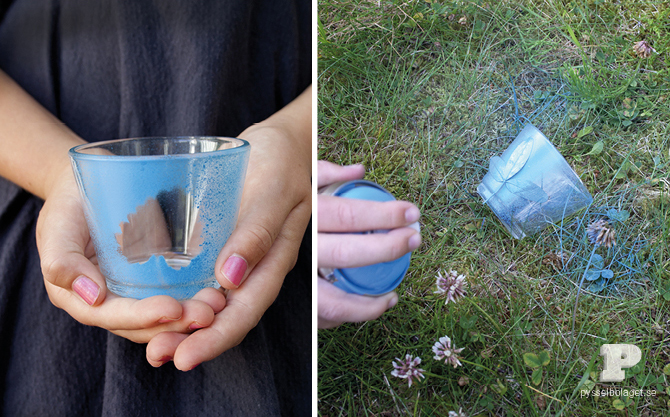 Som vanligt gäller det att läsa noga på burken innan ni börjar spraymåla. Jag och Freja spraymålar ofta och gärna men vi gör det alltid utomhus och ser alltid till att ha oömma kläder och underlag. Gräsmatta har den här sommaren fått alla möjliga olika färger. / As always, read the instructions on the bottle before you begin to spray paint. Freja and I love to spray paint, and we do it often, but we always do it outdoors and we always make sure to protectclothing and surfaces. Our lawn has had all sorts of different colors this summer.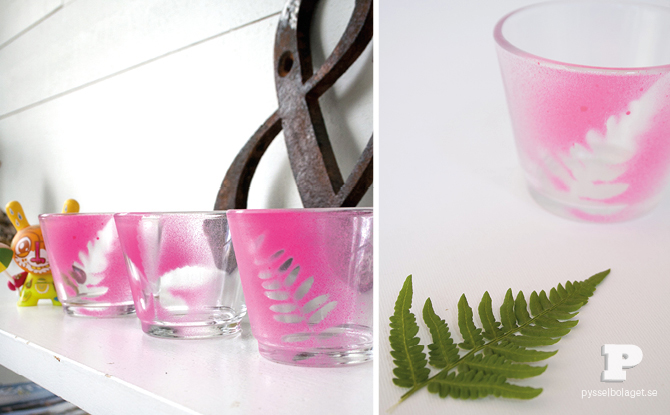 Våra nya ljuskoppar i rosa placerade i hyllan i väntan på höstmörkret. / Our new tealight holders in pink, placed on the shelf waiting the autumn gloom.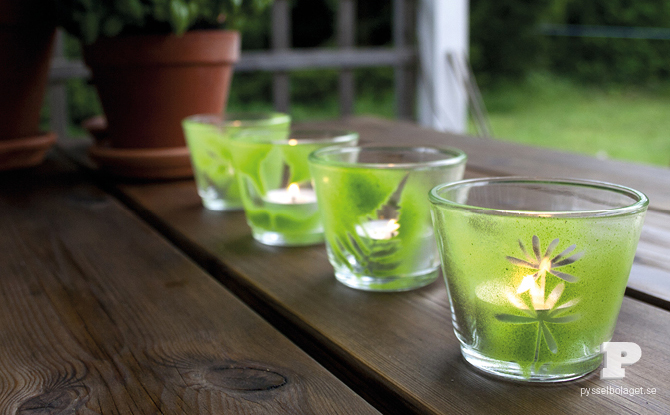 De gröna ljuskopparna har vi redan invigt. Visst är de fina när det lyser. / We have already started using the green tealight holders. They are lovely when lit, aren't they.
Att spraymåla är ett snabbt och lätt sätt att ändra utseende på saker man tröttnat på. Vi är mycket nöjda och glada över våra nya somriga ljuskoppar och ser redan fram emot nästa sprayfärgs projekt! / Spray paint is a quick and easy way to change the look of things you've grown tired of. We are very pleased with the look of our new tealight holder, and we are already looking forward to next spray paint project!