Sommaren i Sverige är kort men ljuv och man känner ofta att man vill den hålla kvar. Idag visra vi ett sätt att bevara minnena av sommarens vackra blad, med hjälp av textil sprayfärg. Textil sprayfärg är lätt att använda och, till skillnad från vanlig sprayfärg, är den luktfri. Färgen fick höga betyg av Freja, mest för att resultatet blir så fantastiskt. Kolla här! / The summer in Sweden is short and sweet, and one wants to hold on to it. Today we'll show you a way to preserve the memory of beautiful summer leaves, using fabric spray paint. Fabric spray paint is easy to use and, unlike regular spray paint, it is odor free. The paint got high marks from Freja, mostly because the result is so amazing. Check this out!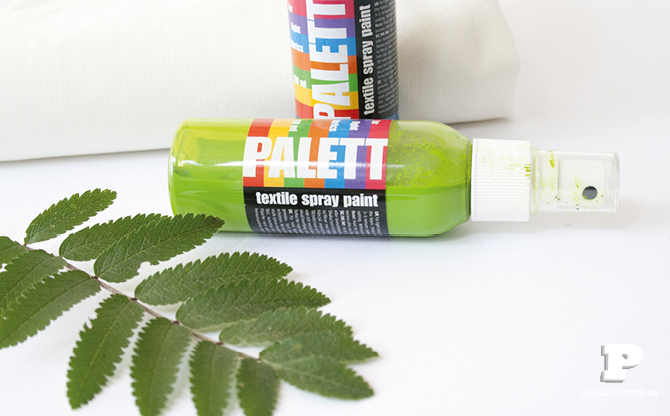 Ni behöver textil sprayfärg, ljust bomullstyg och fina men platta blad. Ni kommer också att behöva ett strykjärn. / You need fabric spray paint, light cotton fabric and pretty but flat leaves. You will also need an iron.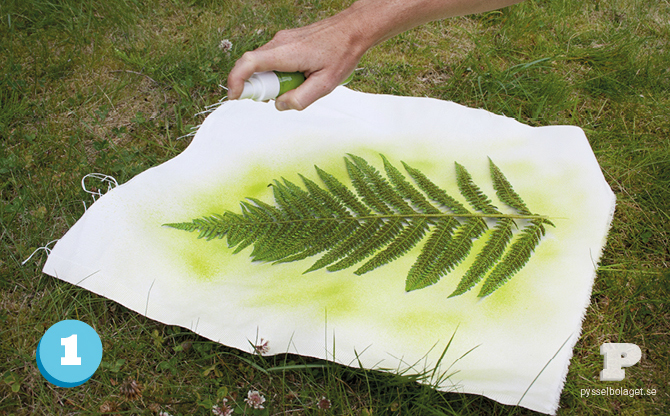 1. Även om färgen inte luktar är det skönt att vara utomhus när man sprayar. Se bara till att det inte blåser för mycket. Vi fäster inte bladet, utan lägger det platt på tyget. Nu är det dags att börja spraya! / Even if the paint doesn't smell, it's nice to be outdoors when spraying. Just make sure it's not windy. We've chosen not to attach the leaves to the fabric, just put it flat on the fabric. Now it's time to start spraying!
2. Sprayfärgen är lätt att jobba med även för barn. Man behöver inte spraya jämnt, men man behöver vara lite snabb så att färgen inte rinner av bladet. Så fort ni sprayat färdigt lyfter ni bort bladet från tyget. / The spray paint we use is easy to work with even for children. It doesn´t need to be evenly sprayed, but you want to be fast so that the paint doesn't flow off the leaf. Once you've finished spraying you remove the leaf from the fabric.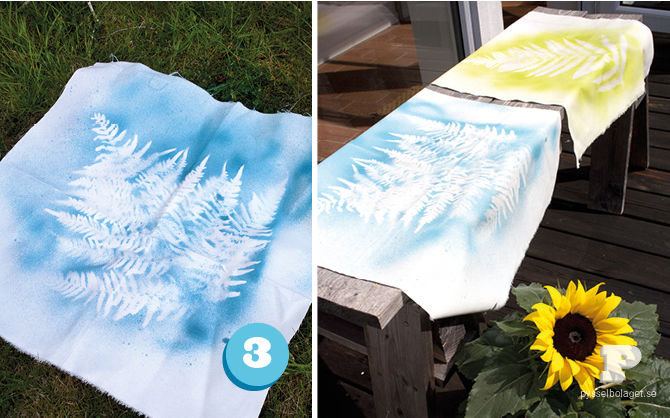 3. Låt sedan färgen torka. Här ligger våra mästerverk på tork! / Let the paint dry. Here are our masterpieces out to dry!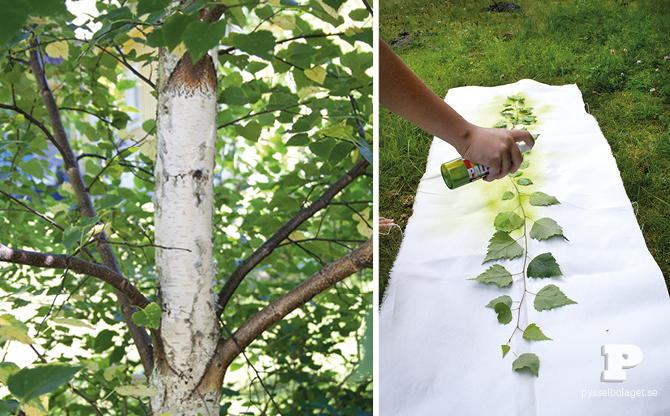 Man kan olika sorts blad, det viktiga är att de är platta så att de ligger platt mot tyget. Här testar vi björklöv. / You can use any kind of leaves, the important thing is that they are flat so that they lie flat against the fabric. We're testing birch leaves.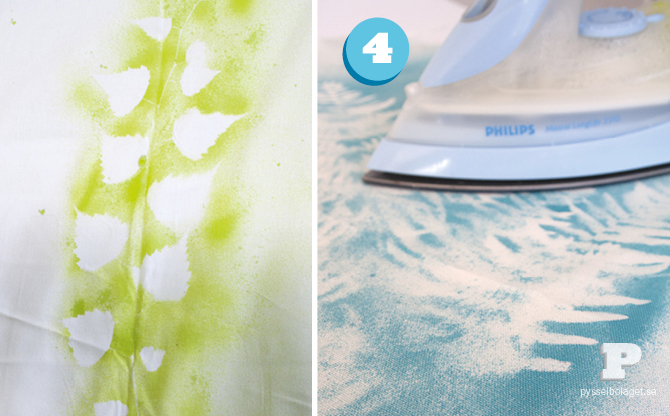 4. Färgerna fixeras med hjälp av ett strykjärn. Hur varm och hur länge man behöver stryka står på förpackningen. / To fix the paint use an iron. The instructions on your bottle will tell you how warm and for how long you need to iron.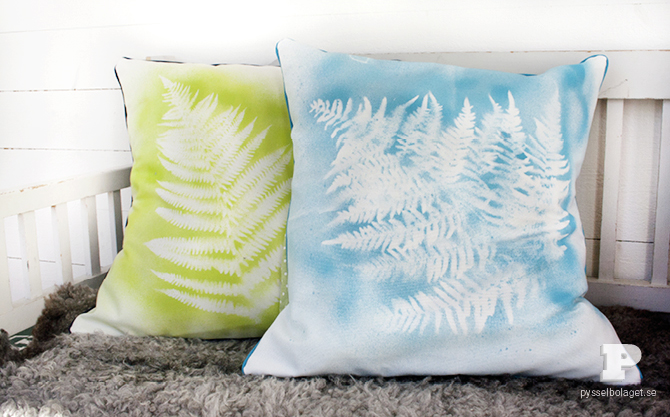 Så här ser våra sprayade tyger ut när de är färdiga. Vi valde att sy kuddar av de första tygerna, men har även planer på bordsdukar och servetter. Tänk så härligt att duka med skira sommartryck när snön vräker ner utanför! / This is our finished fabrics. We chose to make cushions of the first fabrics, but we also want to make tablecloths and napkins. Just imagen how lovely it would be to set a table using sheer summer prints while the snow is pouring down outside!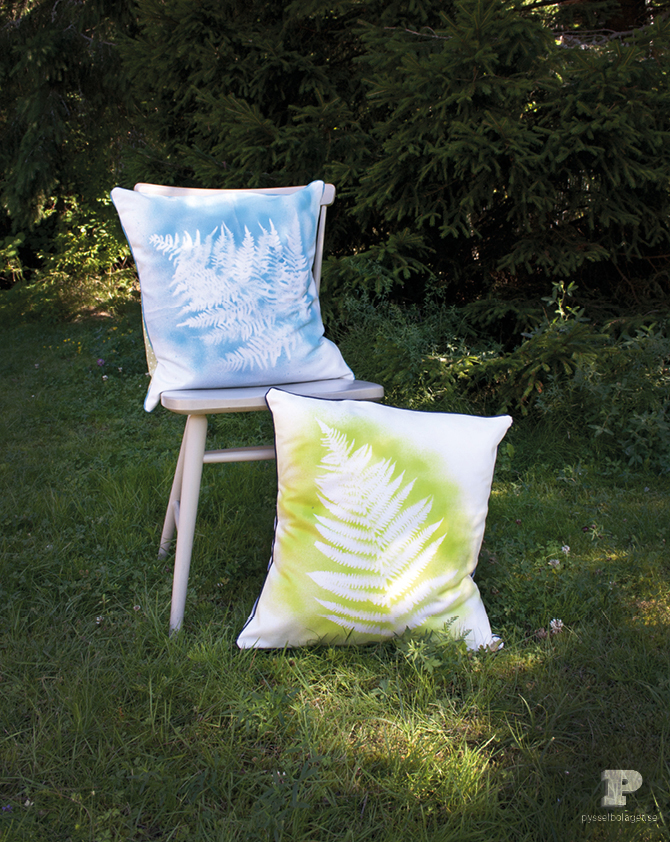 Nästa vecka är vi tillbaka med fler sprayfärgsprojekt, den här gången med vanlig sprayfärg. Välkomna tillbaka! / Next week we're back with more spray paint projects, this time using regular spray paint. Welcome back!