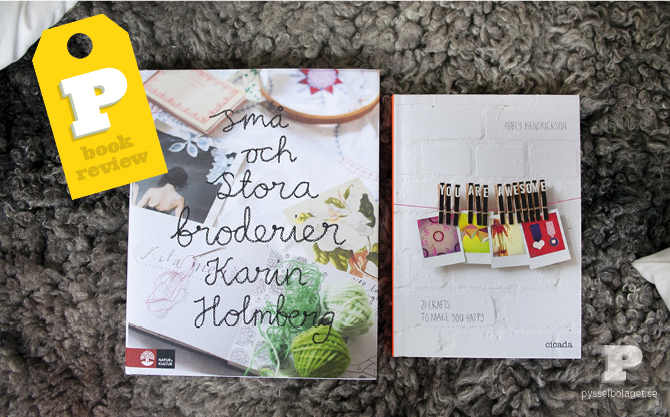 Då var det äntligen dags för boktips igen. De två böckerna som vi skriver om idag är Karin Holmbergs Små och stora broderier och You are awesome av Abbey Hendricksson. Kanske det kan bli några hårda paket i jul.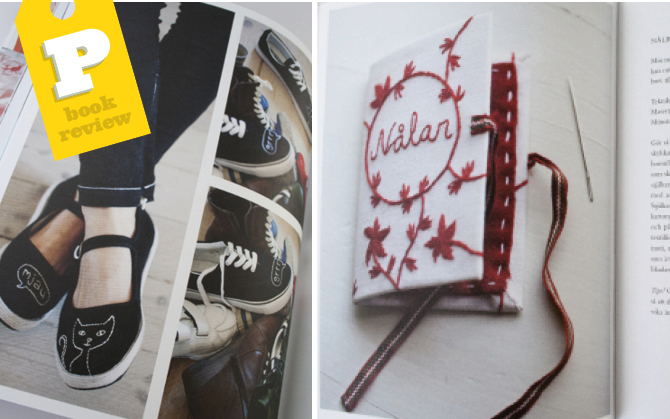 Ni som följer oss vet att vi tidigare under hösten lottat ut Karins Små och stora broderier, men vi tycker att den är så bra att den behöver en riktig recension. I boken finns vackra bilder och roliga och oväntade projekt för både garderoben och hemmet. Ett av de roligaste projekten, enligt oss, är de broderade skorna!
Ett annat roligt broderiprojekt är de fina pappershängena. Brodera på papper – varför har inte vi tänkt på det! Ett perfekt julprojekt.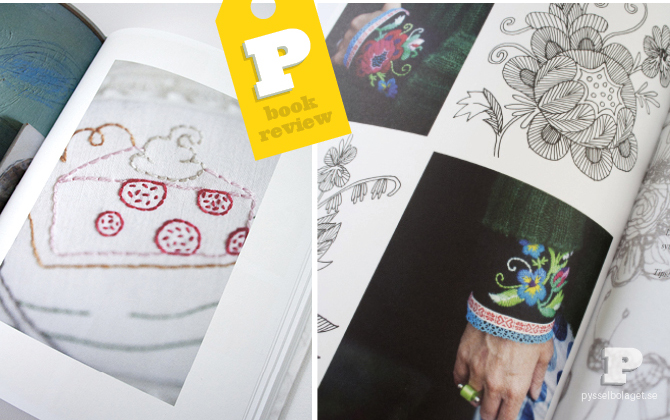 Boken har tydliga beskrivningar, roliga mönster och många härliga idéer. Den är tjock och tung och känns underbar. Karin har en bok sedan tidigare, Karins broderier, och hon driver även den väldigt inspirerande bloggen Brodösens blogg. Båda böckerna finns på svenska.
It's finally time for a new book review . The two books we have for you today are Karin Holmberg's Små och stora broderier, and You are awesome by Abbey Hendricksson.
Those of you who follow us know that we earlier this autumn had a give away for Karin's book. But since we like the book so much we decided it needs a proper review as well. The book contains beautiful pictures of fun and unexpected projects, for both your wardrobe and home. One of the most enjoyable projects, according to us, is the embroidered shoes!
Another fun embroidery project is these paper ornaments. Embroidery on paper – why didn't we think of that! A perfect christmas craft.
The book contains easy descriptions, fun patterns and many wonderful ideas. It is thick and heavy and feels wonderful. Karin has made a another book, Karins broderier, and she also runs the very inspiring blog Brodösens blog. Both of the books are available in Swedish only. A shame, isn't it.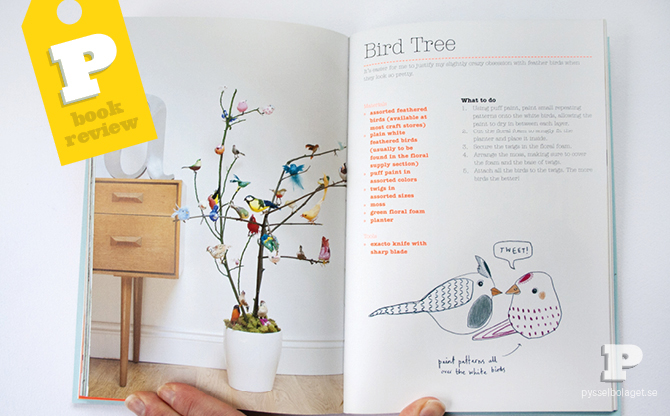 Vår engelska bok heter You are awesome och innehåller "21 pyssel för att göra dig glad". Vi kan bara intyga att så är fallet – man blir glad. Abbys projekt är underbara på ett lite galet och charmigt sätt. Vad sägs om dessa pimpade fåglar!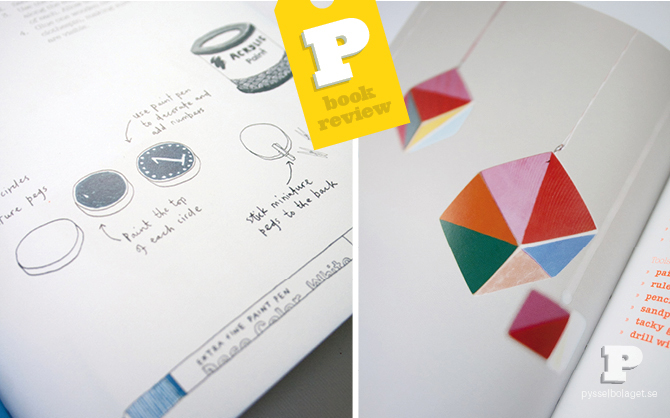 Boken är rikt illustrerad, både i form av fotografier men även illustrationer. Lär dig göra drinkskyltar och kubiska mobiler…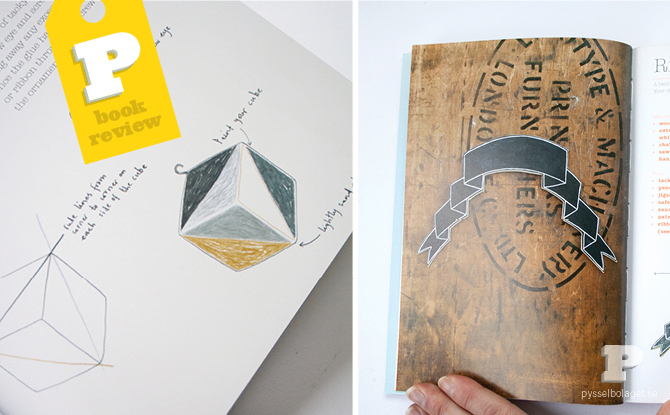 … eller varför inte göra en anslagstavla i form av ett veckat band. Abby inspirerar och hjälper oss tänka utanför boxen. Söker ni en annorlunda pysselbok med lite större projekt har ni hittat rätt. Boken är på engelska och finns här. Abby driver också bloggen Aesthetic Outburst.
Our English book is called You are awsome and contains "21 crafts to make you happy." We can only confirm that this is the case – it makes you happy. Abbys projects are wonderful in a bit crazy and charming way. How about these decorated birds!
The book is richly illustrated with photographs but also illustrations. Learn how to make the drink markers and cubic ornaments or why not make a charkboard in the form of a ribbon. Abby inspires and helps us think outside the box. The book is in English and it's available here. Abby also runs the  blog Aesthetic Outburst.
Pysselbolaget

Att pyssla tillsammans är roligt. Här finns enkla roliga pyssel som inte kräver mycket kunskap, utrustning eller tid. Pysselbolaget består av Freja, som är 9 år, och Frejas mamma Karin, som är i sina bästa år. Läs mer om oss här.

-------------

Crafting together is fun. Here you find crafts that do not require a lot of knowledge, equipment or time that both kids and parent will have great fun creating. We are Freja, 9 years old, and Frejas mom Karin who is in her prime and constantly improving.

Copyright

Pysselbolaget samarbetar gärna med andra bloggar och media. Du får låna enstaka bilder till din blogg men ange alltid källa, länka till Pysselbolaget.se och behåll vår märkning på bilderna. Vi tillåter inte användning av hela beskrivningar, länka istället till bloggen. Om du använder våra bilder vänligen skicka ett mejl till: vi(at)pysselbolaget(punkt)se.

Om du vill använda vårt material i kommersiellt syfte vänligen kontakta oss.

-------------

Pysselbolaget loves to collaborate with other blogs and media. You are welcome to use one or two photos, but please always mention the source, link to Pysselbolaget.se and do not remove the watermarks from the pictures. We do not allow unauthorized use of full tutorials/blog posts, link to the blog instead. If you are using a photo for your blog please notify us by e-mail vi(at)pysselbolaget(dot)se.

If you want to use any material commercially contact us prior to use.

search categories