Att smälta pärlor i ugnen är något av det roligaste vi gjort på länge. Inspirerade av bloggen The Artful Parent testar vi med andra pärlor. Häng med!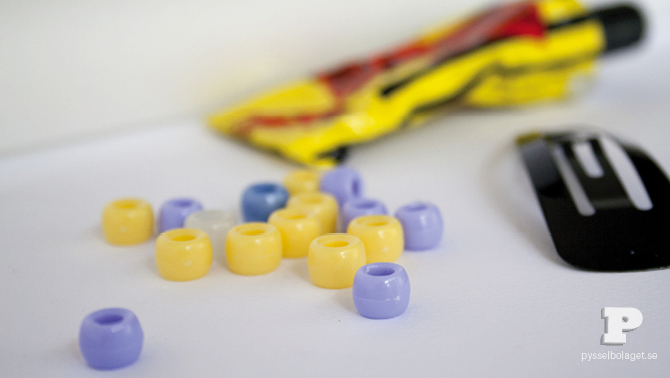 Ni behöver stora plastpärlor, typ kongopärlor och bakplåtspapper. Vi har också använt hårspännen och klister att fästa våra färdiga blommor på.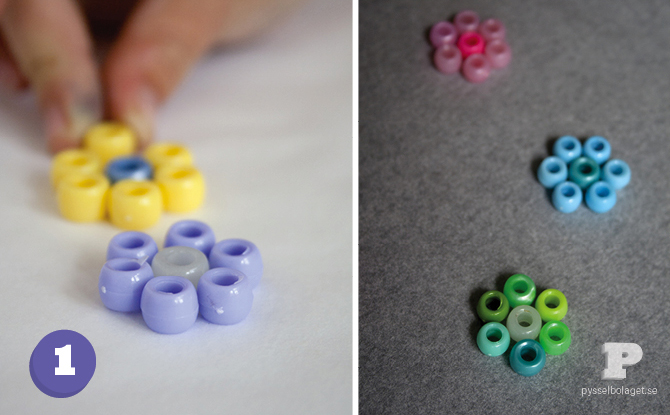 1. Principen är enkel, pärlorna läggs nära varann på bakplåtspapper och bakas i ugnen i 225 C i ca 10 min. Tyvärr luktar pärlorna riktigt illa när de smälter och det är säkert inte särskilt hälsosamt att andas in ångorna. Vi rekommenderar full fart på fläkten, öppna fönster och att barnen är i ett annat rum.
2. Pärlorna smälter också olika fort märkte vi, håll därför noga koll på ugnen hela tiden. Vi använde pärlor av olika kvalitet och även om de flesta blev fantastiska så fick vi några "hoppsan"…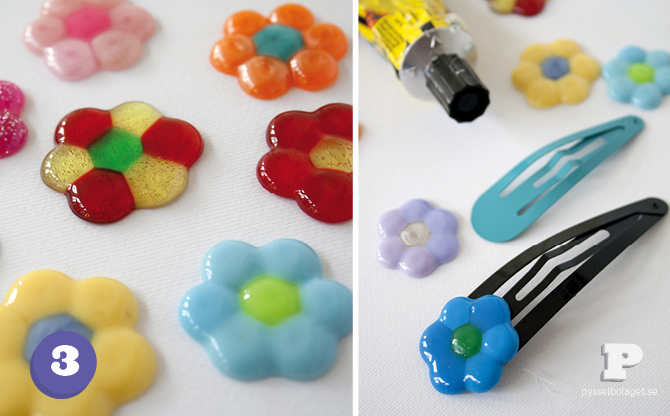 3. Låt era vackra blommor svalna ordentligt och fäst dem sedan på till exempel hårspännen.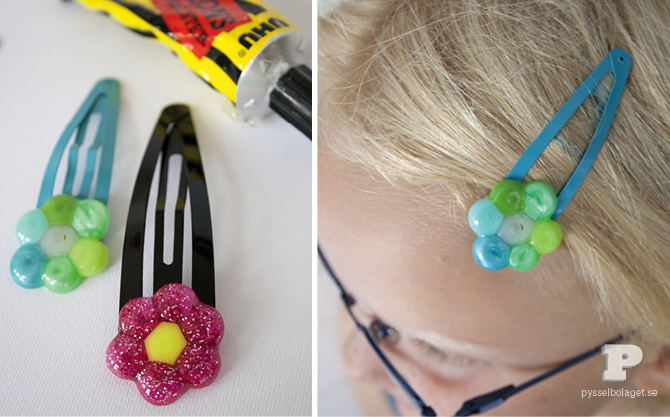 Trevlig helg!
To melt beads in the oven is one of the funniest things  we've done for a long time. Today we're testing, inspired by the blog The Artful Parent, other sorts of beads. Check it out!
You'll need pony beads and baking paper. We also used hair clips and glue to attach our finished flowers.
1. The concept is simple, place the beads in close shapes on baking paper and bake in oven at 225 C/425 F for about 10 minutes. Unfortunately, the beads smell really bad when they melt and it's probably not very healthy to breathe in the fumes. We recommend full speed on the fan, open windows and kids in another room.
2. The beads also melts with different speed we noticed, so keep a close eye on the oven all the time. We used beads of different quality, and although most turned out amazing we got a few "oops "…
3. Let your beautiful flowers cool properly and attach them on for example hairpins.