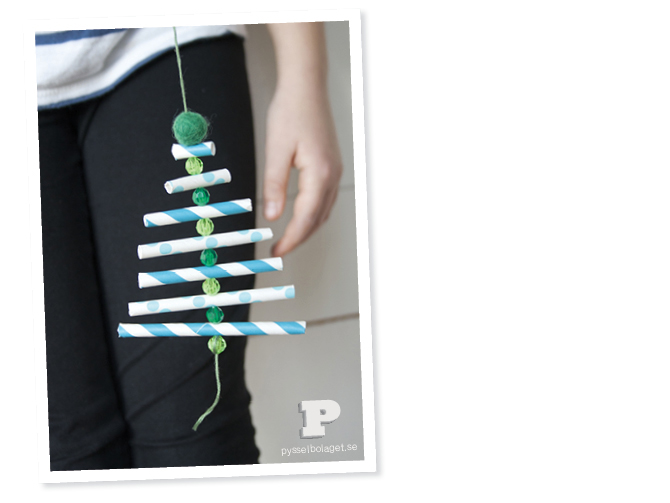 Nu är det äntligen dags för årets första julpyssel. Idag gör vi granar av sugrör att hänga i granen. Vi gillar verkligen pappersugrör, de blir fina och festliga till kalas och man kan pyssla med dem.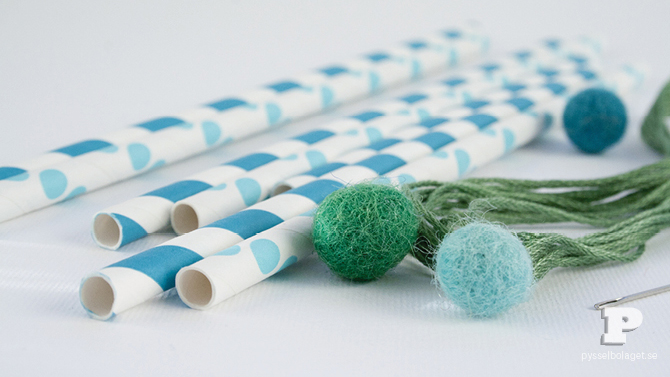 Ni behöver papperssugrör, sax, pärlor i olika storlekar, tråd och nål.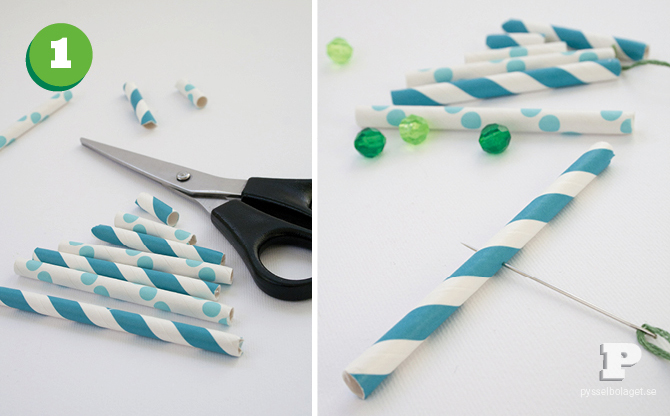 1. Börja med att klippa sugrören. Eftersom vi har valt att göra granar av våra sugrör ska alla sugrören ha olika längd. Den minsta är cirka 2 cm lång och den bredaste är cirka 9 cm. Kanske vill ni ha längre, kortare eller fler sugrör i er gran. Prova er fram och se vad som passar er.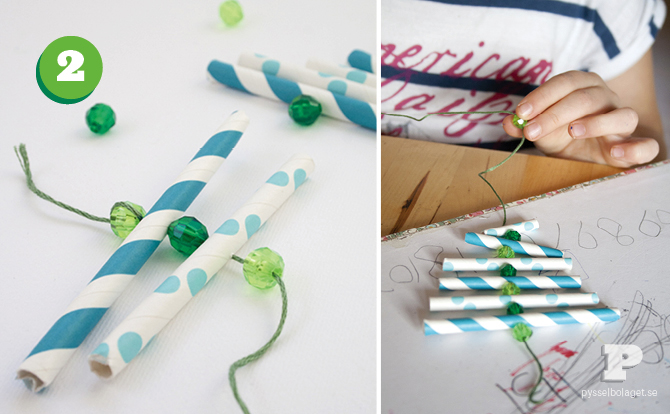 2. När alla bitar är till klippta är det dags att trä upp dem på tråd. Se till att ni använder en vass nål, då är det inga problem att trä upp dem. Varva varje sugrör med en pärla.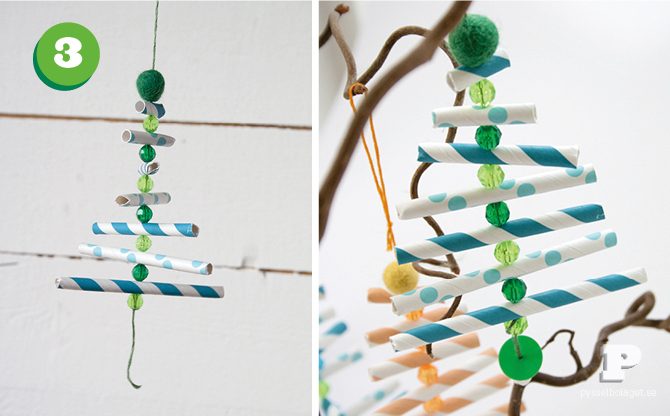 3. Till sist avslutade vi våra granar med en lite större pärla. Har ni inga stora pärlor kan man till exempel klippa till en stjärna i papper.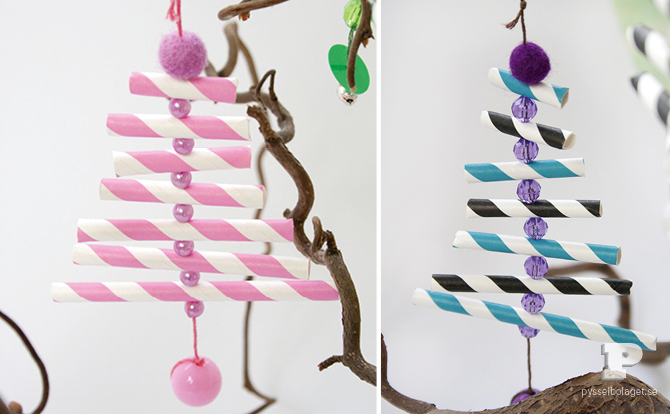 Det gör ingenting om man inte sticker precis i mitten på sugröret. Om granen blir lite sned rör den sig fint när det hänger upp. Att göra de här granarna går fort och är roligt. De går också att variera med olika pärlor och sugrör. Här är några av våra. Hoppas nu bara att det blir jul fort! Får ni sugrör över kan ni testa våra sugrörsmonogram? Eller kanske hästhoppen vi gjorde i somras.
It's finally time for our first Christmas craft. Today we're making ornaments of paper straws to hang in the Christmas tree. We really like paper straws, they are nice and festive for parties and you can make crafts with them.
You need paper straws, scissors, beads of various sizes, thread and a needle.
1. Start by cutting the straws. Since we have chosen to make christmas trees of our straws, all straws are cut in different length. The smallest is about 2 cm long and the widest is about 9 cm long. Maybe you want your tree to have longer straws, shorter or more straws. See what suits you.
2. Once all the pieces are cut, it's time to string them on a thread. Make sure you use a sharp needle, then it is no problem to string them up. String a bead between each straw.
3. Finally, we finished our paper straw tree with a larger bead. You can also, for example, cut a star out of paper.
You don't need to be too exact. If the tree is a little skewed, it moves nicely when it hangs freely.
Making these trees is quick and fun job. They can also be varied, by using different beads and straw. Here are some of ours. Now we're just longing for Christmas!
Have left over straws? Try our paper straw monogram here. Or maybe the horse jumps we did last summer.