Our little friend L has a sweet room – but it's a little pale. I like white furniture and walls, but in a kid's room I want color! So what can you do to get a nice room if you're not an expert on putting up wallpaper and you don't want to spend your free time painting walls? Join us as we, with small means, existing furniture and flea market finds, do a kids room makeover!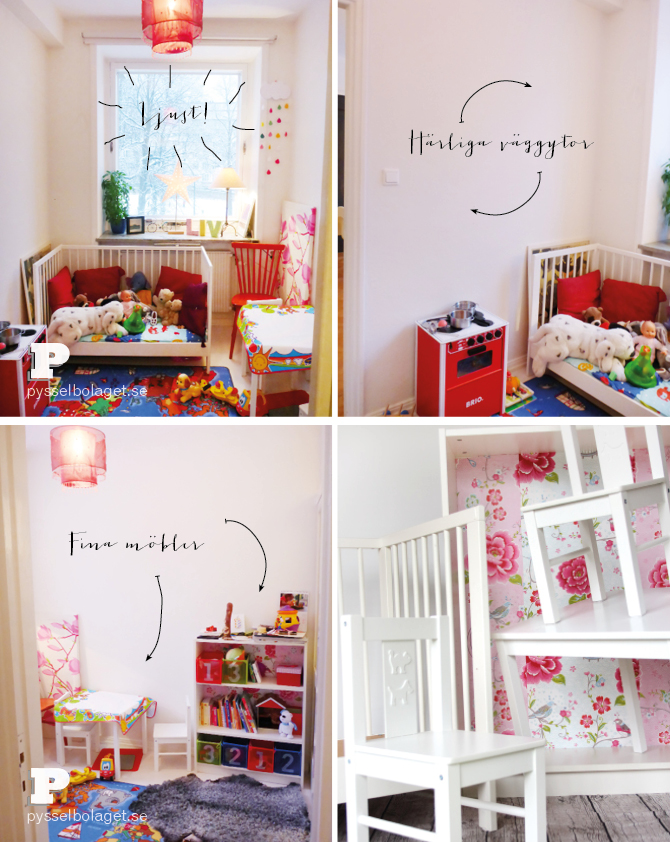 Little L's room is small but big enough for our little friend. The room has a beautiful large window and nice white walls. The crib is no longer used for sleep, but works as a mini sofa for the little lady.
The furniture is from the large Swedish furniture store and they are excellent for a kids room. I see no reason to buy expensive baby furniture, the little ones soon grow out of them, however one might think that they are a bit colorless. That will soon be changed. We have a crib, a shelf where mom S already has papered the inside and tables with chairs to work with.
First we make a moodboard. We collect images and ideas to see what we want to do and can do. Here are some of our inspiration: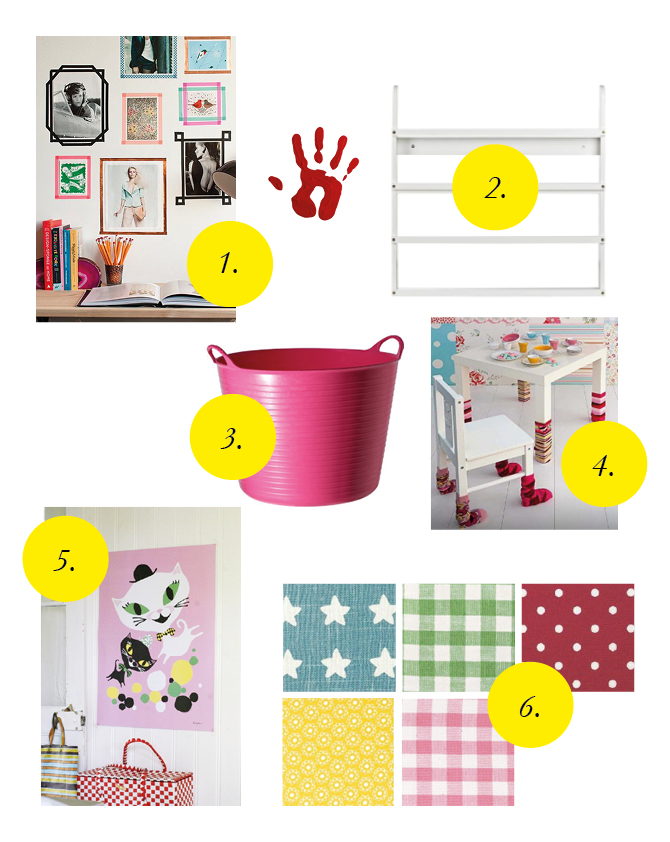 1. We want images on the wall, images that kids like. We use washi tape because it enables us to tape on the walls and wallpaper without ruining them. We will search for pictures of cute dogs, cats and family members. Source Designsponge.
2. We like to invest in a shelf to display the front of little miss Ls books! This one is from Åhlens.
3. Plastic baskets to put toys in. They can be found in home improvement store. The baskets are soft and you can fill them, drag them around and hang on them without them breaking. Source Tubtrugs.
4.  Isn't it a lovely picture! We quickly realized that the socks would go off in a heart beat, but we like the idea. Source Shelterness.
5. Bright colors and happy animals ! Camilla Lundsten Littlephant posters get to symbolize the sense and the colors we want. Source Littlephant.
6. We also choose fabrics in bright and cheerful colors. Source Stoff & Stil.
7 & 8. Bunting can be used to brighten up any room. We will try to figure out a garland easy enough for Freya to make. We are inspired also by the crates on the wall. An excellent addition to the regular shelves and a surface to place the slightly more delicate items that kids have in their room. Photo Petra Bindel.
9. The bookcase will get color of the shelves, colors that matches the nice wallpaper background.
10. We like to paint a small part of the wall. We paint with magnetic paint and then cover it with a color. Probably yellow! Source Hegeinfrance.com.
11. Soft, indoor lightings are important! Source Happy lights.
12. Inspired by Littlephant we will make mattress covers and a soft fabric ceilings for the crib. Source Hus & Hem.
Making a moodboard is a great way get an idea of ​​what you have, what you need to purchase and what to make. We now have a color scheme in order and a plan for what we want to do next. Have a nice weekend.