Photo Helena Nord/Mormorsglamour
It's time to fill our homes with the spirit of Christmas. With goodies baking in the oven, beautifully wrapped presents under the tree, shiny sparkly decorations and new and old traditions to enjoy with our loved ones.
For the third year running, The Creative Collective Sweden – a group of creative bloggers in Sweden – is excited to present a daily dose of Christmas creativity with our creative Christmas Calendar. It's an advent calendar full of inspiration, great ideas, and step-by-step DIYs for a more creative holiday season. Each day in December, the calendar will take you to a new festive project – something to make, bake or do in preparation for a perfect Scandinavian Christmas. The calendar will wander between us and we will made it easy for you to keep up.
This year the calendar will also feature a long list of celebrated guests, among them The House that Lars Built, Sweet Paul, Mokkasin, Kreativa Karin, Babes in Boyland, Gröna Skafferiet  and Kriis Kitchen. Each guest will present their unique take on a Scandinavian Christmas, and help you to have the most beautiful Christmas ever.
So be ready on December 1st. The countdown to Christmas has never been more creative!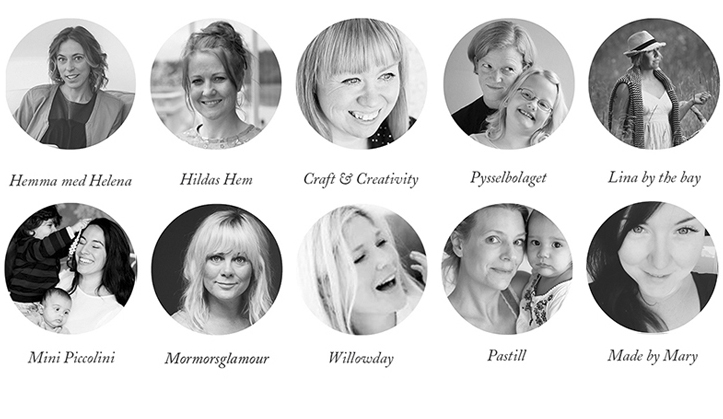 The Creative Collective Sweden is a group of like-minded creative bloggers in Sweden who's work spans from design, crafts and DIY, interiors, food and baking, and lifestyle. The Creative Collective Sweden offers a uniquely Scandinavian aesthetic and point of view.
The Creative Collective Sweden is:
Helena Lyth, Hemma med Helena
Sofia Brolin, Hildas
Helena Söderberg, Craft & Creativity
Karolina Eriksson, Lina by the bay
Malin Lundgren, Pastill
Maria Strömberg, Made by Mary
Mina Neumüller Malhotra, Mini Piccolini
Helena Nord, Mormorsglamour
Gina Vide, Willowday
… and Pysselbolaget, of course. We also have our own facebooksida, a brand new Instagramkonto and a Pinterest board. Welcome!