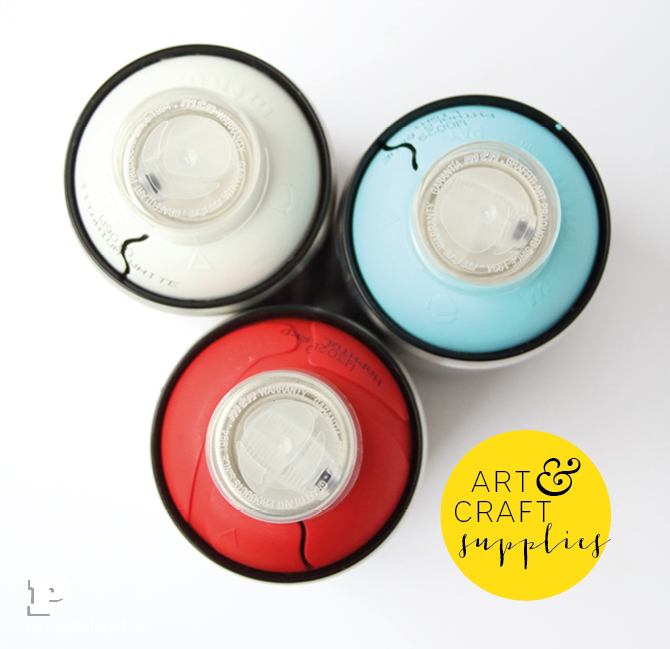 Those of you who follow us know that we use spray paint on a regular basis. Using spray paint is an easy way to turn old and worn things into new and useful. Spray paint is easy to use and covers most surfaces but the regular spray paint is also dangerous, both for those using it and for the environment. Protective mask is recommended because the vapors can cause headache, fatigue, dizziness and nausea. Gloves are recommended since the contact with the skin color may cause redness, irritation and dry skin. But even the cans are dangerous. They are classified as extremely flammable and can explode in case of a fire – and yet we use it…
We use spray paint is because it's outstanding when it comes to transforming old to new. I want to encourage my children to keep and redo, to reduce and recycle. A coat of spray paint and old toys, cans and furniture are like new again.
I am therefore excited to see new water based spray paints on the market. Finally. On Highlights I found a favorite, Montana, in the new water based version. I have also seen other brands in other stores, and it makes me happy.
We are still cautious when we use spray paint. We always read the instructions carefully, and encourage you to do the same, and we always use the paint outdoors. Remember that the even the water based paint is difficult to remove once it's dry, but fresh stains can be removed with just soap and water during the first 20 – 25 minutes. Our painted goods are still left to dry and ventilate outside before we take them in, but the water based paint is it's virtually odor less! Love it!
Here are some of the successful projects we have made using spray paint. Many of them are in use on a daily basis. Recycling at its best, don't you think?
Toy lamp / Tooth Fariy Jars / One more toy lamp / Animal rack / Sweet jars