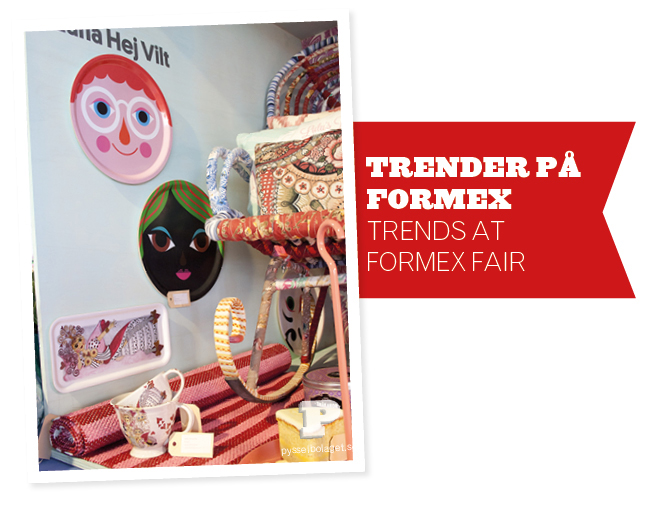 Förra veckan gick trend- och designmässan Formex av stapeln i Stockholm. Formex är Sveriges största mötesplats för nordisk inredningsdesign. Här samlas utställare inom present, hemtextil- och inredning och det är ett utmärkt tillfälle att spana in årets trender. / Last week the trend and design fair Formex place in Stockholm. Formex is the largest meeting place for Nordic interior design. It brings together exhibitors in gifts, home textiles and interior design, and it is a great opportunity to check out this year's trends.

Varje år görs en trendutställning för att illustrera årets trender och produkterna i utställningen är plockade från de olika leverantörerna på mässan. Det vi såg i utställningen var att de naturliga materialen fortfarande är inne, även om de ibland dyker upp på lite oväntade ställen. Här en kudde i trä! / Every year a trend exhibition is built to illustrate this year's trends and the products in the exhibition are hand picked from the various exhibitors at the fair. The exhibition showed us that natural materials are still in, but sometimes used on unexpected objects. Here a pillow in the wood!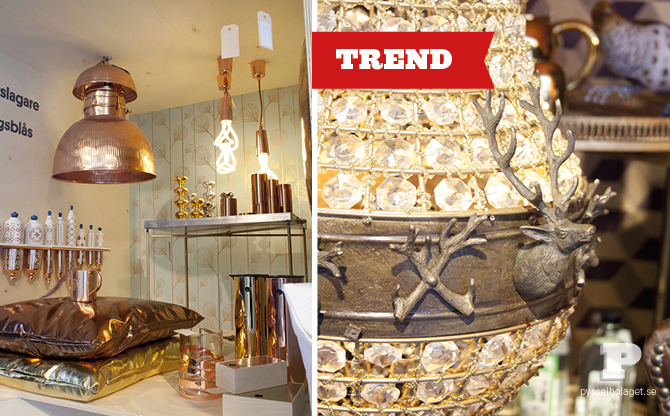 Även de blanka materialen, som koppar och brons, fick ta plats i trendutställningen. Koppar är ett material som många diy-bloggare gett sig på i Sverige. Den underbara bloggen pastill.nu är ett exempel. De roliga och oväntade djurdetaljerna är också kvar. Vi kan alltså fortsätta spraymåla leksaksdjur och samtidigt känna oss trendiga. / Shiny materials, like copper and bronze were also shown in trend exhibition. Copper is a material that many DIY-bloggers in Sweden has used. The wonderful blog pastill.nu is an example. We also saw fun and unexpected use of tiny animals. In other words, we can continue to spray paint toy animals and still feel trendy!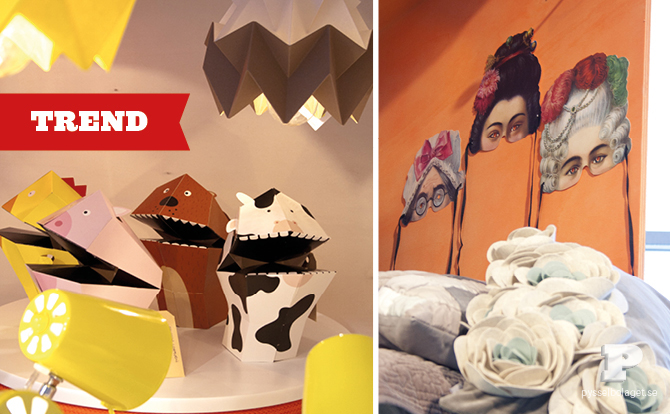 De syns tydligt att "gör-det-själv" trenden håller i sig. Det var mycket origami och pappersprodukter i utställningen. Och kan man inte göra själv, kan man köpa färdiga lampskärmar och masker. Fast visst vore det roligt att försöka… / It was clear to see that the "do-it-yourself" trend continues. We saw lots of origami and paper products in the exhibition. And if you can't do yourself, you can buy ready-made lamp shades and masks. Though it would be fun to try …
Många produkter ser ut att inspirerade av återanvändning, en del av dem är till och med gjorda av återvunna material. Ett underbart exempel på det är Crème de la Crèmes underbara krokar, en rolig flört med vår tradition att hänga fina tallrikar på väggen. / Many products seemed to have been inspired by recycling, some of them are even made from recycled materials. A wonderful example is Crème de la Crèmes wonderful hooks, a fun fling with our tradition to dispay plates on the wall.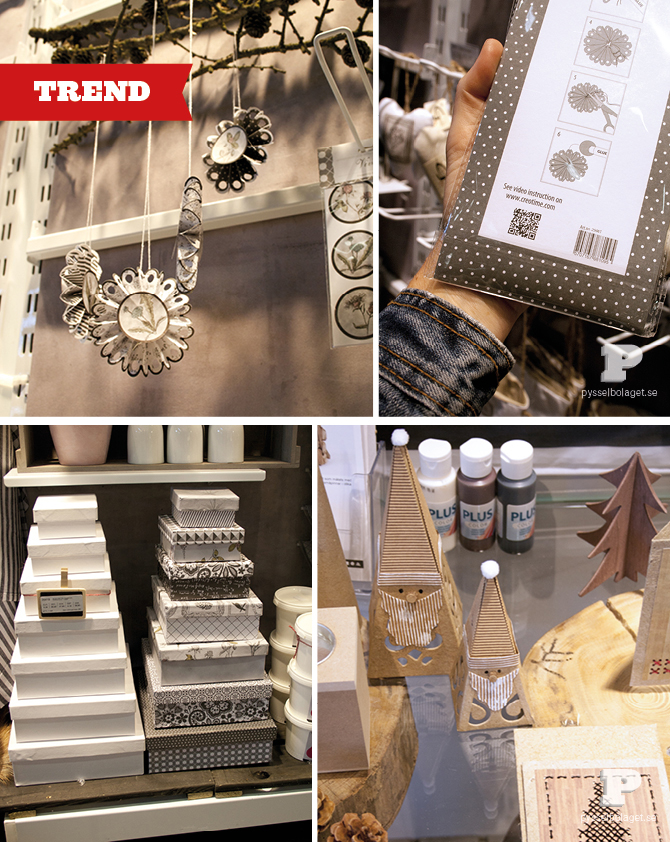 På mässan fanns också utställare som visade sina senaste pysselmaterial. Creativ Company visade genomgående finstämda grafiska mönster på papper, tyger och även tejper. Många av de papperornament som fanns färdiga hos andra leverantörer finns även här – men i form av "gör det själv"-kit. Smart är också qr-koden på baksidan av varje förpackning, en kod som leder direkt in till respektive beskrivningen. / There were also exhibitors showing their latest craft materials at the fair. Creativ Company showed consistently subtle graphic designs on paper, fabric and even tapes. Many of the paper ornaments showed by other exhibitors we also found here – but in the form of "do it yourself" kits. A smart thing is also the qr code on the back of each box, a code that leads directly to the right description.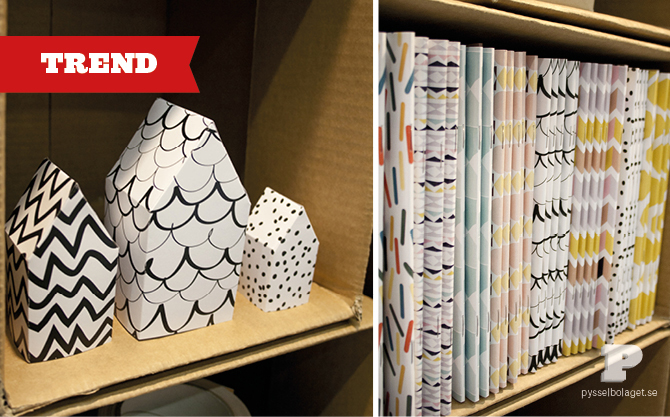 En annan rolig leverantör av pysselpapper är företaget RioRio. Maria och Sofia skapar mönster med folkloristisk inspiration. Bland produkterna finns mönstrade pysselpapper,  klistermärken, tejp men även färdiga klippark till dessa underbara hus. I butiken på deras hemsida finns vissa saker till försäljning. En lista på återförsäljare finns också. / Another interesting supplier of craft paper is the new RioRio. Maria and Sofia creates patterns with folkloric inspiration. The products include patterned craft paper, stickers, tape but also diykits for these wonderful houses. The shop on their website have some things for sale. A list of distributors is also available at their website.