[slideshow_deploy id='2219′]
Att göra om loppisfynd är både roligt och ekonomiskt fördelaktigt. Jag gillar också att visa mina barn att trasiga saker kan, med lite fantasi och färg, bli någonting annat. Vi hittade en gammal jordglob med en trasig karta och bestämde oss för att förvandla den till en lampa. / To re make flea market finds is both fun and financially beneficial. I also like to show my children that broken things can, with a little imagination and color, becoming something else. We found an old globe with a broken map and decided to turn it into a lamp.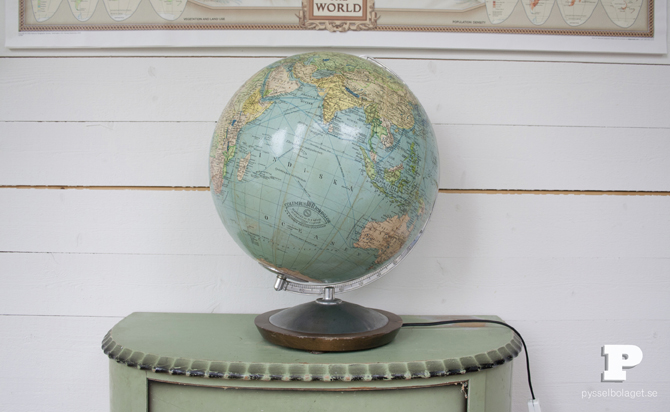 Vi har använt en gammal jordglob av glas. / We have used an old globe of glass.
1. För att få en fin lampa krävs en fin glob, och den bör vara i glas. Många nyare jordglober är i plast och de är inte så fina. Det kan vara svårt att bedöma skicket på glasgloben. Vi hade tur, kartan på vår glob hade spruckit och vi kunde se att glasgloben var fin. / To get a nice lamp you need to find a pretty sphere, and it should be in glass. Many newer globes are made ​​of plastic and they are not that nice. It can be difficult to assess the condition of the glass globe with the map on. We were lucky, the map of our globe had burst and we could see that the glass globe was beautiful.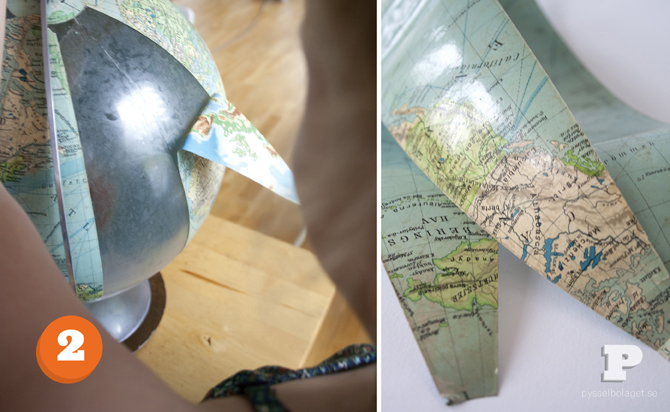 2. De flesta kartbitar var lätta att dra av. Kartbitarna sparar vi förstås. De är vackra och vi kan säkert komma på något att göra av dem en annan gång. / Most map pieces were easy to pull off. The map pieces we save of course. They are beautiful and we can surely think of anything to do with them another time.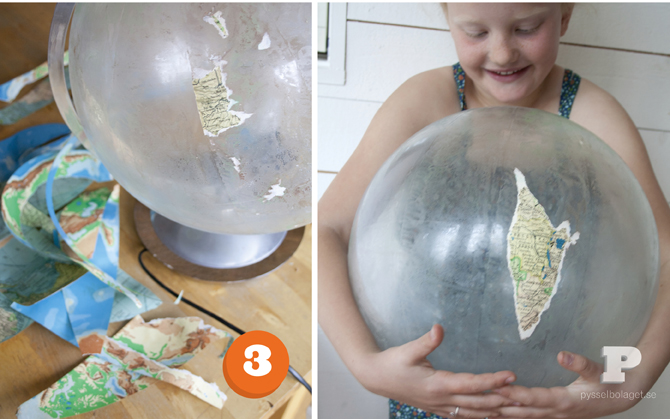 3. Som ni ser blev det lite skräp kvar på globen. Den är också täckt med rester av klister. Ändå kan man ana hur fin den kommer att bli. Tappa den inte, Freja! / As you can see, it was a bit rubbish left on the globe. It is also covered with remnants of glue. Yet one can imagine how nice it will be. Don't drop it, Freja!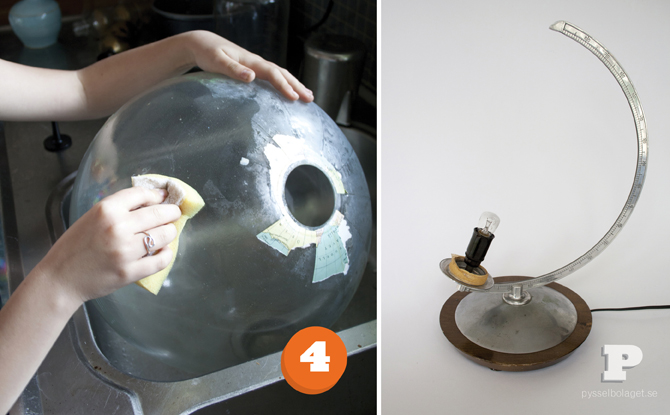 4. Med lite ljummet vatten och en svamp går klister och kartrester lätt bort. Fäst sedan globen på ställningen och lampan är klar. / With a little warm water and a sponge the glue and map residue is easily removed. Fasten the globe to the stand again and the lamp is ready.
Glasgloben är vacker både tänd och släckt, och vi är mycket nöjda. Ett trasigt loppisfynd blev en unik lampa. Nu ska vi bara fundera ut vad vi ska göra med de resterande kartbitarna. Trevlig helg! / The glass globe is beautiful both with the light on and off, and we are very happy with it. A broken flea market find became a unique lamp. Now we just have to figure out what to do with the remaining map pieces. Have a nice weekend!