När Freja fyllde år fick hon en härlig lera av sin pysselkompis Annie. Leran heter Foam Clay och den är perfekt att göra leksaksgodis av. / When Freja had her birthday party she got a lovely type of clay from her crafty friend Annie. The clay is called Foam Clay and it's perfect for making toy candy.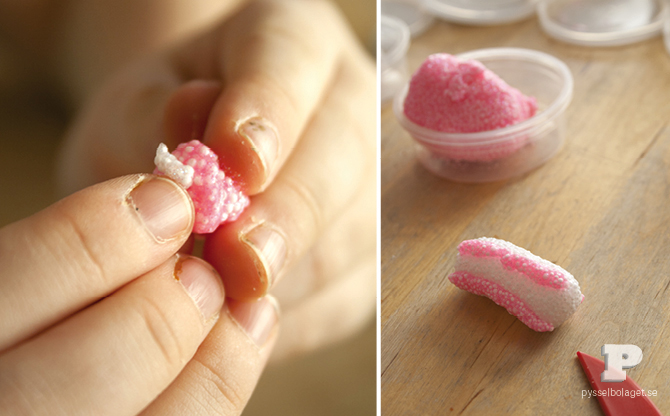 Ni behöver Foam Clay från Make&Create. Här finns också massor av inspiration att hämta. Leran kommer i ett paket om 6 olika färger. / You need Foam Clay from the webshop Make&Create. You can also find plenty of inspiration on the site Make&Create. The clay comes in a package of six different colors.
1. Börja med att knåda leran ordentligt. Sen är det bara att forma lera efter ert favoritgodis. Vi gjorde små mintrutor och rullar… / Start by working the clay firmly and then make your favorite candy. We did little mints and rolls …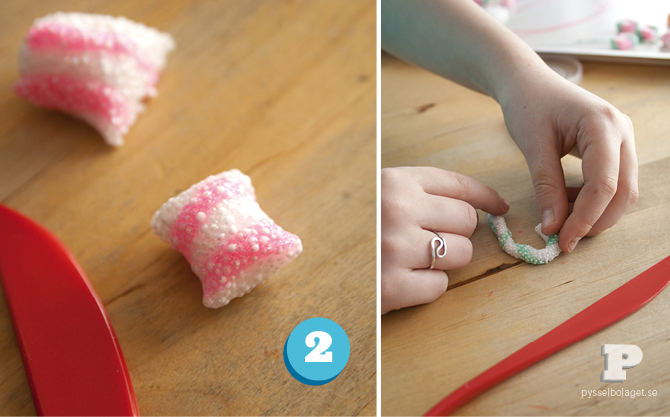 2. … polkagrisar, godiskäppar och mycket, mycket mer! / … peppermints, candy canes and much, much more!
3. Leran lufttorkar på ett par dagar och under tiden passar vi på att göra egna godispåsar. På bloggen Craft & Creativity finns en utmärkt beskrivning på hur man gör små papperspåsar. Våra påsar är gjorda av vanligt vitt konstorspapper och washitejp. / The clay air-dries in a few days and in the meantime we take the opportunity to make our own candy bags. On the blog Craft & Creativity there is an excellent tutorial of how to make small paper bags. Our bags are made of plain white office paper and washi tape.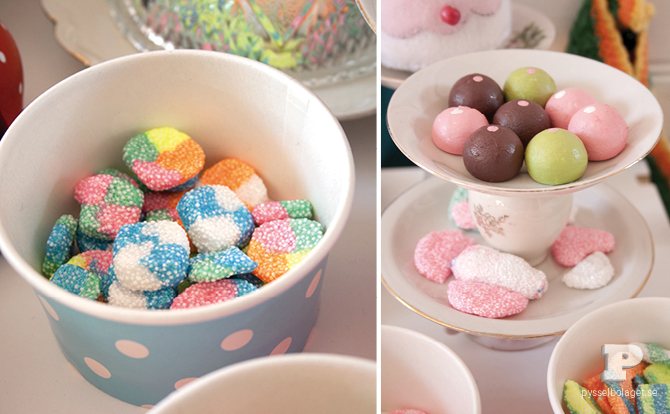 När leran har torkat är det dags att duka upp! Freja har dukat med kakfat gjorda av dockporslin. Beskrivning hittar ni här. Chokladpralinerna är också hemmagjorda, och den beskrivningen hittar ni här. / When the clay has dried, it's time to set up the shop! Freja  is using a cake stand made ​​of doll porcelain, the tutorial can be found here. The chocolate pralines are also homemade, the tutorial for them can be found here.
Godisbutiken kan öppna och alla som vill är välkomna in. Trevlig helg önskar vi er! / The candy store can open and anyone is welcome to visit. Have a good weekend!