Today we invite you to a guided tour of our Crafts Closet. The Fantastic craft community Cut Out + Keep has asked for a peek into our little part of heaven. More on that can be found here. I really wish I we had a large and bright and craft room. Those of you who follow us know that this is not the case. We craft at the kitchen table, carry things around just to have to clean it all off again in time for dinner – and it works just fine. However, we have lots of craft materials that need to live somewhere. We gladly save paper rolls, cardboard boxws, milk cartons and other nice-to-have materilas and all that takes up space.
The solution is an old walk in closet that was left over when we extended our house. Perhaps you have already seen our pegboard – if not, check it out. The projects on display are from the blog, for example the wreath of pom poms, the doll face necklace and cardboard shelves. The calendar owl, trash can and cloud clock is all from our book Pyssla med mig.
The closet holds the smallest sofa bed found on the market and a pair of lovely old shelves. On the wall we display some of our own work, like our geometric artwork from last year and the lovely happy faces we did for the Southern Institute. The icing on the cake is our beloved Carlos from the talanted Jenny and Jens at Sammy Rose.
In the closet we also have 3 shallow kitchen cabinets. The cabinets holds plastic boxes with twine, tape and paint. On the old shelf we store small jars, string, tools and other trinkets.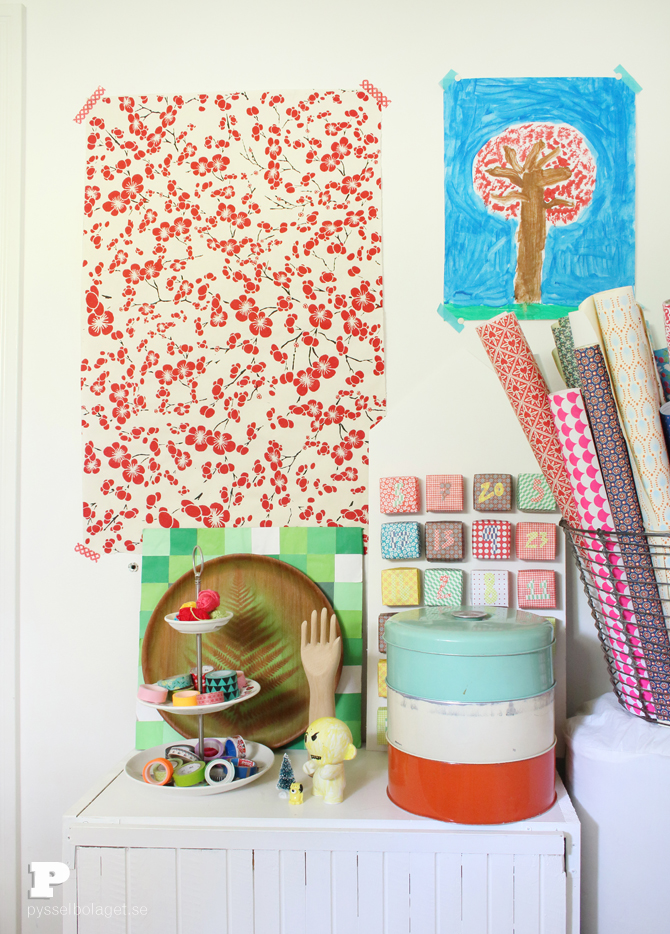 As you can probably see, the room is full of things and we have to go in one at a time when we need to fetch something. It's still nice to have a space for material and inspiration. It's fun to see many of our craft projects in use. The cake stand we made is perfect for beautiful washi tape rolls and on the spray painted tray we collect the thing we need at the kitchen table.
Check out all the photos and an intervju at Cut Out + Keep, where you'll also find inspiration, tutorials, and much, much more.