Our projects don't always work out as well as we intend, the rainbow bookshelf is a good example of that. If the end result hadn't turned out so good I would never have shown this project on the blog. It took me many days and even more gray hairs to complete the shelf. If you want a rainbow bookshelf but you're not used to working with spray paint and large pieces of furniture, I recommend that you leave the shelf to a pro. The result was after all wonderful. This is what we did!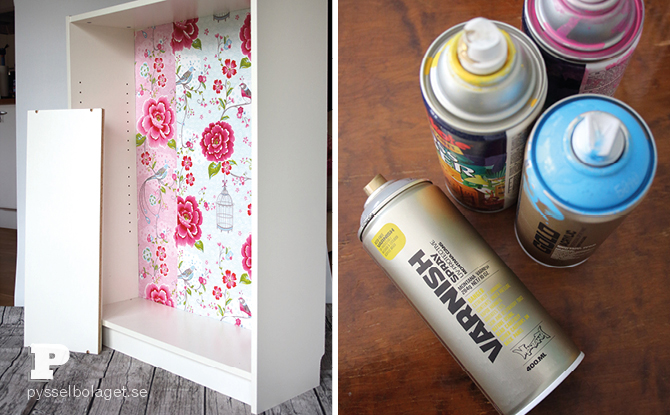 We use a shelf where little L's mom already papered the back wall, spray paints in colors that match the wallpaper and a spray varnish. We use regular spray paint, since we had it at home, but now you can find water based and environmentally friendly spray paint from Montana in the Swedish market!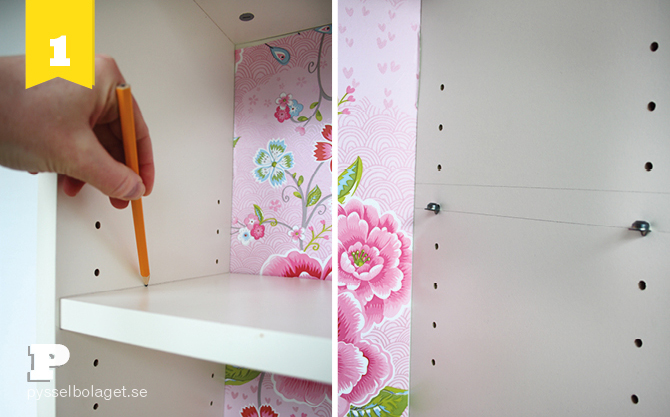 1. We want each shelf section to have its own color therefore, before we take the shelf apart, we mark out where the shelves will be placed. Also mark out the color for each section. It is easy to mix up the shelfs when the bookshelf is in pieces – believe me.
2. Sand the surface gently, the paint will not stick otherwise. Tape and cover up the parts not to be painted. Then you're good to go; spray – remove tape – let it dry, and again; tape and cover – spray – remove tape – dry … Spray thin layers many times and always make sure to have good ventilation. We are always outdoors when we use spray paint. Finish off with a varnish on all painted surfaces. We use a spray varnish from Montana designed just for this purpose.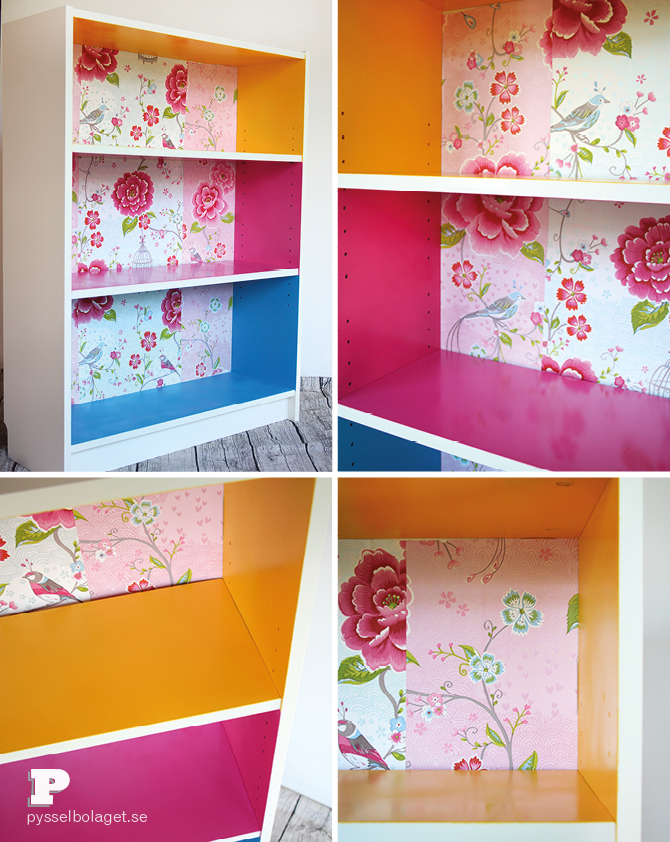 It sounds simple, doesn't it! Make no mistake, I have carried shelves up and down, covered them with tape more times than I can count and sprayed the wrong color on the wrong shelf – but the result is wonderful. The shelves are bright and the beautiful wallpaper emerges even more clearly. Is it strange that I'm showing a craft I don't recommend you to do? Maybe, but I trust that you know your own capabilities. Lots of hard work but the end result is beautiful, don't you agree!