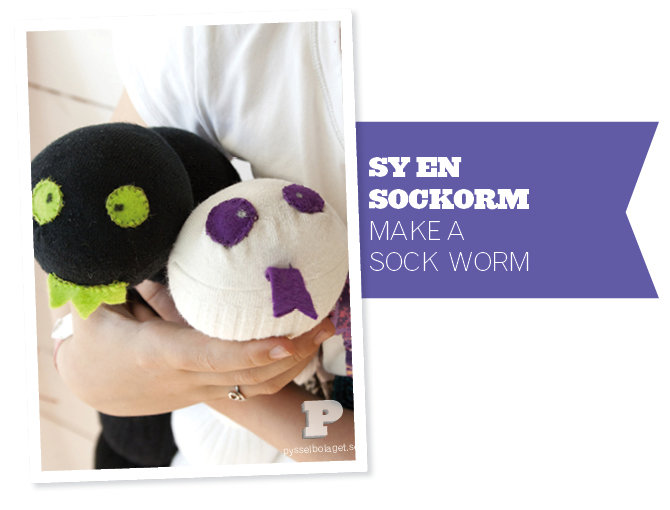 Ni som följer oss vet att vi älskar att återvinna våra gamla saker. En av anledningarna är förstås att vi vill spara vår miljö, en annan är att vi skulle ruinera oss om vi behövde köpa material till alla våra pyssel. Idag återanvänder vi Frejas strumpbyxor. Ni som har små döttrar vet att det går åt en hel del strumpbyxor. Hål i grenen och på tårna går att laga ett par gånger, med efter ett par gånger funkar det inte längre. Vi har tidigare gjort mugghållare och mobiltelefonfodral av gamla strumpor. Idag blir det ormar! / Those of you who follow us know that we love to recycle things we have at home. One of the reasons is of course that we want to save our environment, another is that we would be ruined if we had to buy materials for all of our craft. Today we reuse Frejas tights. Those of you who with daughters know they use up alot of tights. Hole in the crotch and on the toes can be fix a couple of times, but after a while it doesn't work anymore. We have made cup holders and cell phone covers of old tights before. Today we'll make worms!
Ni behöver barnstrumpbyxor, Sax, nål och tråd, vadd och några små bitar filt. / You need children tights, scissors, needle and thread, batting, and some small pieces of felt.
1. Börja med att klippa av ena benet på strumpbyxan. Fyll benet med vadd och knyt med en tråd ihop änden på byxan. Knyt också trådar med jämna mellanrum längs med benet, så att masken får en maskig kropp. / Start by cutting off one leg of the tights. Fill the leg with batting and tie a piece of thread around the end. Also tie threads evenly along the leg, so that the worm gets a wormy body.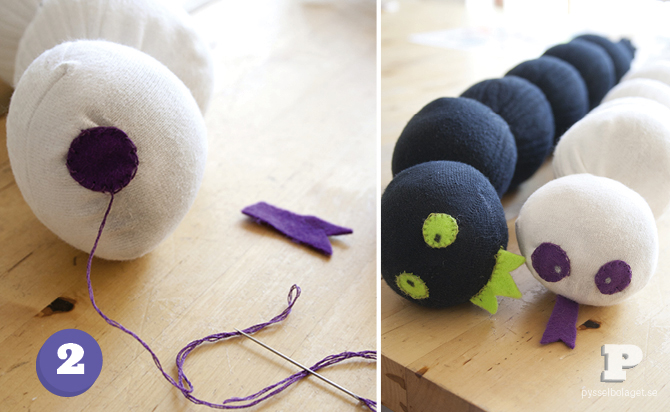 2. Vi använder små bitar av filt till ögon och de täcker hålen på tårna. Maskarna får även tänder eller tungor. Våra maskar är klara! / We use small pieces of felt as eyes and they also cover up the holes in the toes. Give your worms teeth or tongues. Done!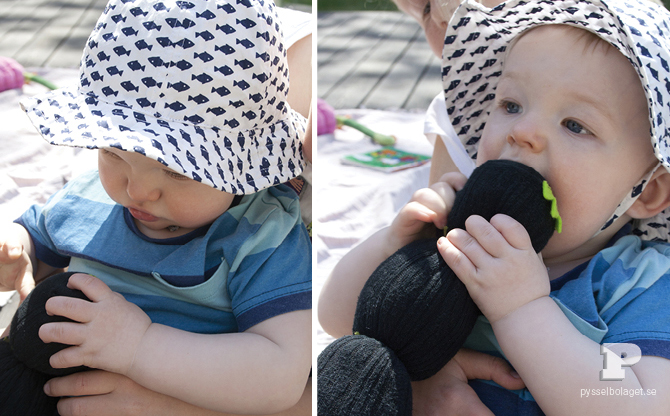 Favoritkusinen utgör vår testpanel. Masken verkar godkänd! / Our favorite cousin is our test panel. The worm seems to be approved!
Våra maskar är mjuka och goa. Istället för att bli skräp har de blivit nya leksaker till både Freja och hennes kusin. Brukar ni återanvända saker ni har hemma eller har ni sparat något ni gärna vill göra något av? Skriv till oss och berätta! / Our worms turned out soft and cuddly. Instead of becoming junk they were transformed into new toys for both Freja and her cousin. Do you reuse  things you have at home or have you saved something you would like to do something with? Please , write to us, we'd love to hear from you!