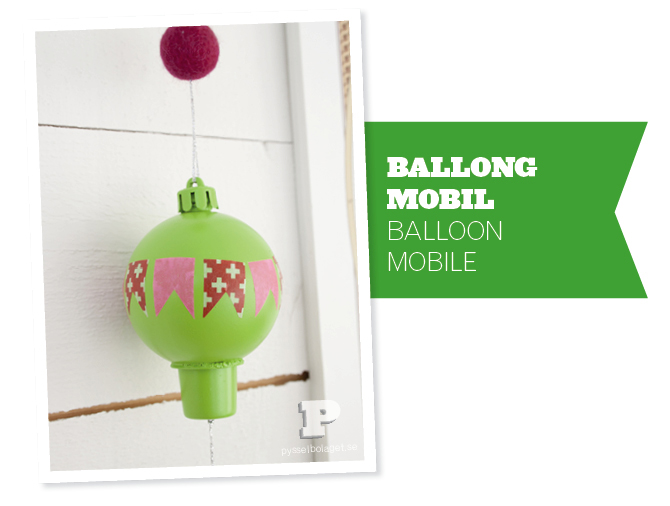 Vi har länge velat göra en mobil med luftballonger men inte vetat hur. På nätet finns flera fina mobiler, både i tyg och papper, men papper håller inte så länge och att sy är lite för komplicerat för oss. Nu har vi äntligen hittat en smart och hållbar lösning, och materialet hade vi redan hemma. / We have long wanted to make a hot air balloon mobile, but not known how. On the net there are examples of several lovely mobiles, both in fabric and paper, but paper doesn't last very long, and sewing is a bit too complicated for us. We have finally found a smart and sustainable solution, and most of the material we already had at home.
Ni behöver julgranskulor i plast, ljushållare, klister och sprayfärg. Vill ni dekorera era ballonger som vi gjort behöver ni också washitejp och ett par små leksaker. / You need baubles in plastic, candle cases, glue and spray paint. If you like to decorate your balloons like we did, you also need washi tape and a few small toys.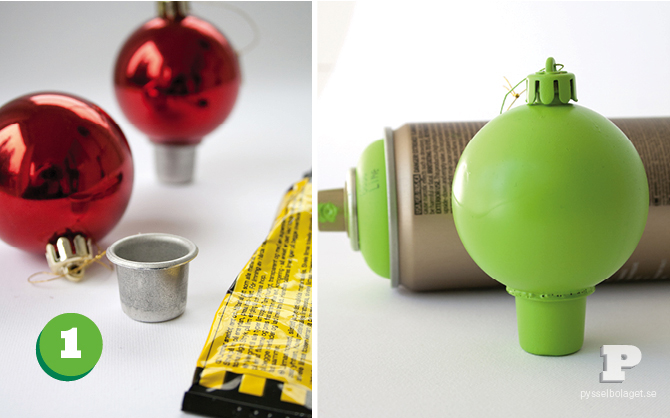 1. Julgranskulan blir själva ballongen och genom att klistra en ljushållare på undersidan får ballongen en korg. När klistret har torkat spraymålar ni ballongen. Kom ihåg att läsa instruktionerna på färgburken innan ni spraymålar. / The Christmas baubles will serve as the balloon itself and by gluing a candle case to the bottom the balloon gets a basket. Once the glue has dried, spray painting you balloons. Remember to read the instructions on the paint can before you spray paint.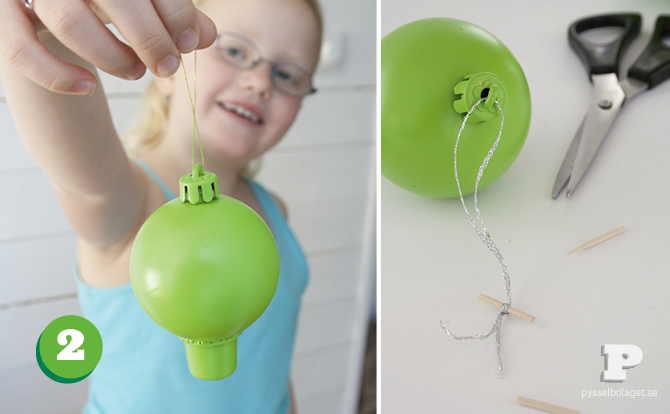 2. När luftballongen är målad är det dags att bestämma vilken typ av upphängning den ska ha. Man kan hänga ballongerna från en gren eller en vanlig mobilställning. Vi har valt att hänga våra på en rad, under varandra. Varje ballong får en ny fin tråd och sätt sedan ihop med den övre. / When the balloons are painted, it is time to decide what type of hanging it should have. You can hang the balloons from a branch or use a normal hanging. We have chosen to hang ours on a line, one below the other. Each balloon gets a new fine wire before it's  connected to the other.
3. Nu är det bara det roligaste kvar. Vi har dekorerat våra ballonger med washtejp. Washitejp finns i många färger och mönster och är väldigt lätt och tacksam att dekorera med. Ett par små avlagda leksaker får också hänga med. / Now it's just the fun part left. We have decorated our balloons with washi tape. Washi tape is available in many colors and patterns and is very easy to decorate with. A couple of small discarded toys also came in handy.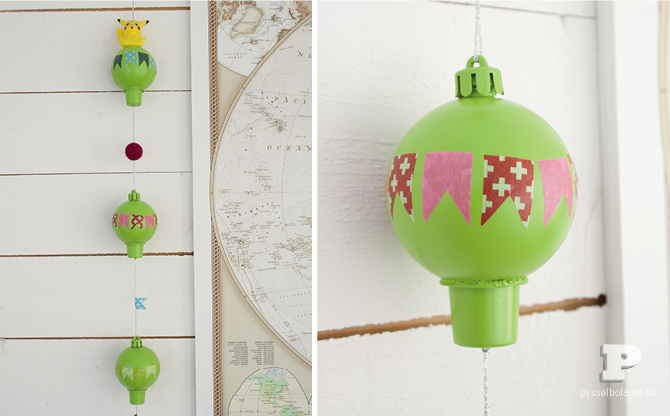 Våra luftballonger är klara. De var lätta att göra och det mesta av materialet hade vi redan hemma. / Our hot air balloons are ready. They were easy to make and most of the material we already had at home.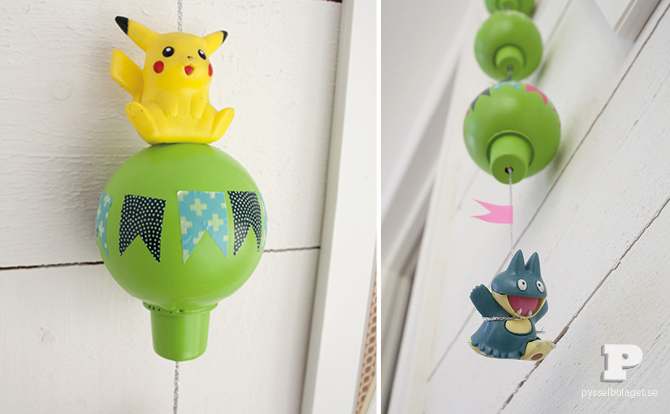 Ballongerna är tålig och man blir glad av att se dem. De kommer nog att ge oss glädje många år framöver. / The balloons are durable and makes me happy every time I see them. They will probably give us joy for many years to come.