När man har danskalas blir man lätt törstig, även efter det att man lämnat middagsbordet. För att våra gäster lätt ska kunna hålla reda på sitt glas gör vi namnlappar. Vi gör också girlander av alla fina cirklar vi stansat. Allt på temat prickigt. / At a dance party you easily get thirsty, even after having left the dinner table. To help our guests keep track of their glass we're making name tags. We're also making garlands of all pretty circles we punched. And the theme is polka dots.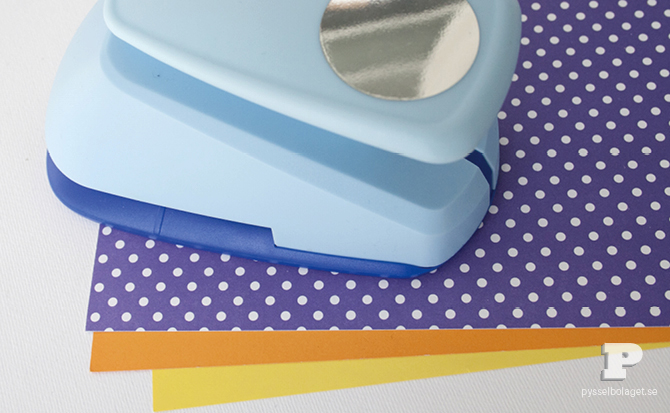 Ni behöver mönstrade och enfärgade papper, en cirkelstans eller en sax. Vi har igen använt underbara prickiga papper från Make & Create. Till namnlapparna behöver ni också lim och en klädnypa, och till girlanden behövs en symaskin. / You need patterned and plain paper, a circle punch or scissors. We have again used a gorgeous polka dot paper from Make & Create. To make name tags, you also need glue and a clothespin, and to make garlands you need a sewing machine.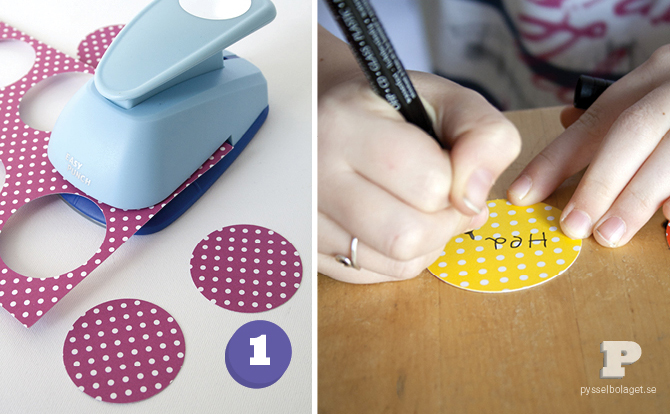 1. Stansa eller klipp en cirkel och skriv sedan namn. / Punch or cut a circle and then type the name.
2. Klistra cirkeln på en lite klädnypa och låt torka. Klart! / Glue the circle on a little clothespin and let dry. Done!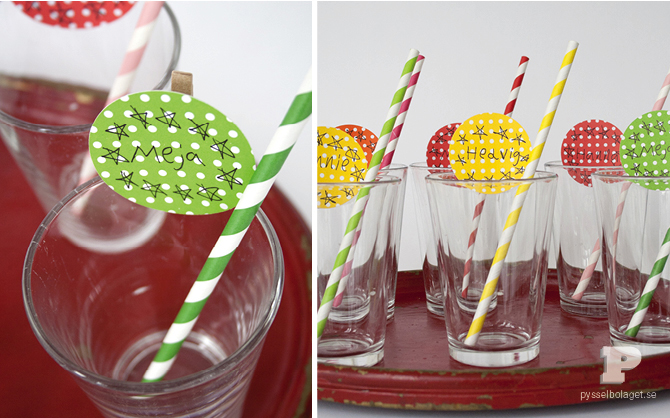 Alla har ett eget glas och de är lätta att hålla reda på. / Our guests now have their own glass and they are easy to keep track of.
3. Till en girland behövs många cirklar och en symaskin. Lämna lite mellanrum mellan cirklarna när ni syr genom att låta maskinen sy några stygn i luften. Freja har bara sytt på maskin en gång tidigare, men att sy ihop cirklarna var inget problem. / To make garlands you need many circles and a sewing machine. Leave some space between the circles as you sew by letting the machine sew a few stitches in the air. Freja has only used the machine once before, but sewing up the circles was no problem.
Då var även girlanderna klara. Nu väntar vi bara på gästerna! / The garlands is also done. Now we are waiting for the guests!