Kära läsare, idag släpper vi äntligen vår iPad-tidning som vi jobbat så intensivt med under hösten. The Crafty Swedes går nu att ladda ner från App Store. Tidningen är gratis och innehåller, förutom pyssel från bloggen, smarta tips från oss, personporträtt på personer vi gillar och några av våra inspirationskällor!
———
Dearest readers, after months of intense work we're finally ready to release our iPad magazine. The Crafty Swedes is now avaliable to download from App Store. It's free of charge and contains smart tips from us, interviews with people we like and a few of our sources of inspiration – and lots of crafts, of course!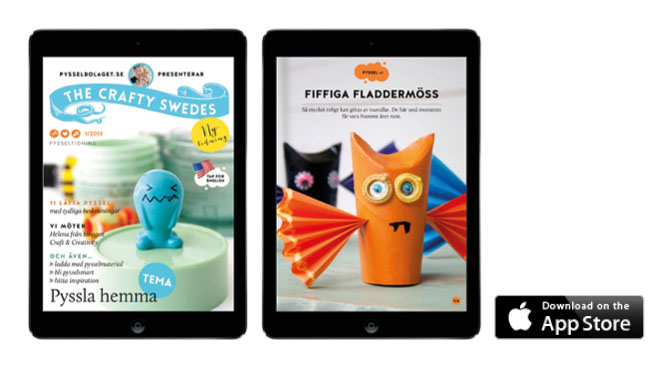 Pysselbolaget.se kommer förstås att fortsätta som vanligt och bloggen är bra på många sätt. Vi har lätt att nå ut till er med våra nya idéer och ni har lätt att hitta oss. Men alla har inte möjlighet att ta med sig datorn till pysselbordet, därför har vi nu förpackat våra pyssel i en lätthanterlig tidning. Vår förhoppning är att det ska bli ännu lättare för er, vare sig ni vill ha en rolig pysselstund tillsammans eller bara sitta i soffan med en kopp te och njuta av fina bilder.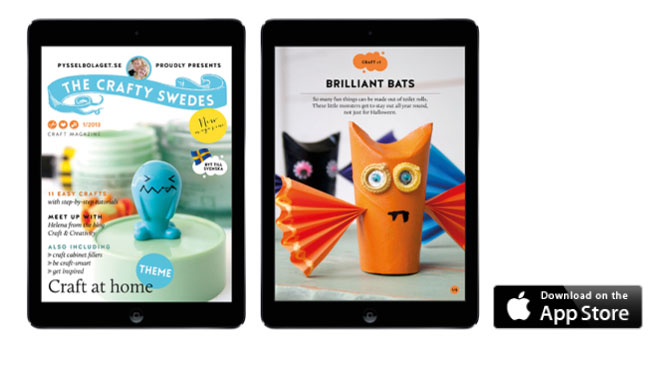 Pysselbolaget.se will of course continue as usual and the blog works well in many ways. It's easy for us to reach out to you with our new ideas and you have easy access to all our crafts. However not everyone can bring their computer to the crafts table, hence the release of our Pysselbolaget iPad magazine. We hope to make it even easier for you whether it be crafting together or enjoying our crafts on the couch with a cup of tea.
Ladda ner och njut! Vi vill gärna höra vad ni tycker om tidningen. Skicka ett mejl eller lämna kommentarer!
———
Download it today and enjoy! We'd love to know what you think about the magazine. Send us an email or leave us a comment, please!
Pysselbolaget

Att pyssla tillsammans är roligt. Här finns enkla roliga pyssel som inte kräver mycket kunskap, utrustning eller tid. Pysselbolaget består av Freja, som är 9 år, och Frejas mamma Karin, som är i sina bästa år. Läs mer om oss här.

-------------

Crafting together is fun. Here you find crafts that do not require a lot of knowledge, equipment or time that both kids and parent will have great fun creating. We are Freja, 9 years old, and Frejas mom Karin who is in her prime and constantly improving.

Copyright

Pysselbolaget samarbetar gärna med andra bloggar och media. Du får låna enstaka bilder till din blogg men ange alltid källa, länka till Pysselbolaget.se och behåll vår märkning på bilderna. Vi tillåter inte användning av hela beskrivningar, länka istället till bloggen. Om du använder våra bilder vänligen skicka ett mejl till: vi(at)pysselbolaget(punkt)se.

Om du vill använda vårt material i kommersiellt syfte vänligen kontakta oss.

-------------

Pysselbolaget loves to collaborate with other blogs and media. You are welcome to use one or two photos, but please always mention the source, link to Pysselbolaget.se and do not remove the watermarks from the pictures. We do not allow unauthorized use of full tutorials/blog posts, link to the blog instead. If you are using a photo for your blog please notify us by e-mail vi(at)pysselbolaget(dot)se.

If you want to use any material commercially contact us prior to use.

search categories