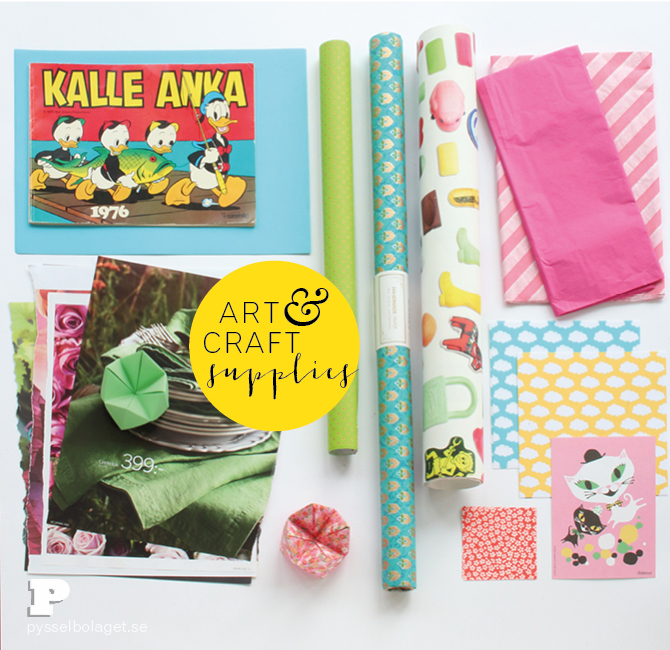 One of my favorite material is paper – all sorts of paper, solid-color, patterned, white, thick, thin and recycled. I want to fold, cut and create with paper. I can easily spend all my money on paper. Instead of souvenirs I gently carry rolls of paper home from citys and villages, paper I then hardly dare to use.

You need lots of paper when crafting with paper, but it donesn't have to be expensive sheets. Browse supermarkets and book stores for affordable paper. Quite often they carry lines of simple paper in nice colors.
Nice gift wrapping paper can also be found here. These can be recused. After Christmas and birthdays most of us have piles of paper that nobody wants. Go through and cut smooth and unripped pieces.
Glossy magazines and catalogs can also be saved. Tear out pages that have nice colors or patterns and put the rest in the recycling bin.
Postcards bought at a flea market also works nicely for crafts, just as pieces of wallpaper. You might have an extra roll of wallpaper or maybe a bunch wallpaper samples stored away?Sometimes you can buy samples of wallpaper at the paint shops. Check with your dealer.
Those of you who followed us the last few weeks knows that we're in love with comic books. Older comic books are often printed of matte paper in strong colors. Lovely, don't you think!
And – of course you can buy expensive exclusive paper, but don't just buy expensive exclusive paper. Gather less expensive and recycled paper as well.
My advice to you all is, buy and save paper you can do what you want with. Buy some expensive exclusive sheets or rolls of paper and mix with them with other sort of paper. Sometimes you need a lot of paper, and sometimes you need a lot to choose from.
What can you do with the paper? This, for example: