Ni som följer oss har säkert sett att vi ibland träffas med Helena, från bloggen Craft & Creativity, och hennes barn för att pyssla. De här dagarna brukar vara så roliga att Freja satte upp en pysseldag på sin önskelista när hon fyllde år sist. För ett par veckor sedan var det dags igen, jag och Freja packade bilen full av material och goda idéer. / Those of you who follow us probably know that we sometimes meet up with Helena, from the blog Craft & Creativity, and her children to make crafts . Our craft days tend to be so much fun, Freja put one on her birthday wish list. A couple of weeks ago it was time again, me and Freja packed the car full of material and ideas.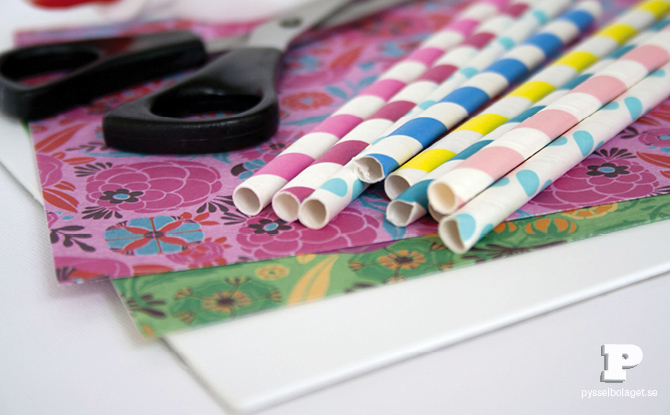 Vi hade bland annat med oss vita och mönstrade papper, sugrör i olika färger, saxar och klister. / We had with us, among other things, white and patterned paper, straws in different colors, scissors and glue.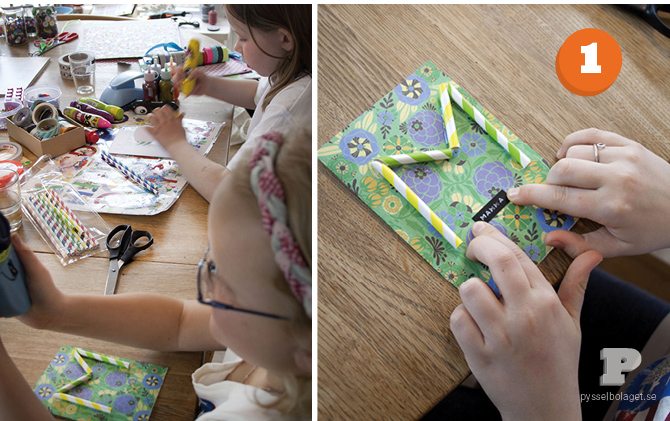 1. Den här gången planerade vi att göra kort. Sugrör i papper är något som ofta går åt när vi pysslar, så även den här gången. Frejas första kort är – till mig! / This time our plan was make cards. Paper straws is something that often gets used when we're crafting, this time as well. Freja's first card is – for me!
2. Sugrören är lätta att klippa i och klistra, och de är så fina i färgerna. Vi klipper, klistrar och målar… / The straws are easy to cut and paste in, and they come in beautiful colors. A few paper straws, some glue and a bit of drawing …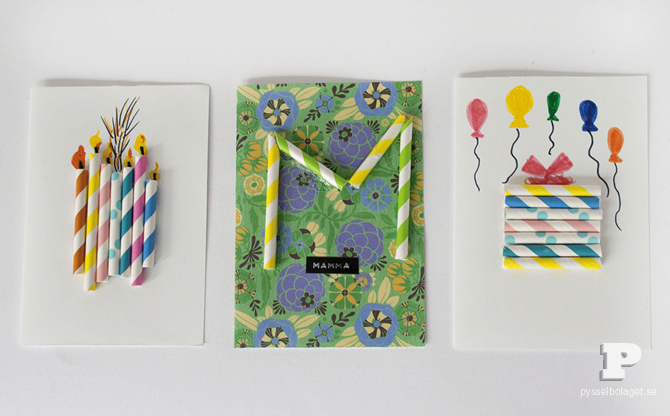 … och då blir det så här. Födelsedagsljus, ett paket och ett kort till mamma. Inte dåligt, eller hur! / … and this is the result. A card with birthday candles, a card with a present and a card for mom. Not bad!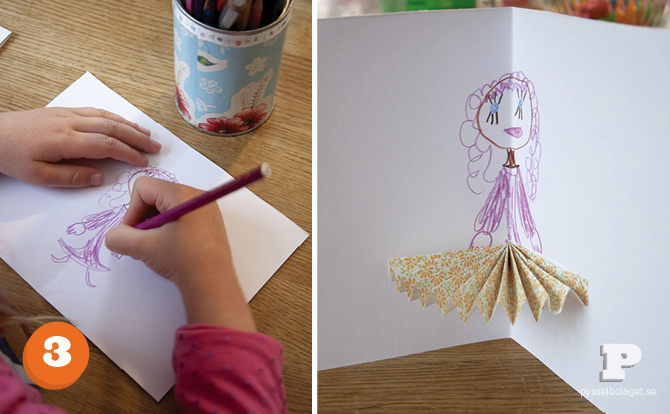 3. Jag fick också hjälp av lilla E, som ritar de mest fantastiska prinsessor. När man öppnar kortet vecklar prinsessan ut sin vackra kjol. / I also had help from little E, she can draw the most amazing princesses. When you open the card the princess unfolds her beautiful skirt.
4. Kjolen görs lätt genom att vecka ett mönstrat papper och klistra det på var sida om pappret. Visst blir det ett härligt kort! / The skirt is made by folding a patterned paper and then paste it on each side of the paper. A beautiful card, don't you think!
Som ni ser var det en lyckad pysseldag med mycket glädje, inspiration och många idéer. Och vi har nu lagt upp ett lager med fina egna födelsedagskort. Den som fyller år nästa gång kommer få ett fantastiskt kort. / As you can see, it was a successful craft day with lots of laughter, inspiration and many new ideas. And we have now a stock of lovely custom made birthday card. The next birthday child will get a fantastic card.
Fyller du år snart? Skriv till oss och berätta, så kanske vi skickar ett kort just till dig! / Is your birthday soon? / Write to us and tell us , and maybe we'll send a card just for you!