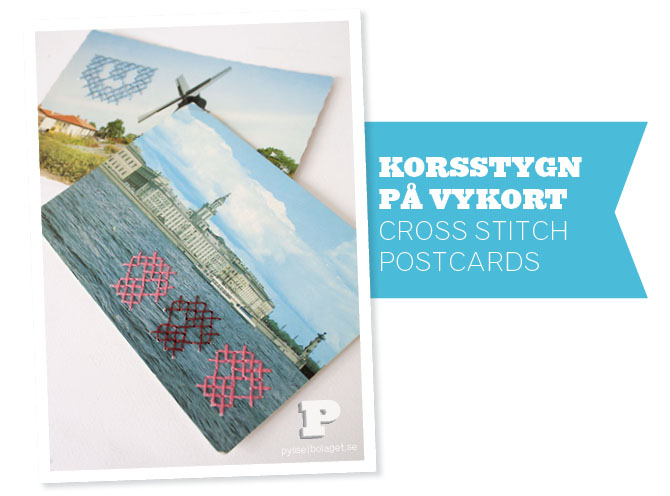 Freja gillar att brodera men har inte tålamod att sitta med några större projekt. En utmaning för oss är att hitta små projekt som fortfarande "blir nått". Bra resultat snabbt, helt enkelt. Vi har tidigare broderat på plastburkar och servettringar, och idag försöker vi oss på vykort. / Freja likes to do embroidery but she doesn't have the patience to sit with any major projects. A challenge for us is to find small and satisfying projects for her. She likes great results fast. We have previously embroidered on plastic bottles and napkin rings, and today we are trying out postcards.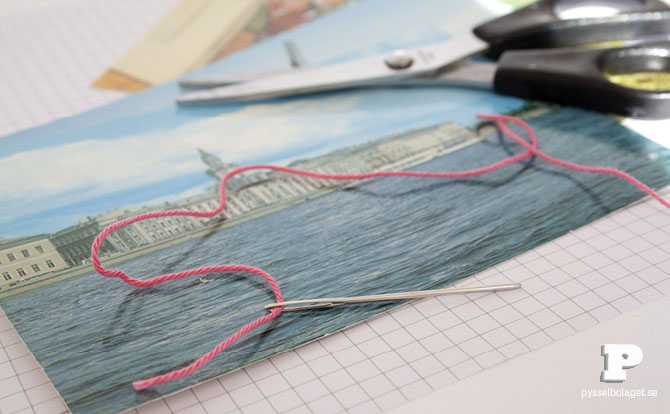 Ni behöver gamla vykort, våra kostade ett par kronor i en second hand-butik, nål, broderigarn, sax och rutat papper. / You need old postcards, ours are from a thrift shop, needle, embroidery yarn, scissors and graph paper.
1. Börja med att rita ut ett enkelt mönster på det rutade pappret. Sök på nätet eller testa er fram. Lägg sedan det rutade pappret på vykortet och stick hål där stygnen ska ner. / Start by drawing out a simple pattern on the graph paper. Search online or test drawing your own. Then place the graph paper on a postcard and pierce holes where the stitches are going in.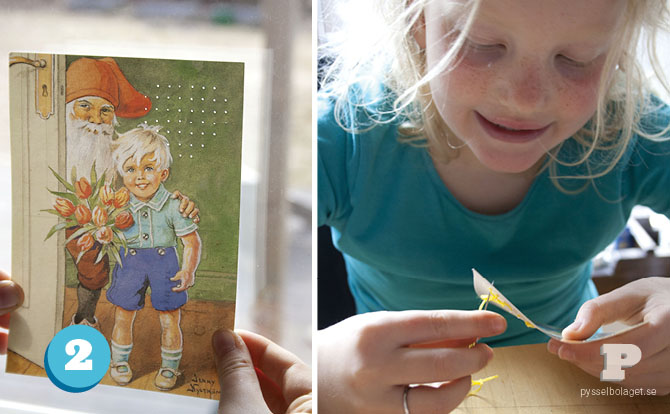 2. Gör bara hål där det ska vara styng, då är det lättare att följa mönstret. Sen är det bara att sätta igång och brodera! / Pierce holes only were the stitches are going in, that way it's easy to follow the pattern. Then go right ahead and start embroidering!
Papper kan vara lite trickigt att brodera i, man får inte vara för hårdhänt. Se också till att broderigarnet inte är för tjockt. Vill man kan man också förstärka vykorten genom att tejpa baksida av korten. / Paper can be a bit tricky to embroider in, one must a bit careful. Make sure the embroidery yarn is not too thick. If you like you can also reinforce the postcards by applying tape to the back of the cards.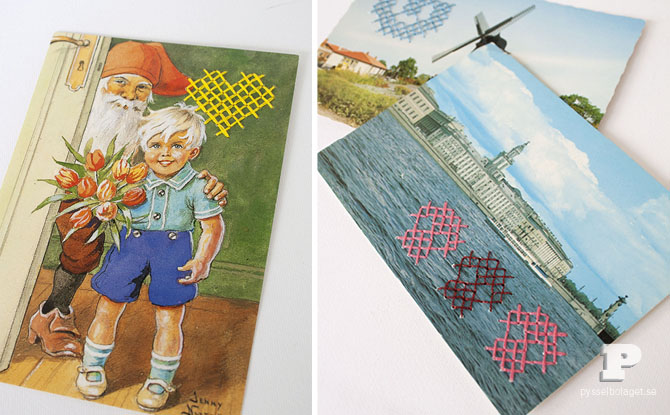 Det blir fort fint när man broderar på kort! Korsstygn kan ju också pigga upp lite tråkiga motiv. Det är nått i vattnet … / You get fast results when embroidering on postcards! A few cross stitches can of course also brighten up a somewhat dull design. There is something in the water …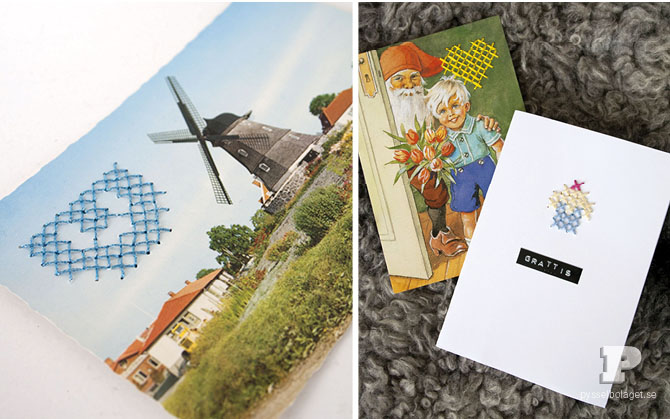 Alla våra motiv kanske inte blev så lyckade, det här vad tänkt att bli ett öga … Man kan också brodera på vanligt lite tjockare papper. Vi gjorde ett födelsedagskort med en broderad muffins! Vad broderar ni helst på? / All our designs were perhaps not so successful, this one is supposed to be an eye … You can also do embroidery on plain heavy weight paper. We made a birthday card with an embroidered cupcakes! What do you prefer to embroider on?