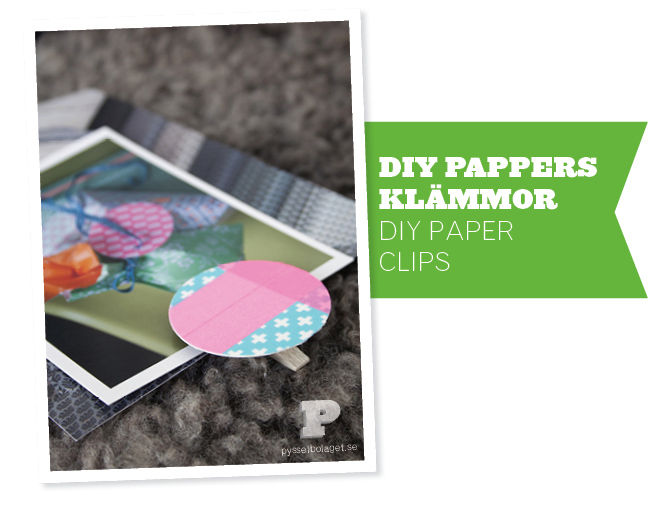 Att sortera papper kan vara trist. Varför inte pigga upp pappershögarna med ny pigga klämmor. Det fantastiska företaget Frem Living har fina klämmor i trä i sin kollektion, men vi gör våra egna i kartong och det går på ett par minuter! / Sorting paper can be really boring. Lets lighten up the paper stacks with some new paper clips. The fabulous company Ferm Living has pretty wooden clips in their collection, but we make our in cardboard paper and it only takes a few minutes.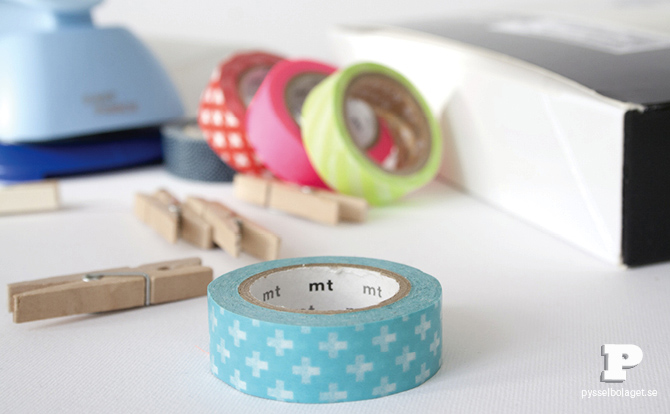 Ni behöver tunn kartong från till exempel flingpaket, klädnypor, washitejp och klister. / You need thin cardboard paper, for example a cereal box, wooden clothespins, washi tape and glue.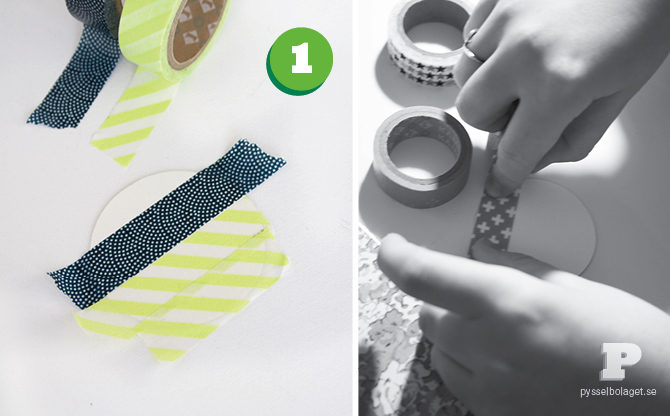 Klipp först ut cirklar av kartongen, i en storlek som passar dina klädnypor. Vi har använt vår kära cirkelstan igen, men det går lika bra att klippa cirklarna med sax. Täck sedan varje cirkel med washitejp. / Start by cutting circles of the cardboard paper, in a size that fits your clothespins. We have used our beloved hole punch, but cutting the circles with a scissor works just as well. Cover the circle with washi tape.
Vänd på cirkeln och klipp bort överflödig tejp. Klistra färdiga cirkeln på klädnypan och er första pappersklämma är klar att använda. Enkelt, eller hur! / Turn the circle over and cut off the excess tape. Glue the circle on to the clothespin and you first paper clip is ready to use. Easy, don't you think!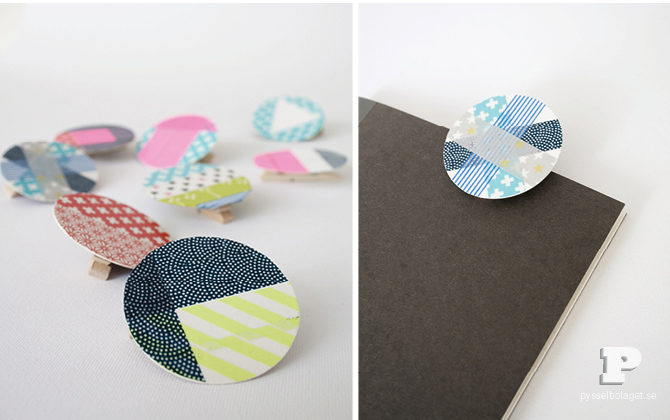 På bara några minuter lyckades vi göra många klämmor, jättemånga, faktiskt. Vi är mycket nöjda och ser fram emot nästa gång vi ska sortera papper. / In just a few minutes we managed to produce lots of clips,  a bunch, actually. We are very pleased with them and can't help looking forward to next time we have to sort paper.

Vad gör du för att pigga upp tråkiga arbeten? Skriv och berätta för oss, vi vill så gärna höra från er! / What do you do to lighten up a boring task? Please, write to us. We love to hear from you!