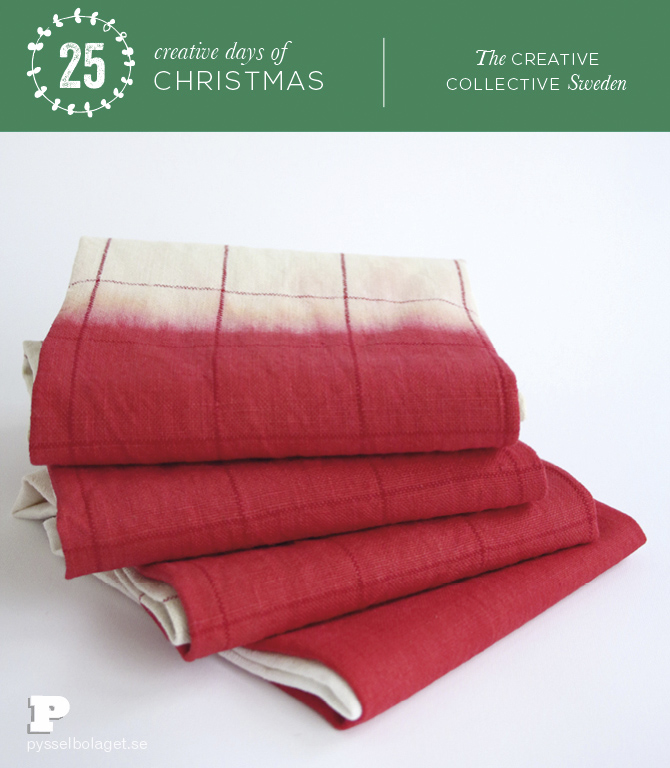 Welcome to the calendar "25 creative days"! The first of December is finally here and we kick start the calendar with a colorful project. We are going to dip dye old towels! Today we abandon the kitchen table and move out messy business to the laundry room. Check it out!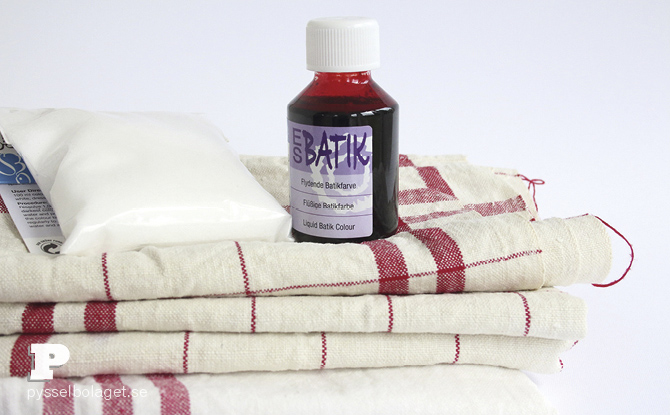 You will need washed towels, ours are old and bought at a flea market, batik color and a fixing agent. You will also need fine-grained salt, a bucket of water and a bunch of wooden strips long enough to lean over the edge of the bucket.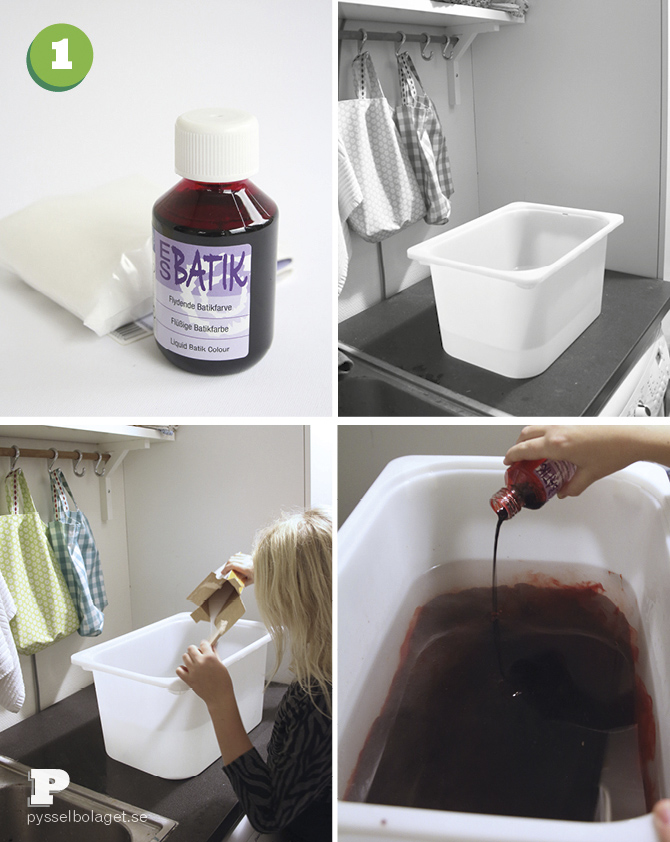 1. Start by reading the instructions on your color. Find a place were you can make a mess without upsetting anyone. You will make a mess. We use the laundry room! The color we use have to be dissolved in warm water, along with the salt. When the salt is dissolved, we pour the paint in and the fixing agent. The dyebath is now ready for our towels.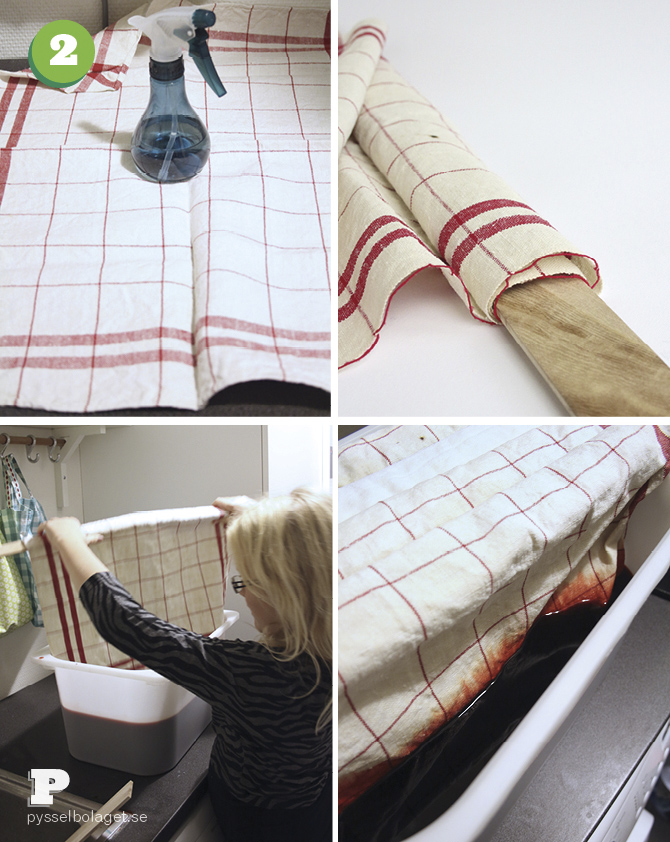 2. Next the towels needs to be prepared. We just want to dye the bottom of our towels and we spray that part with water from a spray bottle. Then we roll up the dry part of the towel on a wooden strip. Next Freja carefully place the bottom part of the towel in the bath. The towel should be left in the dyebath for about 30 minutes. In the meantime we let the wooden strip rests on the edge the basin.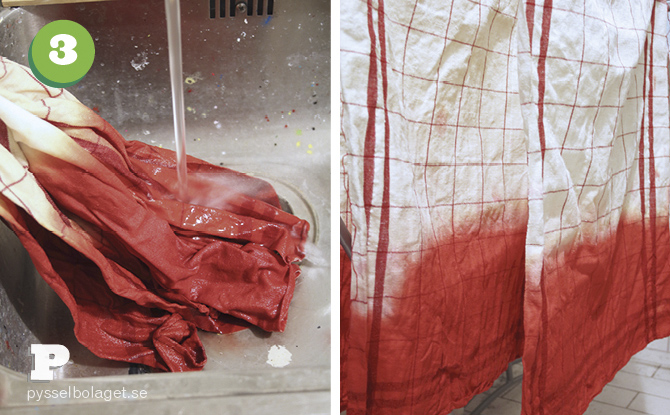 3. After 30 minutes we lift them up and wash the part that we dyed. Rinse until the water is clear and free from color, but rinse only the part that has been dyed. If you dip the entire towel in the water the undyed part will also be colored. This is a rather messy business. We had paint on both floors and benches before we finally hung the towels to dry!
Our towels are dipped and dyed. We got some spots on the white part of the towels, but we are very still pleased with the results!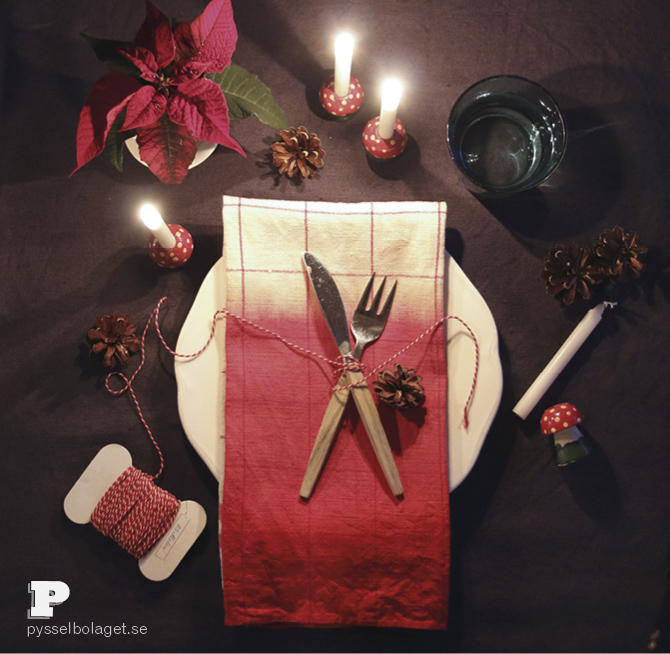 This is the first post in the "25 creative day" calendar. Read more about the calendar here. Also visit our a brand new Facebook page and the very Scandinavian Pinterest board.
Tomorrow the calendar will continue on the blog Mormorsglamour. Don't miss it!

8 Pastill
12 Djura Bok & Pappersverkstad
13 Willowday
14 Pastill
16 Willowday
17 Hildas Hem
19 Made by Mary
21 Hildas Hem
25 Willowday