(photo Sofia Brolin / Hildas Hem)
There is much inspiration and many friends to be found online, but sometimes you want to meet and see things – for real. Therefore we, a bunch of crafty bloggers, decided to make it happen. We chose to go to Dalarna in Sweden and with me was Helena from Craft & Creativity, Lina from Lina by the Bay, Sofia from Hildas Hem och Gina from Willowday.
The first stop on the trip was Djura Bok- och Pappersverkstad (Djura Book- and Paper workshop). In Djura village outside Leksand lies this beautiful gem, a bookbinding studio and paper shop. The studio and store is run with equal amounts of knowledge and love by the married couple Linda and Odd Gimle, who also lives in the house.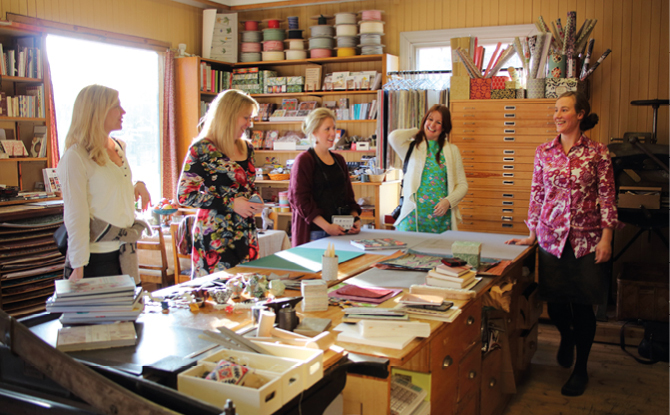 Linda greeted us in a store bathing in sunlight and with a schedule that required discipline and crafty fingers. After showing us around the studio she told us a little more about their business, and then she put us to work. Of tiny paper we folded garlands and stars – a heaven for a bunch of crafty chicks like us.
The shop has a wonderful mix of beautiful papers, tools for bookbinding, card, washi tapes and pretty books. Need I say that we all left with a bag in hand? A visit to the shop is highly recommended. For those of you who don't live near Djura you can find all you dream of in the web shop.
Linda has drop-in crafts in the shop from time to time and for those of you living in Stockholm she makes a guest appearance at Stadsbiblioteket soon. The rest of us have to make do with the fully stocked online store and e-courses in simple bookbinding teqniqes. Linda has week long classes in bookbinding, but also shorter classes in "Creating with paper ". All dates can be found here.
Proud of what we managed to accomplish, full of new impressions and impressed by the passion and the energy that Linda transmits we left Djura Bok- och Pappersverkstad, each with a full paper bag.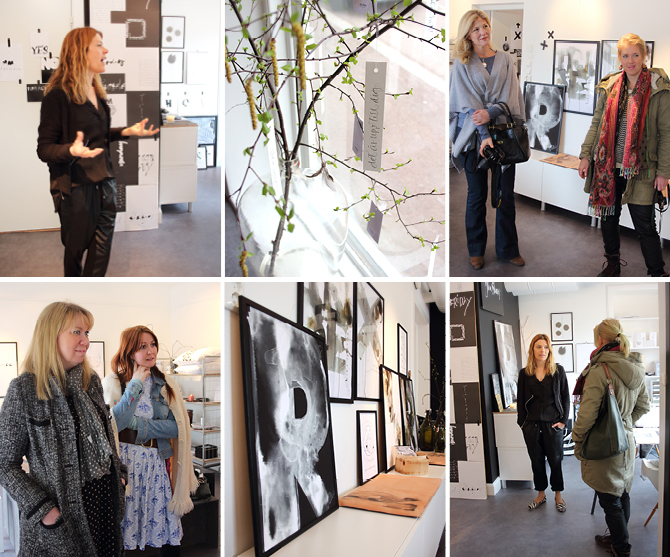 The next day we went back to Leksand for a visit to the calligrapher and designer Ylva Sharp. Many of us love letters and types, but few are able to treat them like Ylva. With what looks to be simple brushstrokes she turns words and letters into art. Her handwritten message is visible not only on paper, in recent years we have seen them on radios, ceramics, textiles and wallpaper.
Ylva took the time to talk about her work, motivation and thoughts about being an artist. I can not help but to be impressed by the strength coming from Ylva. She has found her path and she is not retreating from that route. Many have tried to copy her style but without the passion that Ylva has the copy cats falls flat. We met a true artist.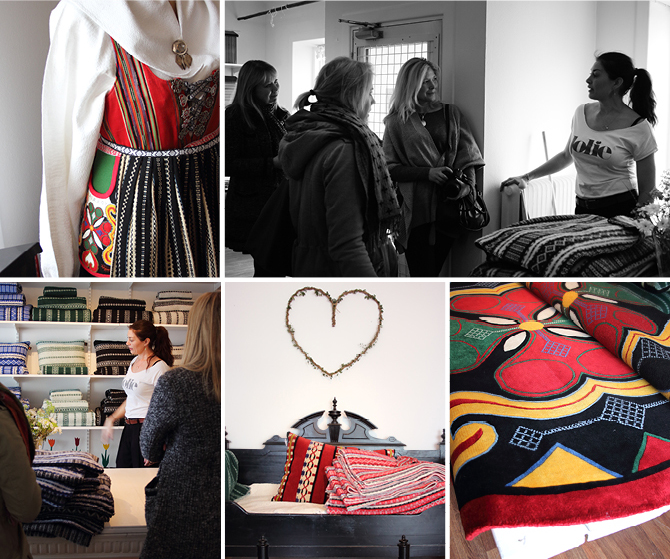 Next door to Ylva we stormed in to visit the beautiful Mia Svalänge. Mia's room is Ylva's opposite. Ylva's studio is black-and-white and in strict material.  Mia's studio is full of patterns, colors and wooly textures. Using the national costume for Leksand as her sole inspiration Mia has created an entire collection including blankets, rugs and mailboxes. Mia has a love of good quality and her products are made ​​to last a lifetime.
I like to use a quote from Mia's web page "Previous generations' sense of beautiful colors inspire me" and I feel confident that Mia will soon reach her ambition of having created a new Swedish classic.
Our last stop on our Dalarna trip went to Jobs Handtryck. Jobs is a fabric print shop, hand printing fabrics in their own design. Some of you might have seen Ernst when he visited the fabric print shop, but even though I've seen the program the sight of the line of fabric, just printed in 12 vibrant beautiful colors, completely took my breath away. I sense craftsmanship, knowledge and tradition in the print shop.
Jobs Handtryck has been around since the 40's and managed to produce almost 500 different patterns. Today there are about 80 patterns in production and they sell their products both in store in Västanvik, in their online store and at various retailers. The shop is open year-round and during the summer they have guided tours of the workshop.
In addition to the inspiring and amazing people we met on our trip, we managed to squeeze in, not just one visit but two, at the sweet shop and cafe Bollie in Säter.
Thank you Helena from Craft & Creativity, Lina from Lina by the Bay, Sofia from Hilda's Hem and Gina from Willowday for beeing fantastic travel companions. Thanks also Linda, Ylva and Mia for taking the time to meet and inspire us. Last but not least – thanks Ella for taking great care of us at the charming Leksandsgästhem. See you soon, Dalarna !
All photos are taken by pysselbolaget.se unless otherwise indicated. Check out more pictures from me and my friends on Instagram at #inspirationsresadalarna.