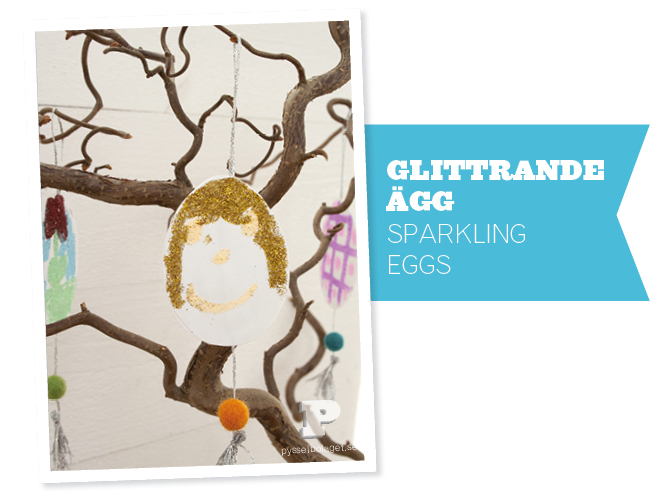 Vi brukar inte göra reklam för speciella produkter, mest för att vi tycker att det går bra att pyssla med mycket av det som vi har hemma, men också för att vår blogg inte är kommersiell. Den här gången gör vi ett undantag, för den här limpennan, eftersom vi verkligen gillar den. Det är dags för lite påskpyssel! / We don't usually advertise specific products, mostly because we like to use things we have at home, but also because our blog is not a commercial. This time we make an exception for this glue pen, because we really like the product. It's time for some Easter crafts!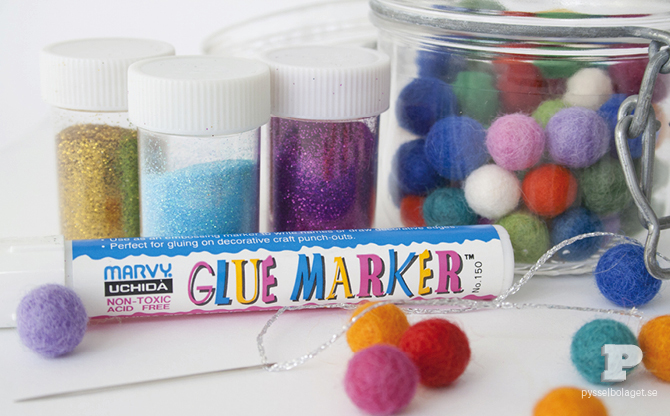 Ni behöver limpenna, papper, sax, glitter, tråd och pärlor av valfri sort. / You need a glue pen, paper, scissors, glitter, yarn and beads of your choice.
1. Börja med att klippa ägg i vitt papper. Eftersom vi tänker klistra ihop två ägg behöver pappret inte vara så tjockt. Rita sedan mönster på ägget med limpennan. / Start by cutting eggs in white paper. Since we're going to paste two eggs together, the paper don't have to be thick. Then draw patterns on the egg with the glue pen.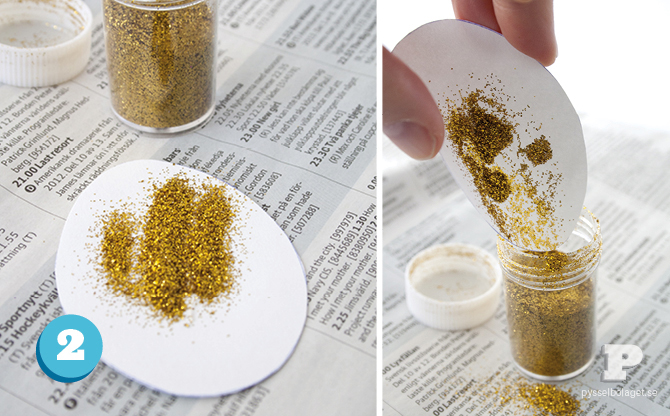 2. I nästa steg häller ni ordentligt med glitter på ägget. Böj sedan ägget försiktigt och häll tillbaka det glitter som inte fastnat i klistret. / Next pour plenty of glitter on the egg. Bend the egg gently and pour back the glitter that haven't stuck in the glue.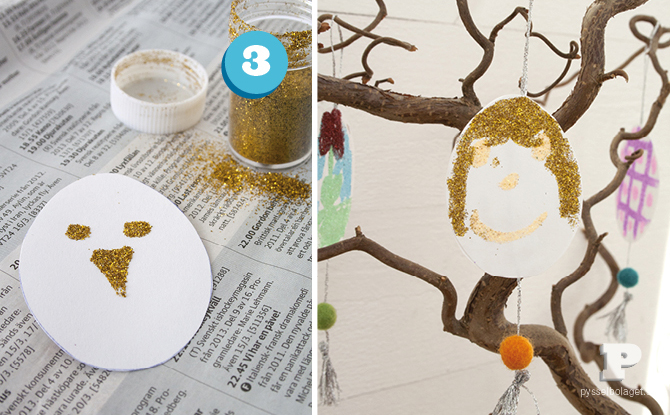 3. Glittret som fastnat i klistret bildar det mönster som ni ritat med limpennan. Fiffigt, eller hur! Och på frågan om vi har glitter i hela huset är svaret "ja". Festligt värre! / The glitter stuck to the glue now makes the pattern you drew with glue pen. Clever, isn't it! And do we have glitter all over the house, you wonder, the answer is "yes." Very festive!
4. När klistret torkat klistrar ni ihop två ägg med en bit tråd i mellan. Vi har gjort en tofs och trätt på en ullpärla på tråden innan vi klistrade ihop äggen. / When the glue has dried paste the eggs together, two and two, with a string of yarn in between. We added a a tassel and a bead to the yarn as well.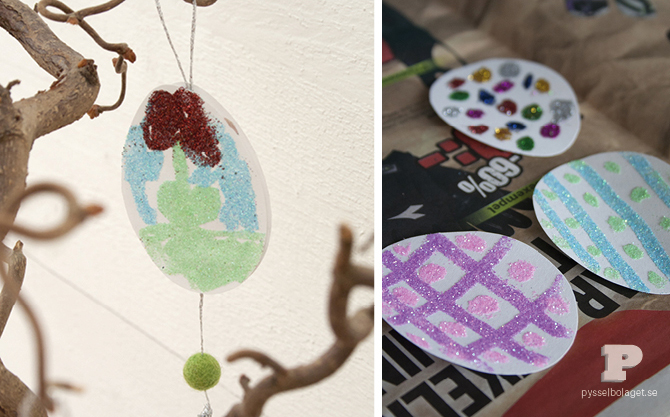 Freja gjorde även ägg i fler färger. Rita med limpennan för en färg i taget och låt klistret torka ordentligt innan ni ritar på nästa omgång klister. / Freja did eggs with multiple colors. Draw with the glue pen for one color at a time and let the glue dry completely before drawing the next round.
Vårt påskris är dekorerat och huset fullt av glitter. Glad påsk till er alla! / Our Easter twigs are decorated and the house full of glitter. Happy Easter to you all!