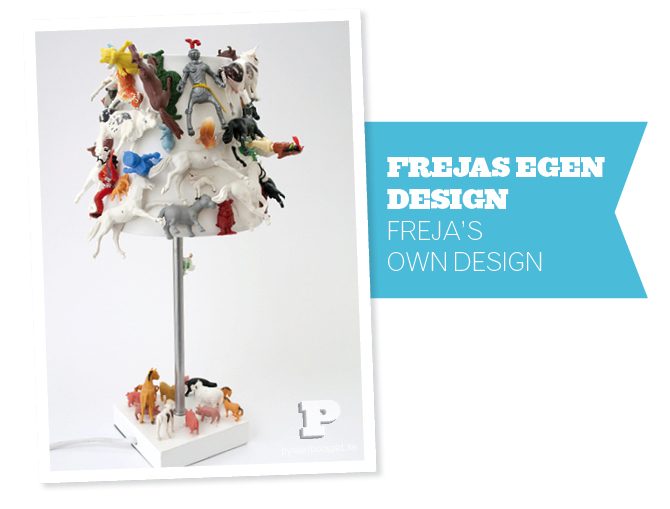 Kanske har ni tidigare sett de leksakslampor vi spraymålat? Idag vill vi visa en lampa som Freja gjort helt själv. Det är hennes egen idé och utförande.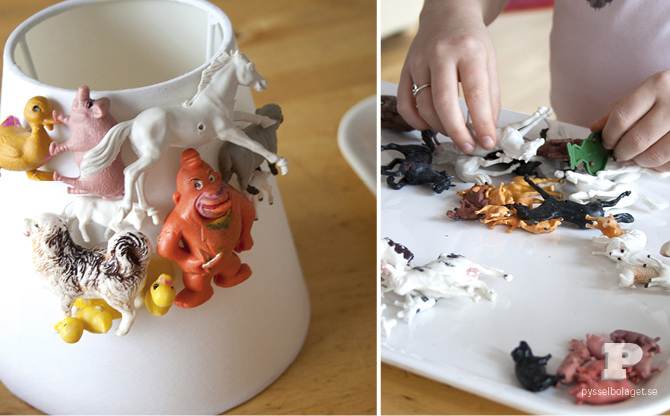 Ni behöver en lampskärm och lampfot, våra kommer från Rusta. Ni behöver också en limpistol och en massa små och lätta plastleksaker.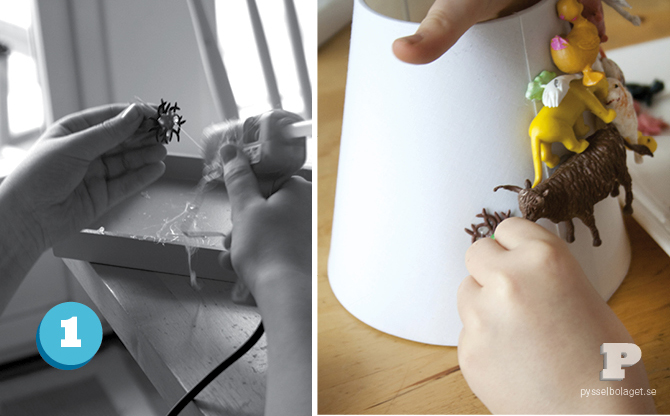 1. Freja använde limpistolen för att fästa på leksakerna på lampskärmen. Det går förstås att fästa leksakerna med annat klister. Fördelen med limpistolen är att torkar på några sekunder. Nackdelen är att det är väldigt lätt att bränna sig på det varma limmet. Om era barn vill hantera limpistolen själva se till att en vuxen är nära. Man kan också ha ett glas med vatten, att svalka eventuella brända fingrar på, i närheten.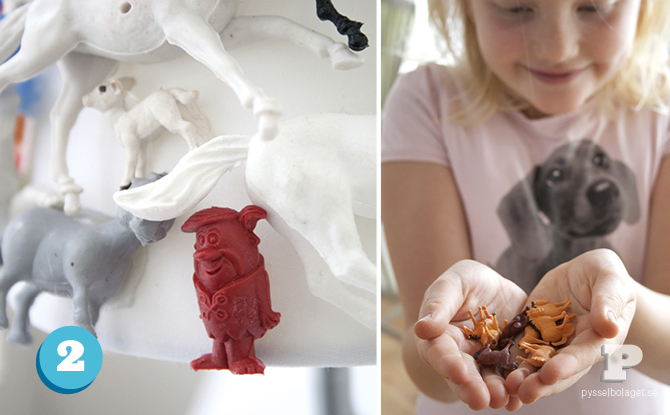 2. Freja har fäst leksakerna tätt på skärmen. Det är viktigt att leksakerna är små och lätta, annars är det lätt att lampan välter när den är klar.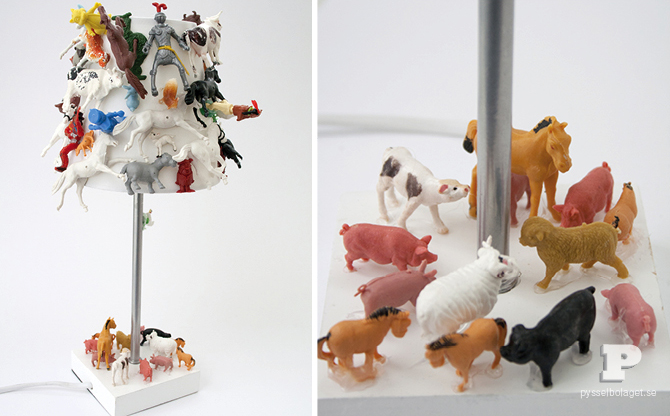 Lampan blev klar på ett kick. Lampfoten fick också några leksaker innan Freja var nöjd.
Today we want to show you a lamp Freja has made on her own. It's her very own idea and design.
You need a lamp shade and lamp base, ours are from Rusta. You will also need a glue gun and a bunch of small, lightweight plastic toys.
1. Freja used the glue gun to attach the toys on the lampshade. It is of course possible to attach toys with other types of glue. The advantage with the the glue gun is it dries within seconds. The downside is that it's very easy to burn yourself on the hot glue. If your children want to handle the glue gun on their own make sure an adult is near. You may also have a glass of water, to cool burned fingers, nearby.
2. Freja has attached toys tightly on the lampshade. It is important that the toys are small and light, otherwise the lamp will fall over when it is finished.
The lamp was finished in a snap. The base also got some decorations before Freja was satisfied.
Pysselbolaget

Att pyssla är roligt men det kan ibland var bökigt att komma på vad man ska göra. På den här sidan kommer Pysselbolaget regelbundet förse er med inspirerande, roliga och inte allt för svåra pyssel. Pysselbolaget består av Freja, som är 9 år, och Frejas mamma Karin, som är i sina bästa år.

Many parents like to do crafts with their children but they find it hard to know where to start. Our aim is to show fun and easy crafts for parents and kids that doesn't require too much knowledge, equipment or time. We are Freja, 8 years old, and Frejas mom Karin.