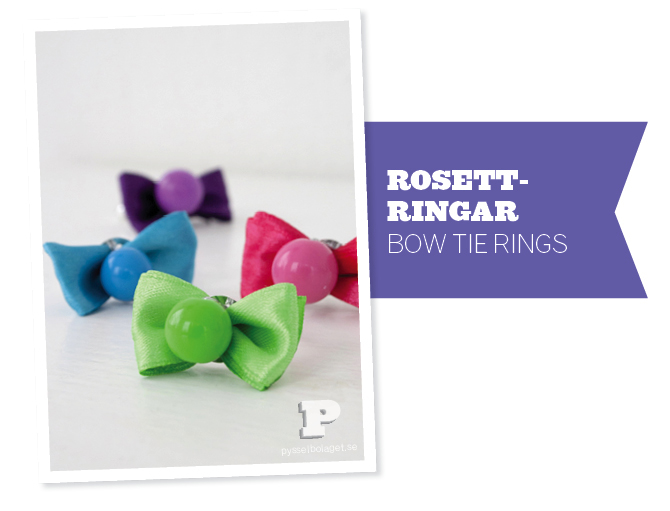 Idag gör vi flickiga ringar av färgglada band och pärlor. En riktig färgfest!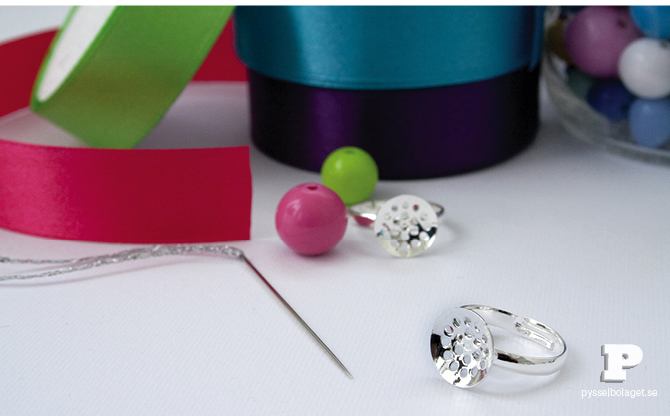 Ni behöver vackra band, pärlor, nål, tråd och broderiringar.
1. Vi börjar med rosetten och den är av enklaste sort. Vi har helt enkelt vikt ihop ett ca 20 cm långt band som vi sen knyter ihop. För att förhindra att ändarna repar upp sig kan man, om man använder syntetband, försiktigt smälta kanten på bandet. Var mycket försiktiga när ni gör det. Vi vill inte bli skyldiga till några brända fingrar.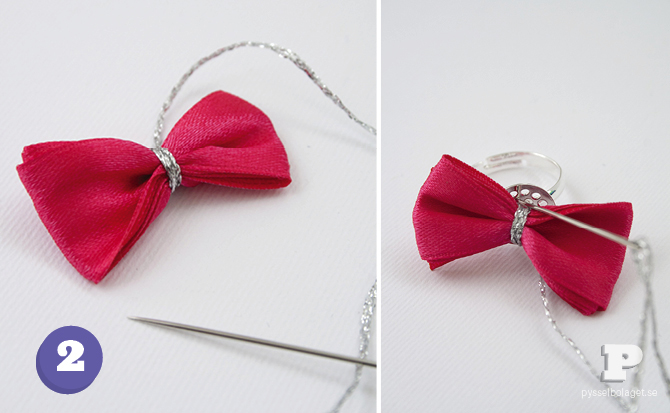 2. Snurra en tråd eller en bit broderigarn runt det vikta bandet och rosetten är klar. Fäst rosetten med ett par stygn i broderiringen men klipp inte tråden.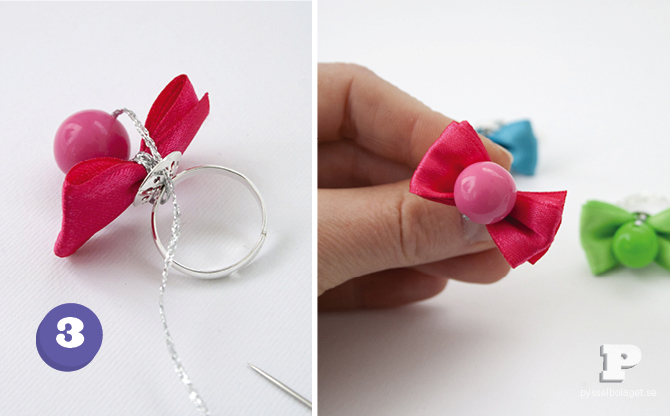 3. Använd samma tråd till att fästa fast pärlan. När pärlan sitter ordetligt fast fäster ni tråden på baksidan av rosetten. Ringen är klar!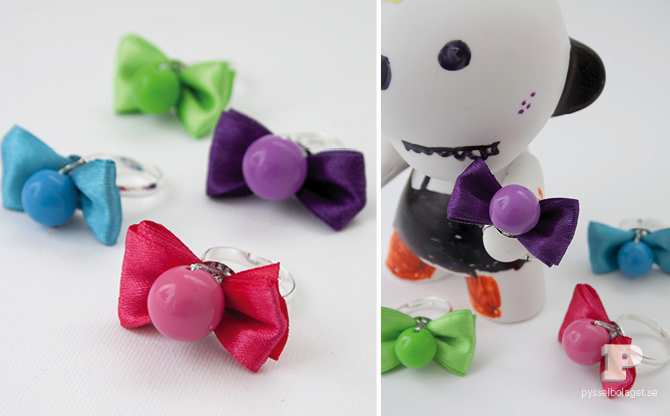 Vi kunder förstås inte göra bara en – vi testade alla färger vi hade!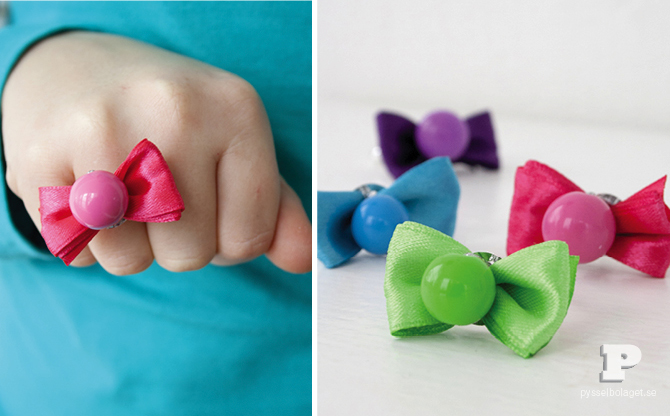 En ring att bära och bli glad av, eller hur! Banden kommer från TGR, pärlorna från Panduro och ringar finns att köpa hos Helena, som också visar hur man gör andra roliga och färgglada ringar!
Today we make girly rings of colorful ribbons and beads. A real color feast!
You need beautiful ribbons, beads, needle, thread and embroidery rings.
1. We start with the bow and it is of the simplest kind. We simply fold a ribbon, approximately 20 cm long, and then tie a string of thread around it. In order to prevent the ends from unraveling you can, if you're using a synthetic ribbon, gently melt the edge of the ribbon. Be very careful when you do this. We do not want to be guilty of any ones burnt fingers.
2. Run a thread or a piece of embroidery yarn around the folded ribbon and the bow is done. Attach the bow with a couple of stitches in the embroidery ring, but do not cut the thread.
3. Use the same thread to attach the bead. When the bead is firmly attach to the ring, tie the thread to the back of the bow. The ring is done!
We could of course not stop at one – we had to test all the different ribbons we had!
A ring to wear and be happy, isn't it!