Med några dagar kvar till Alla hjärtans dag passar vi på att göra ett sista pyssel med kärlekstema. Den här gången har vi använt garn och gjort ett fluffigt och härligt hjärta.
Ni behöver garn i olika färger och en Pom Pom maker, båda finns i Helenas webbshop Make & Create. Ni behöver också ståltråd eller en stålgalge.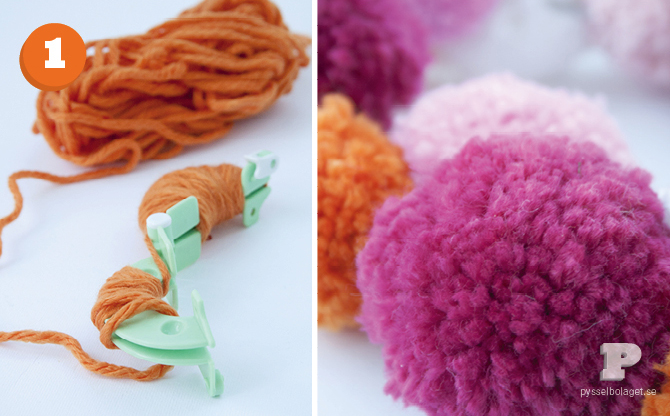 1. Att göra garnbollar med en Pom Pom maker går snabb och det är bra, till en krans behövs många bollar. Linda garnet runt de dubbla skivorna i Pom Pom maker och stäng den sedan. Använd garn i akryl eller ull för då blir bollarna fluffiga och fina. Med bomullsgarn har bollarna en tendens att bli spretiga.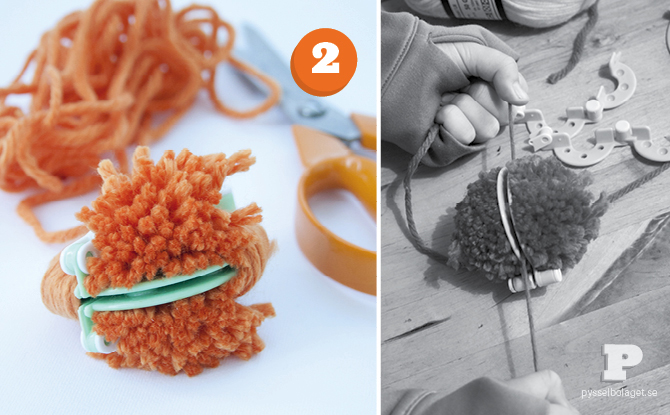 2. Klipp sedan upp bollen, med Pom Pom makern fortfarande stängd. Knyt ihop bollen och öppna Pom Pom makern och ta bort skivorna. Freja älskar att göra garn bollar, det går snabbt och blir fint fort.
3. Vill man ha bollen extra fluffig kan man hålla den över ånga en stund. En liten frisering kan också behövas, för att bollen ska bli jämn och fin.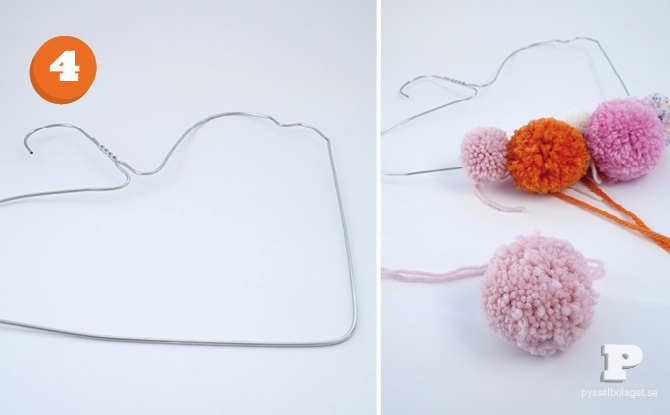 4. När bollarna är klara är det dags att knyta fast dem. Till vårt hjärta behövdes nästan 30 bollar i två olika storlekar och färger! Tur att Freja är snabb på att göra bollar. Själva ramen är gjort av en stålgalge, ni kan förstås även använda ståltråd, som är formad till ett hjärta.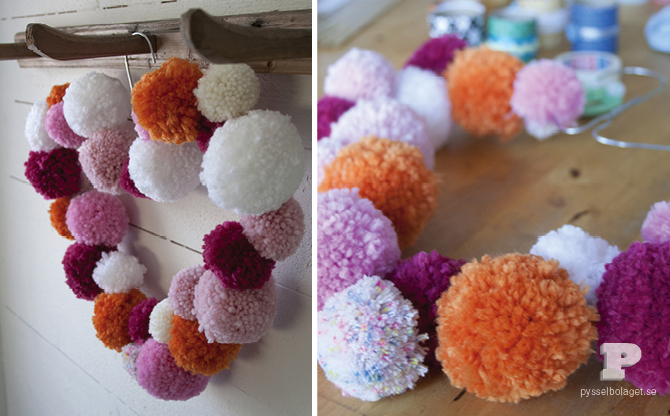 Hjärtat är nu fyllt med bollar och vi bråkar om vem som ska ha det. Både jag och Freja är väldigt nöjda. Vi får nog köpa mer garn och göra en till!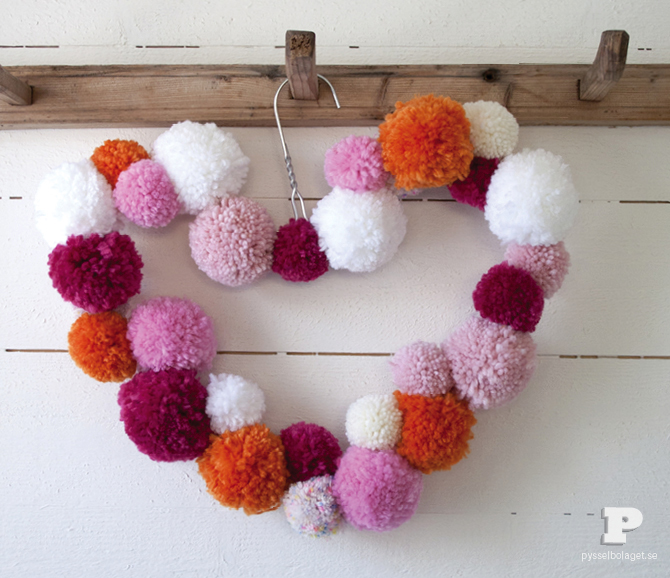 With a few days left until Valentine's Day we take the opportunity to make one Valentine's craft. This time we're using yarn to make a fluffy and beautiful heart.
You need yarn in different colors and a Pom Pom maker, both can be found in Helenas webbshop Make & Create. You also need steel wire or a steel hanger.
1. Making pom poms with a Pom Pom maker is fast and it's good, a wreath demands many pom poms. Wrap the yarn around the twin discs of the Pom Pom maker and then close it. Use yarn in acrylic or wool , cotton yarn pom poms have a tendency to become spiny.
2. Cut the yarn between the discs, with the Pom Pom maker still closed. Tie it, open Pom Pom maker and remove the discs. Freja loves to do pom poms, it's quick and turns out great.
3. If you want extra fluffy pom poms, hold them over boiling water for a while. The pom poms can requier a gentle trimming as well.
4. When all the pom poms are done, it's time to tie them on to a frame. We made almost 30 pom poms in two different sizes and colors! The frame is made of a steel hanger, you can of course also use steel wire, which is formed into a heart.
The heart is now filled with pom poms and we are arguing about who should have it. Both me and Freja are very pleased with the result. I think we'll simply buy more yarn and make another one!