Ni som följer oss vet att vi älskar att återanvända saker vi har hemma. Ofta ligger det en hög med grejer och väntar på att blir omgjorda. Högen med trasiga jeans har på sista tiden vuxit oroväckande och det dags att göra något åt den.
Ni behöver utslitna jeans, tråd och nål.
1. Börja med att klippa av en bit av benet, vi har använt ca 20 cm. Spara sömmen vid foten, den blir en utmärkt överkant på korgen. Sy en söm vid den klippta delen. Det kan vara trögt att sy i jeans men det är inte svårt.
2. När bottensömmen är klar ställ sömmen på högkant och tryck till. Sy sedan en söm över trekanten som blir.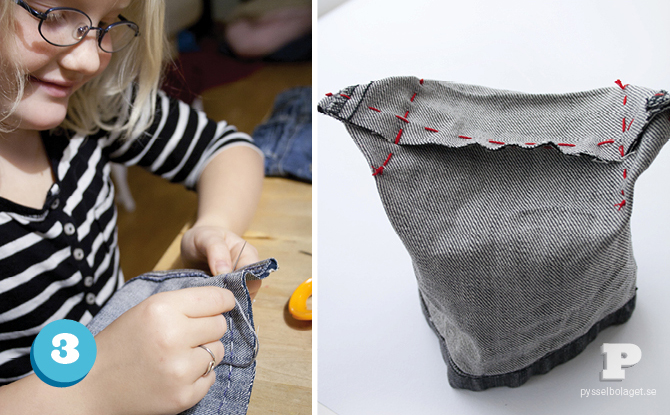 3. Gör samma sak på andra sidan.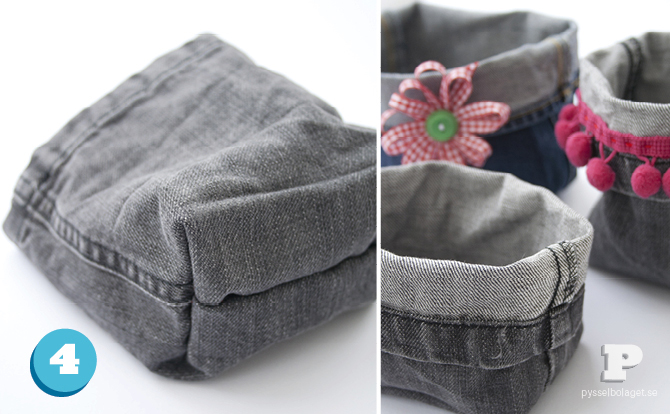 4. När alla tre sömmarna är klara vänder ni korgen rätt. Vik mer en bit av överkanten så får korgen lite mer stabilitet. Det färdiga resultatet blir så här!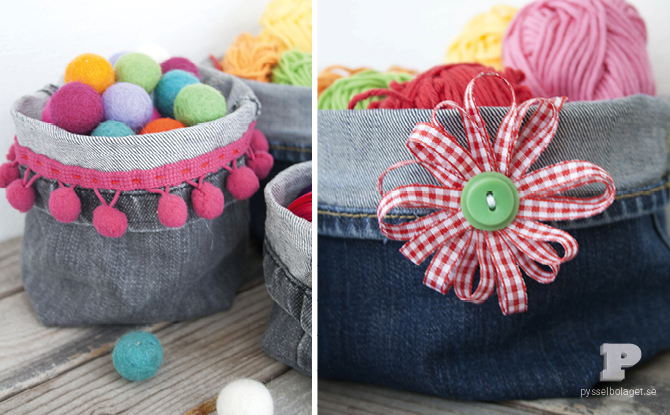 Vi har dekorerat våra korgar med bitar av band.
Korgarna är lite mjuka och man kan inte stoppa för tunga saker i dem men i vårt pysselskåp passar de utmärkt.
Those of you who follow us know that we love to recycle things we have at home. We have a collection of stuff is waiting to be redesigned. The pile of worn out jeans have recently grown alarmingly, and it's time to do something about it.
You need worn out jeans, thread and needle.
1. First cut a piece of the leg. We have used about 20 cm. Save the seam at the foot, it becomes an excellent top edge of the basket. Sew together the cut edge. It can be hard to sew in jeans but it's not difficult.
2. When the bottom seam is finished set the seam on edge and press. Then sew across the triangle.
3. Do the same on the other side.
4. When all three seams are sewn, turn your basket right. Fold down the top of the basket to make it more stability. Done!
We have decorated our baskets with pieces of ribbons.
The baskets are a bit soft and you want put heavy stuff in them, but as containers for our craft supplies they're perfect.