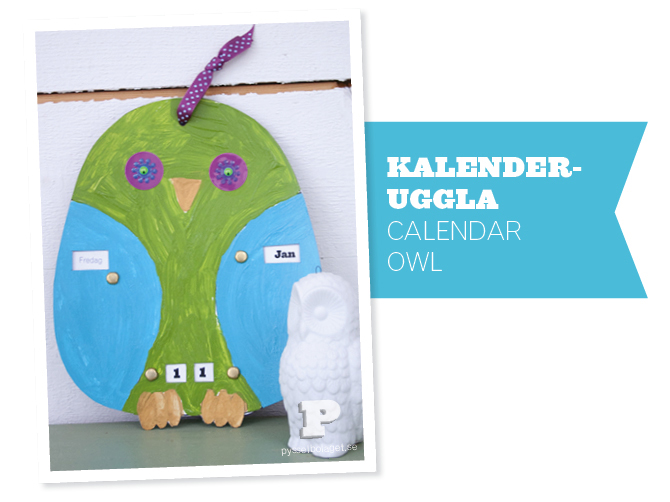 Så här i början på året är det roligt med en ny kalender. Förra året gjorde vi en kalender i ett återanvänt kassettfodral. I år blir det en uggla av kartong!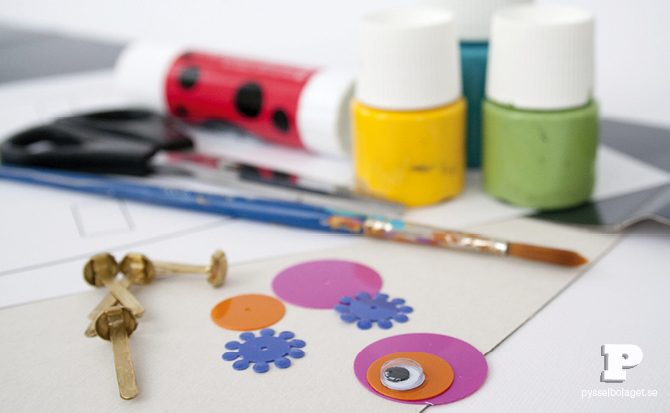 Ni behöver tunn kartong från till exempel en flingförpackning, hobbyfärg, pensel,  provpåsklämmor, också kallat jungfruben, sax, klister och paljetter, knappar eller annan dekor till ögon. Ni behöver också en mall, den finns att ladda ner här.
1. Börja med att skriva ut mallarna och klistra dem på kartongen. Det är två mallsidor, en med själva ugglan och en med de olika hjulen. Hjul för månader och veckodagar finns på både engelska och svenska. Ni ska ha sammanlagt fyra hjul till er uggla; en med veckodagar, en med månader och två olika med siffror. När klistret torkat är det bara att börja dekorera.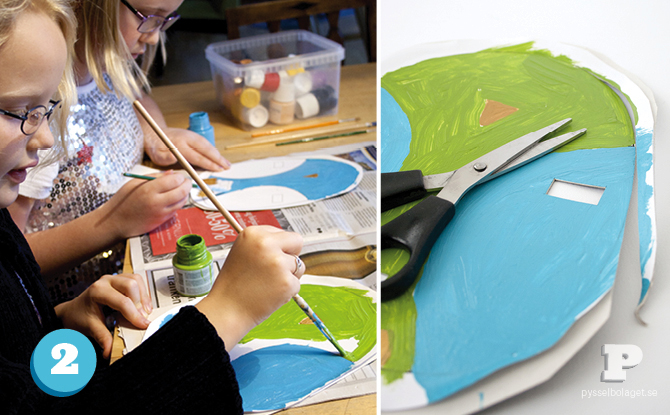 2. Freja och hennes kompis har valt att måla sina ugglor. Vi rekommenderar att ni använder hobbyfärg, inte vattenfärg. Vattenfärgen gör att papper och kartong krymper och er uggla kommer då att bli bucklig. Dessutom täcker hobbyfärgen bättre. När färgen är torr klipper ni rent ugglan och klipper ut de markerade boxarna.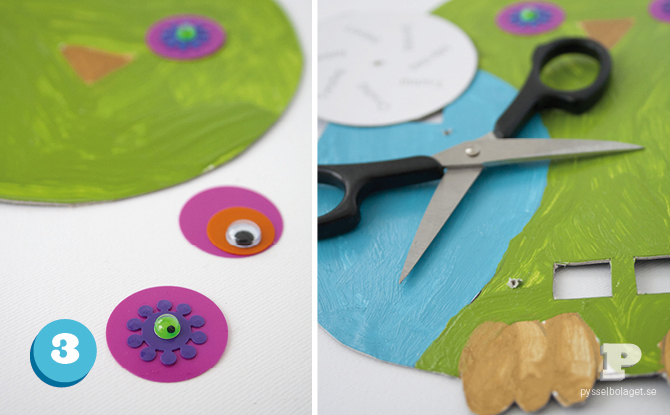 3. Nu är det dags att klistra på ögonen. Tjejerna har lagt paljetter i olika storlekar på varandra och sen avslutat med ett öga. Det är också dags att göra hål där hjulen ska fästas. Hålen finns markerade på mallen och görs lättast med en vass sax.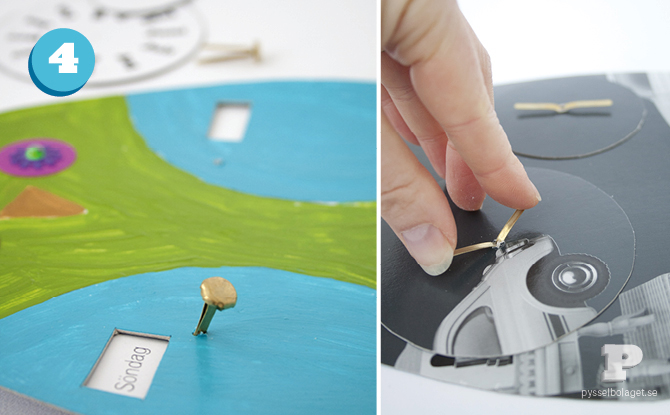 4. Tryck sedan försiktigt på jungfrubenen, först genom ugglan och sen genom respektive hjul. Vik ner jungfrubenen på baksidan.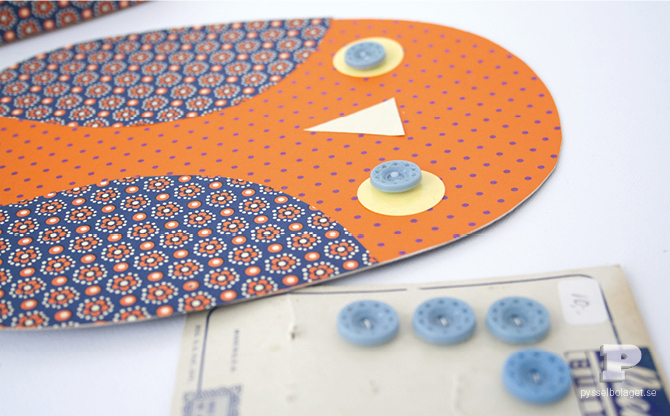 Ett annat alternativ, istället för att måla, är att klistra på färgade papper. Så här fint kan det bli.
Våra kalenderugglor är nu klara. Nu gäller det bara att hålla ordning på vilken dag det är!
A new year requires a new calendar. Last year we used a recycled cassette case to make a calendar. This year we're doing an owl calendar of cardboard!
You need thin cardboard from for example a cereal box , hobby paint, brush, paperbinders, scissors, glue and sequins, buttons or other decoration to use as eyes. You also need a template, it is available to download here.
1. Start by printing out the templates and paste them on the cardboard. There are two template pages, one with the the owl and one with the different wheels. You need a total of four wheels for each owl, one with days of the week, one with the month and two with numbers. The wheels with text are available in both English and Swedish. When the glue has dried, it is time to start decorating.
2. Freja and her friend has chosen to paint their owls. We recommend that you use hobby paint, not watercolor. Watercolors can make paper and cardboard shrink and your owl will then become dented. Also, hobby paint covers really well. When the paint is dry, cut out the owl and cut out the marked boxes.
3. Now it's time to glue on the eyes. The girls have used sequins in different sizes and finished with a small eye. It is also time to make holes where the wheels are to be attached. The holes are marked on the template and is best done with a sharp scissors.
4. Next gently press the paperbinders through the holes, first through the owl and then through each wheel. Fold down the paperbinders on the back.
Another way to decorate your owl is to use colored paper instead of paint. Looks good, doesn't it!
Our calendar owls are now done. Now we just have to keep track of what day it is!