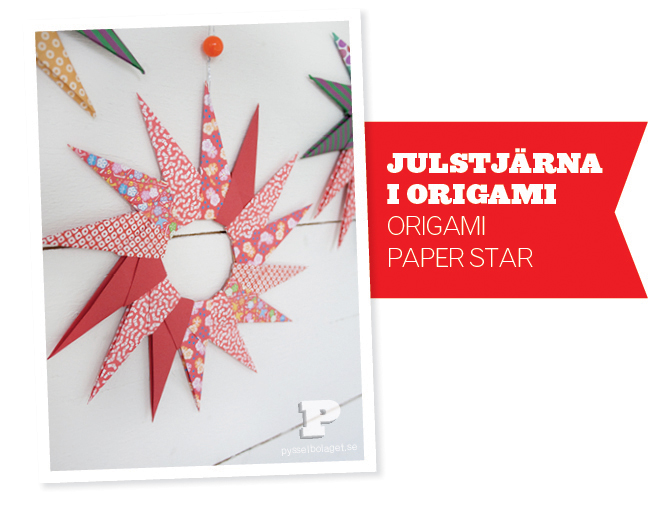 Idag är det dags för ett riktigt papperpyssel. Jag och Freja lärde oss att vika de här stjärnorna i förra veckan och det blev omedelbar kärlek. Det kanske ser komplicerat ut men Freja viker sina stjärnor helt själv. Ett pyssel man kan göra med skolbarn, helt enkelt. Fram med färgade papper och tålamod så kör vi!
Ni behöver 14 stycken tunna färgade papper klippta i fyrkanter.

1. Vik pappret på mitten och diagonalen. 2. Vik sedan in alla hörn mot mitten. 3. Nu ska ytterkantens flikar vikas in. Pappret ser nu ut som en drake. 4. Vänd på draken och vik ner överkantens flik. 5. Till sist viker ni ihop draken med den nya lilla fliken utåt.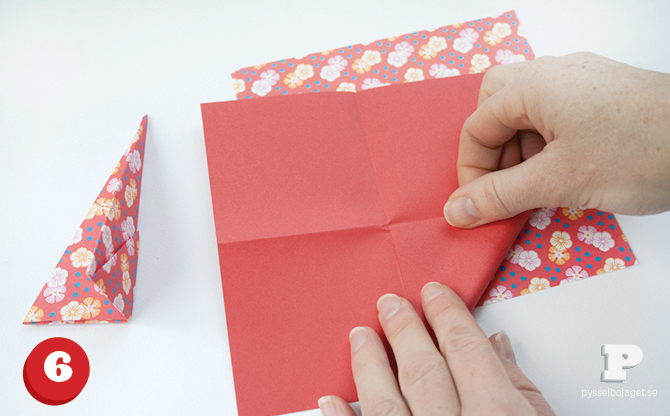 6. Stjärnans första stråle är klar. Nu ska det vikas 13 stycken till!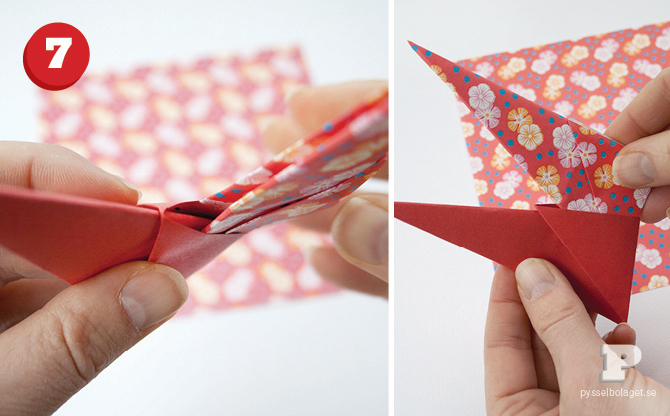 7. Nu ska strålarna sättas ihop. Jag hoppas att ni ser på bilden hur det ska funka. Flikarna från den ena strålen petas försiktigt in i det lilla viket på den andra strålen, en flik på var sida.
8. Strålarna flätas ihop allt eftersom de blir klara. Det är en fördel att hålla till på bordet, strålarna glider i det här läget gärna isär.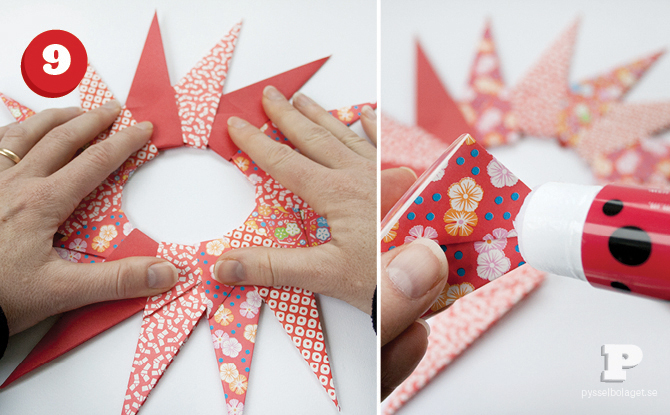 9. När alla strålar är på plats kan man försiktigt trycka ihop stjärnan så att cirkeln i mitten blir jämn och fin. Stjärnan är nu färdig men rätt ömtålig. Vi har därför klistrat våra stjärnor. Klistra inte strålarna alltefter de är färdiga utan vänta tills alla strålar är klara. Stjärnan behöver justeras och klämmas ihop när alla strålar är på plats och klistret torkar snabbt.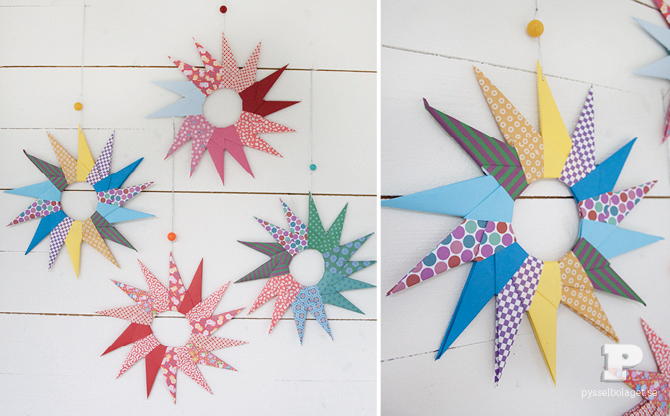 Vad tycks!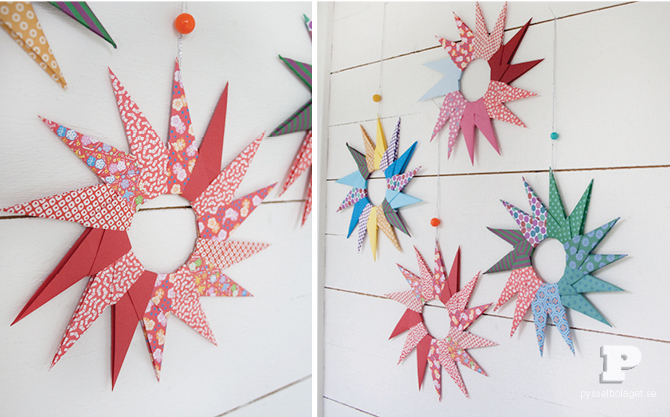 Det tar sin lilla stund att vika 14 strålar men varje stråle är lätt. Både jag och Freja tyckte att det var superroligt att göra stjärnorna och vi är mycket nöjda med resultatet.
Today it's time for a real paper crafts. Freja and I learned to fold these stars last week and it was love at once. It may look complicated but Freja folded her stars all by herself. A crafts you can do with school children. Bring out colored paper and some patience!
You need 14 pieces of thin colored paper, cut into squares.
1. Fold the paper in half withwise and in the length direction. 2. Then fold all the corners toward the center. 3. Now fold the outer edge flaps into the middle. The paper now looks like a kite. 4. Flip the kite over and fold down the upper flap. 5. Finally, fold up your kite in the middle with the new small flap facing outward.
6. The star's first beam is done. Now just fold 13 more!
7. It's time to put the beams together. I hope that you see in the picture how it should work. The flaps from one beam folds gently into the small flaps on the other beam, a flap on each side.
8. Intertwine the beams as you do along but keep your work on a table, the beams easily falls apart.
9. When all the beams are in place, carefully compress the star so that the circle in the center is smooth and round. The star is now ready but quite fragile. Therefore, we have pasted our stars. Do not glue the beams until they're all ready. The star needs to be adjusted and clamped when all beams are in place and the glue dries quickly.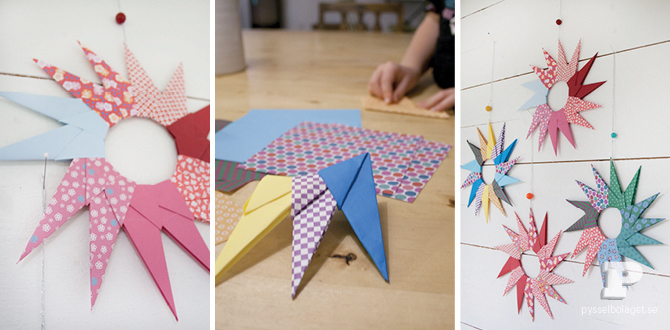 Like it? It takes little time to fold 14 beams but each beam is easy. Both Freja and I thought it was super fun to make the stars and we are very pleased with the results.