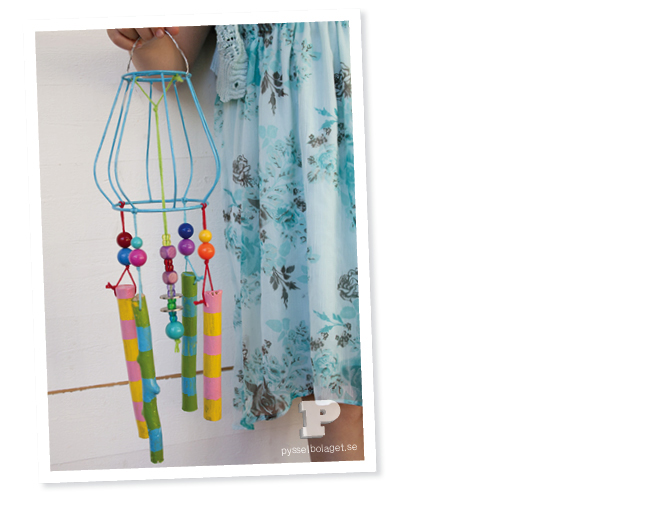 På sommaren får vi alltid lust att samla saker från naturen. Fina stenar och, som idag, vackra grenar har fått följa med hem. Efter att ha sett den här bilden på Pinterest var vi säkra på vi ville måla våra grenar. Men vad gör man med dem sen? Ett vindspel, så klart!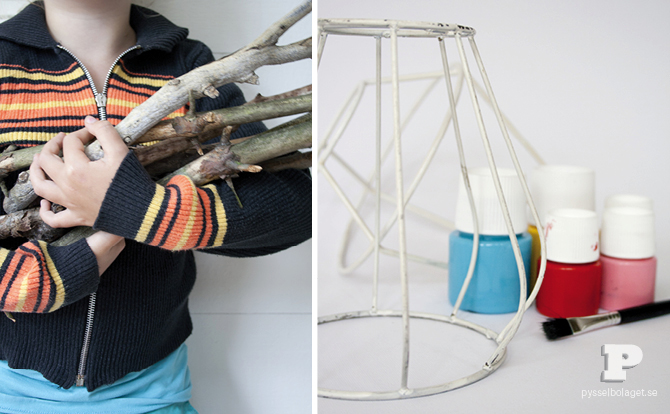 Till dagens pyssel behöver ni torra grenar, hobbyfärg och penslar, en liten lampställning, garn och pärlor, borr och sandpapper.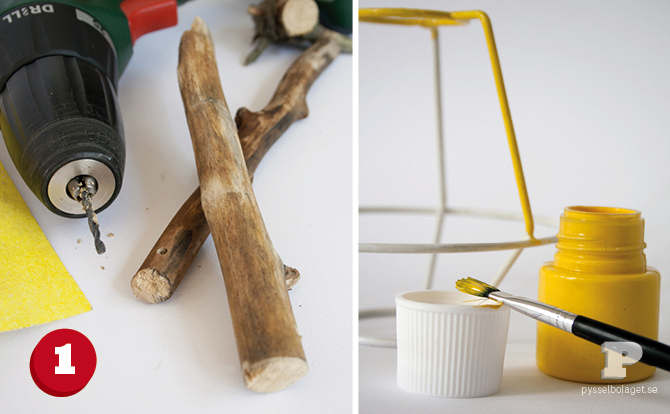 1. Börja med att ta av gammal bark, sandpappra och borra hål i det som ska bli den övre delen av pinnarna. Måla också lampskärmen, om ni tycker att det behövs.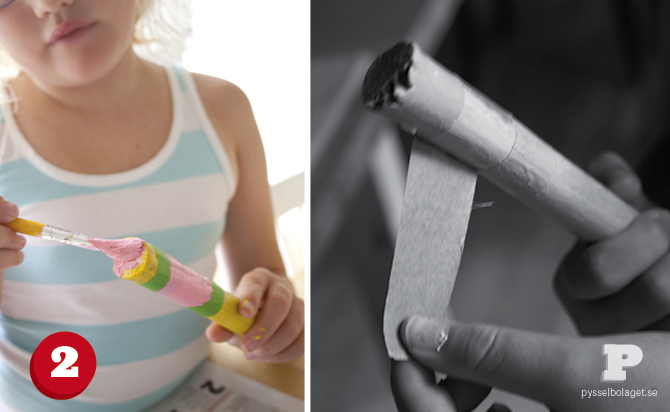 2. Nu till det roliga! Måla pinnarna efter lust och fantasi. Freja valde att måla hela sina pinnar i en färg. Hon lät dem sedan torka, tejpade ränder med en maskeringstejp och målade på med en annan färg. På så sätt fick hon snygga randiga pinnar.
3. Själv gillar jag när man ser pinnen och jag valde därför att bara måla delar av mina pinnar. Så här ser våra färdiga pinnar ut. Snyggt, eller hur!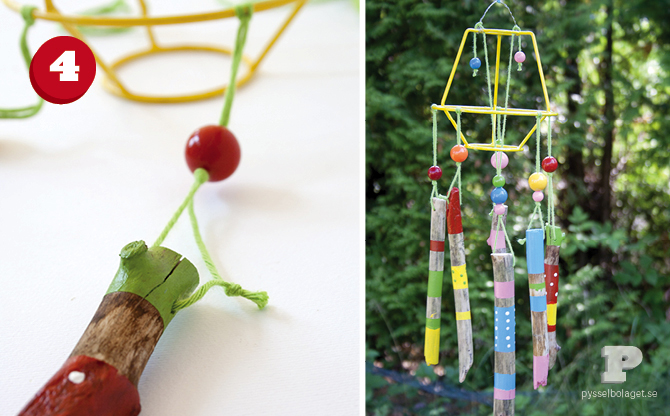 4. När alla pinnar är målade och torra knyter vi fast dem med garn på lampställningen. Vill ni kan ni lägga till några pärlor, det gjorde vi, och så här fina blev de! Den gula…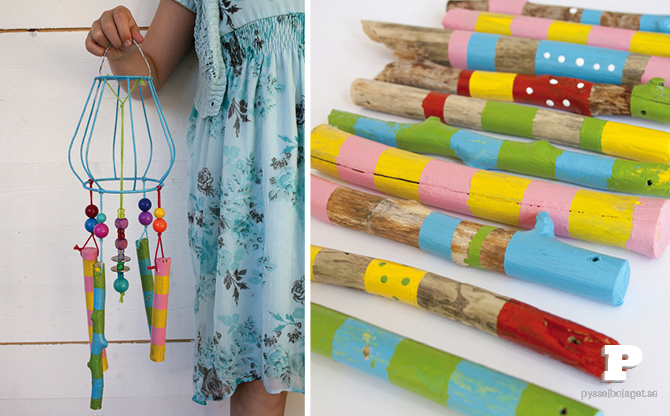 … och den turkosa. Nu ska vi bara hitta en bra plats för dem i trädgården.
In the summer we always like to collect things from nature. Pretty stones and, like today, beautiful sticks have had to come home with us. After seeing this photo on Pinterest, we knew we wanted to paint our sticks. But what do you do with a bunch of painted sticks? A wind chimes, of course!
For today's crafts you need dry sticks, hobby paint and brushes, a small lampshade frame, yarn and beads,  a drill and sandpaper.
1. Start by removing the old bark, sand the sticks with sandpaper and drilling holes in the top end of the sticks. You can also paint the lampshade frame, if you feel the need for it.
2. And now the fun part! Paint your sticks! Freja chose to paint all her sticks in one color. She let them dry, taped stripes with masking tape and painted with a different color. That way, she got really nice striped sticks.
3. I chose to just paint parts of my sticks. And here's our finished sticks. Neat, isn't it!
4. Make sure the sticks are dry, then tie them firmly to your lampshade frame. If you want you can add beads, we did, and they turned out beautifully! The yellow one …
… and the turquoise. All we have to du now if to find a good place for them in the garden.