Crafting with kids is fantastic. Sometimes amazing creations are made that can stand on display forever for everyone to enjoy and then there are those that even Grandma has a hard time enjoying. The joy of crafting can quickly turn to disappointment if you spent your money on expensive craft materials. It is easier to enjoy a crafty moment together if you use inexpensive, or even free, craft materials. Don't you agree?
A lot of the things on the list are basic materials found in your local grocery store, book store not to mention your recycling bin.
Always at hand:
Glue
We use 3 kinds of glue: glue gun, school glue and glue stick. We also use stronger glue, but the kids are not allowed to use it by themselves.
Scissors
Scissors in different sizes to fit all sizes of crafters. Invest in a pair of good quality scissors, they are more fun to work with. We mostly use my Fiskars scissors that I bought in the 80s. They don't wear out and are easy to sharpen. It's the cheapest solution in the long run but cheaper sets of scissors are available in supermarkets and IKEA. They also sell pattern scissors in child sizes.
Paper
Paper in all different varieties, plain, patterned, white, thick. I can easily overspend on nice paper, paper I hardly dare to use. My recommendation is not to buy expensive designer papers, but a variety of slightly less expensive paper. Look in supermarkets and bookstores for affordable paper. Gift wrapping paper and glossy magazine pages can also be saved and taken care of.
Craft paint
Craft paint is something you might want to spend some money on and is best bought in craft stores. Sometimes you can find sets of different colors. Try a set and see what colors you use most. We always have about 4–6 colors in a set that we use regularly and a couple that never get used. Craft paints can also be mixed, buy red and white and mix to pink.
Plastic beads
Fusible plastic beads can be bought, often at a high price, in craft stores. Less expensive beads can be found at, for example, IKEA.
Yarn
Bags with embroidery yarn can be found in thrift stores, plain yarn often in supermarkets. A couple of big needles are also a good investment, but choose blunt needles if you have small children.
Elastic thread
Invaluable when the urge to make necklaces and bracelets comes on.
Metal wire
Can be purchased in various colors and thicknesses. We always have a thin and soft wire at home and we stick to the cheap stuff from the hardware store.
Tissue paper
All children like tissue paper. Look for big packs – but don't let them have all of it at once.
Markers
Invest in good non-toxic markers. A "have to have" in every home, ask the children if you don't believe us!
Brushes
Buy a set of many and take good care of them and they will last a long time.
Tape
Something we don't use a lot of but adhesive tape is invaluable to have at home.
Eyes and sequins
Plastic eyes and sequins are fun accessories, but you don't need a lot. Buy a big pack every now and then, it lasts forever.
Buttons
Available in sets from craft stores, but can also be found cheap at the flea market.
Wood beads
Available in craft stores for a few pennies and are wonderful to work with. Decorate a lamp cord, make a trivet or necklace out of them.
Hobby felt
We occasionally buy a big pack but do not use it that often. The only exception is when Freja wants to sew pillows, then she can use the lot. A sheet of black and a sheet of white felt fabric can come in handy for details like eyes and ears.
Barbecue sticks
Available in most grocery stores and a great craft material.
Clothespins
Wooden clothespins are excellent craft material and can be found in most grocery stores.
Ocassionally at hand: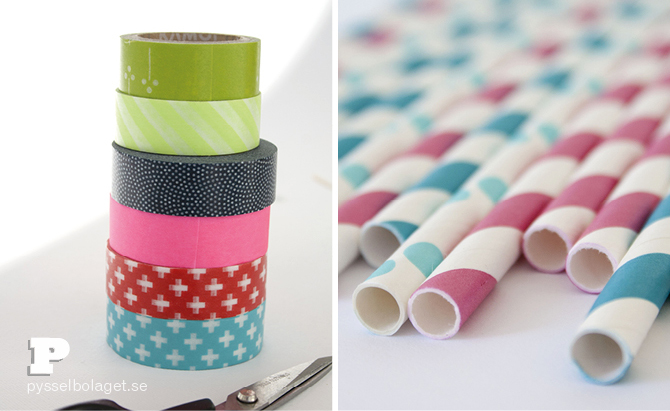 Cotton pulp balls
Lots of fun things can be done with cotton pulp balls, but they are quite expensive, I think. We buy them occasionally and in this magazine we show you what you can do with them.
Washi tape
Washi tape is a Japanese paper tape made of natural fibers. It's a bit like masking tape and works the same way. The big difference is that washi tape comes in all possible designs and colors. It's great to use for putting up artwork and for decorating with but it is expensive. We have a couple rolls of colored washi tape and a couple of rolls of patterned. It is enough, I promise, even if it is incredibly tempting to buy more. Always very appreciated when given as a gift by both big and small craftspeople.
Paper straws
Available almost everywhere and a great craft material. They are easy to work with and come in bright colors. The fact that they aren't very expensive is also an advantage.
Spray paint
Spray paint is available in most paint stores, but the most fun colors can be found in stores that sell graffiti paint. Don't buy too many colors, one or two is quite enough. They last forever and should be used wisely because most of the aren't environmentally friendly.
Pom pom maker
With a Pom Pom Maker you make pom poms in a snap. A completely unnecessary gadget – but we could not resist. Available in craft stores and online retailers.
To rescue from the recycling bin:
Toilet rolls
Toilet rolls are a fantastic craft material. Save, save, save!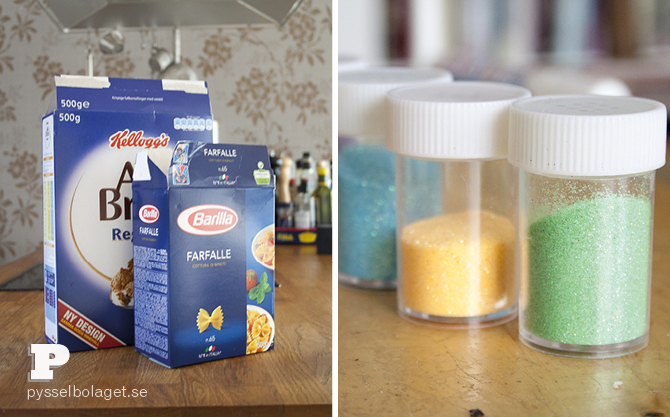 Cardboard
Save cereal and pasta boxes. The cardboard is just the right thickness to suite many sorts of crafts. Just remember, if you paint on the raw side you have to use acrylic paint. Watercolors don't stick to the raw surface, they will smudge and the carboard will shrink when treated with water and bend.
Plastic jars
Cosmetic jars are often exquisite and rather exclusive. Wash them out and decorate them! PET and shampoo bottles are also great to save. The soft plastic is easy cut in to with a pair of scissors.
We try to avoid:
Craft kits
Every now and then it's fun to make erasers and soaps but I'd rather put my money on supplies with more than one use. Craft kits do, however, make wonderful birthday presents.
Glitter
Those of you who read our blog may have noticed we don't use a lot of glitter. I like glitter, but not everywhere. It only takes a kid and a jar of glitter and your house is full of it – for a long time. We do all our crafts at the kitchen table and I don't fancy glitter in my food. Do we have glitter at home? Sure, Freja has spent a fair amount of her pocket money on glitter, but I think she likes to look at the containers more than using their contents. A good alternative to glitter is glitter glue. It runs out quickly, but it's so much easier to clean off.
Please let us know if you think we missed something or if you like to share a smart craft tip with us! Let's complete the list together!