Vi har sett många fina kopparljusstakar på nätet den senaste tiden, ett exempel är adventsljusstaken från Pastill. Vi har också velat göra en egen, men att såga till kopparrör verkade lite för svårt för oss. Därför blev vi extra glada när Helena på Mormorsglamour visade sin fina ljusstake gjord av kopparkopplingar och rundstav i trä. Såga i trä kan vi och så här gjorde vi våra ljusstakar.
———
We have seen many beautiful copper candlesticks on the web recently, the advent lights from Pastill is one example. We wanted to make our own, but cutting copper pipes seemed a little too hard for us. We were therefore particularly happy when Helena on Mormorsglamour posted her stunning candlestick made of copper fittings and a wooden dowel rod. Cutting wood we can do and this is how we made our candlesticks.
Ni behöver kopplingar i koppar. Vi har använt t-rör och 90° böj med en diameter på 22 mm. Ni behöver också rundstav i trä med diametern 21 mm, en såg, trälim och färg.
———
You need copper fittings. We have used the Tee and 90 ° elbows, with a diameter of 22 mm. You also need wooden dowel rod with diameter 21 mm, a saw, wood glue and paint.
1. Börja med att såga till rundstavarna i bitar. Längden på stavarna är beroende på hur ni vill att ser ljusstake ska se ut. Vi kapade vår rundstav i ca 10-12 cm långa bitar.
———
1. Start by cutting the dowel rod into pieces. The length of the pieces depends on how you want your candlestick to look. We cut our rod in about 10-12 cm long pieces.
2. För att vara säker på att ni blir nöjda med er design kan ni lägga ut alla bitar, men klistra inte än. Nästa steg blir att måla träbitarna.
———
2. Then lay out the pieces to make sure you're happy with the design, but do not glue them together yet. The next step will be to paint the wood pieces.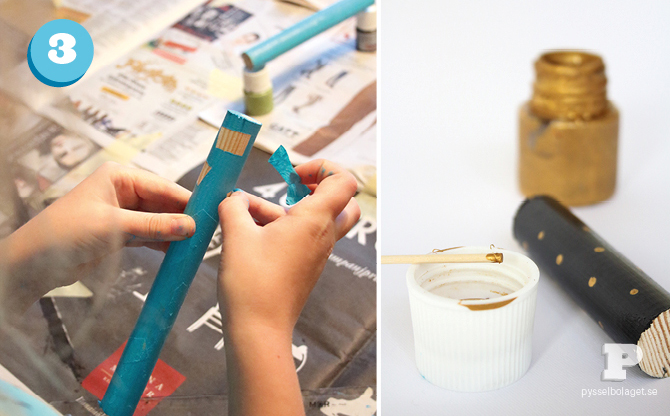 3. Freja valde att tejpa delar sina träbitar, för att på så sätt skapa ett mönster. Min bitar fick också ett mönster i form av prickar.
———
3. Freja chose to cover parts of her rods with a tape, to create a pattern. My rods also got a pattern, but I decided on dots.
4. När bitarna är helt torra är det bara att sätta ihop med trälim. Var noga med att rörbitarna hamnar rakt, vi vill inte ha några sneda ljus på vår ljusstake! Låt klistret torka.
———
4. When the paint is dry just glue the pieces together. Make sure all the copper fittings are straight. Let the glue dry.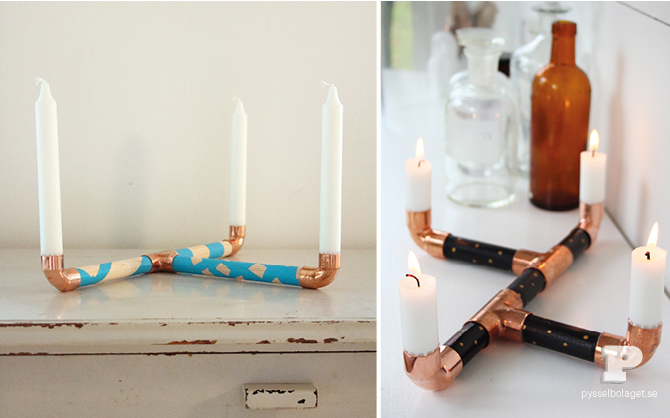 Så här fina blev våra ljusstakar. Att jobba med en runstav i trä och kopparkopplingar är lätt och vanliga stearinljus passar perfekt i kopplingarna.
———
Our candlesticks turned out great. Working with wood rods and copper fittings is really easy and a regular candle fits perfectly in the copper fittings.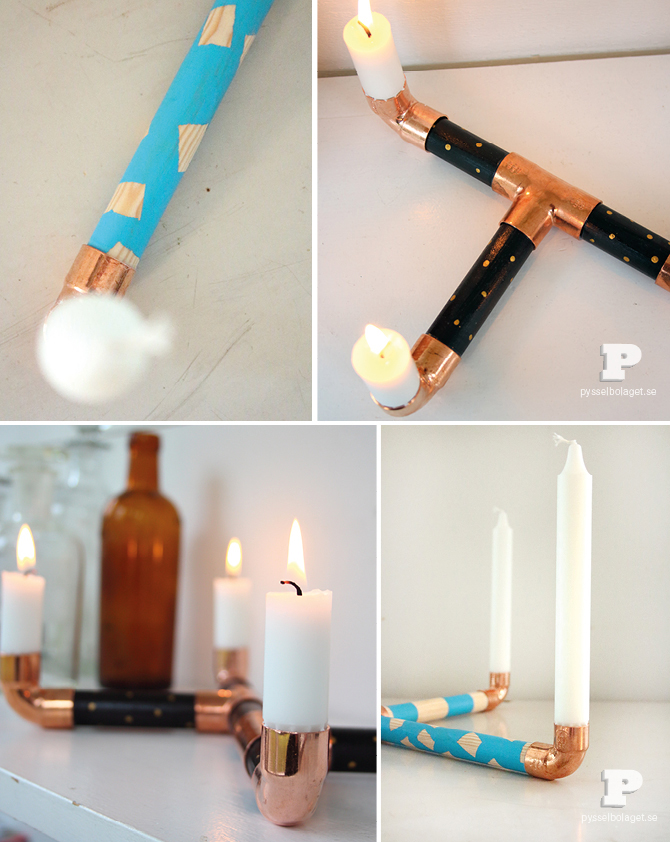 Kanske blir det årets julklapp!
———
Let's make this the Christmas DIY gift of the year!