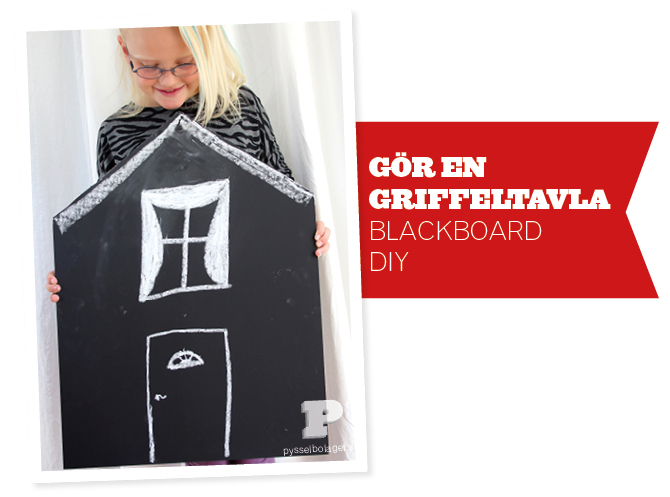 Hösten är här och behovet av daglig organisation är stort. Gympapåsar ska packas, läxor ska göras och bussar ska passas. Vi löser organisationen med en enkel anslagstavla.
———
Autumn is here and the demand to organize our everyday life is high. Gym bags are to be packed, homework is to be done and buses are to be caught. We solve the problem with a simple blackboard.
Ni behöver griffeltavelfärg, en såg och en tunn träskiva. Vi har använt bottnar från en slaktad byrå (och ja – jag sparar på allt! Till mitt försvar vill jag bara säga att det mesta kommer till användning).
———
You need blackboard paint, a saw and a thin wooden board. We have used the bottoms from a slaughtered drawer (and yes – I save everything! In my defense, let me just say that most of the kept stuff come to use).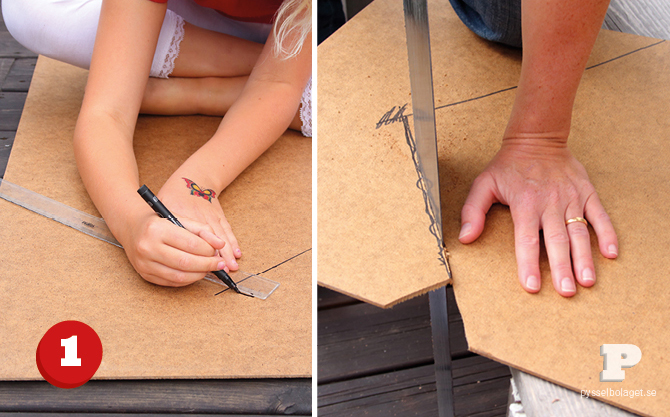 1. Börja med att rita ut den form ni vill att er griffeltavla ska ha. Håll er till rena enkla former så blir det lättare att såga.
———
1. Start by drawing out the shape you want your blackboard to have. Stick to straight and simple shapes, it makes it easier to cut.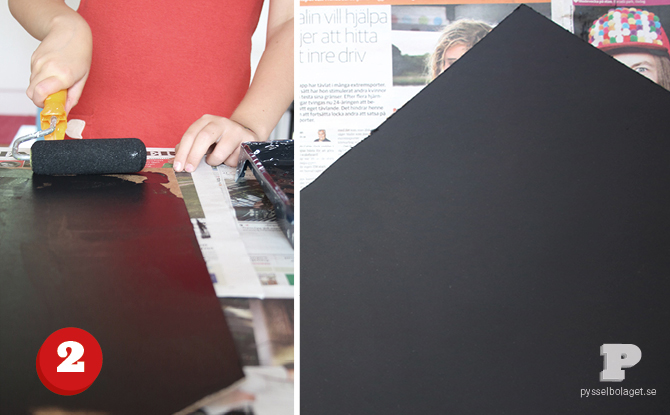 2. Måla sedan tavlan med griffeltavelfärg. Freja målar med en liten roller, med det går lika bra med pensel. Låt torka och måla igen. På färgburken står angivet hur många lager färg som rekommenderas.
———
2. Then paint the board with blackboard paint. Freja paints with a small paint roller, but it works just as well with a brush. Let it dry and paint again. How many layers of paint that are recommended will be specified on the can.
3. När sista lagret torkat är det bara att sätta igång att använda griffeltavlan. Rita eller skriv, och sudda med en liten svamp om det blir fel eller om ni vill göra nytt.
———
3. When the last layer has dried, the board is ready to put in use. Draw or write, and erase with a small sponge if you want to do again.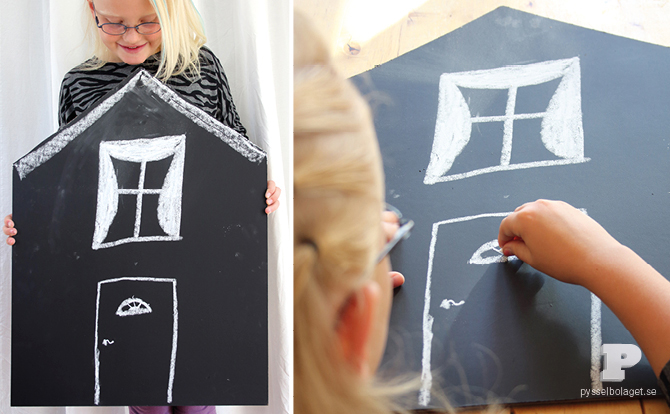 Freja använder sin tavla att rita på.
———
Freja uses her blackboard to draw on.
Min tavla är på plats i köket, redo att fyllas med viktigt och oviktigt!
———
My blackboard is in place in the kitchen, ready to be filled with important and unimportant stuff!