Ni som följer oss vet att vi älskar sprayfärg. Under sensommaren har vi spraymålat både på glas och textil. Idag ger vi oss på en loppisfyndad bricka. / Those of you who follow us know that we love spray paint. During the late summer we spray painted on both glass and textiles. Today, we tackle a flea market find.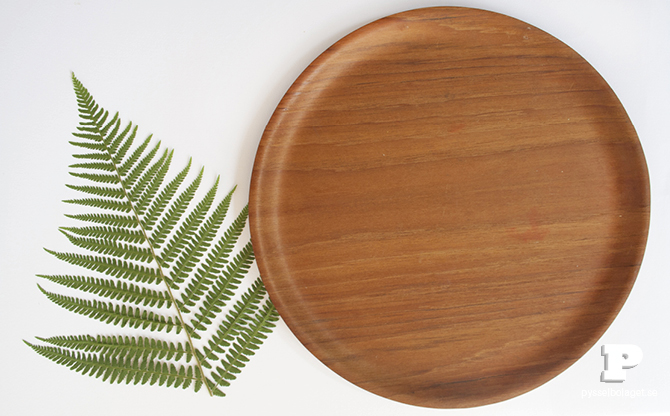 Vi har använt en bricka i trä fyndad på loppis för en tia, ett vackert blad och sprayfärg. / We have used a tray in wood bought at a flea market for a dollar, a beautiful leaf and spray paint.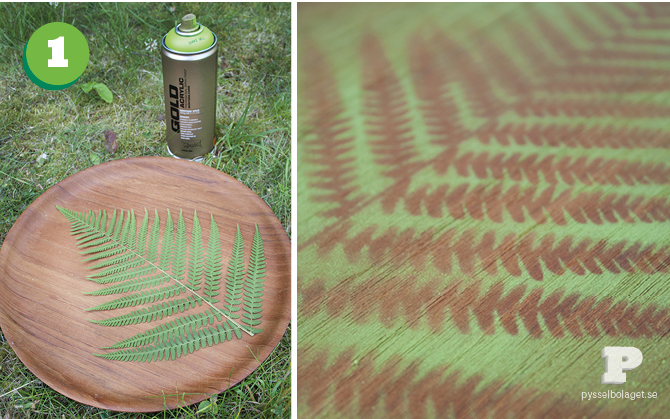 Principen är den samma som när vi spraymålade glaskopparna. Lägg bladet på brickan, se till att täcka arbetsytan där du sprayar, och spraya sedan lätt på bladet. Lyft bort bladet och brickan är färdig! / The principle is the same as when we spray painted the tealight holders. Place the leaf on the tray, make sure to cover the workspace where you work, and spray gently on the leaf. Remove the leaf and the tray is done!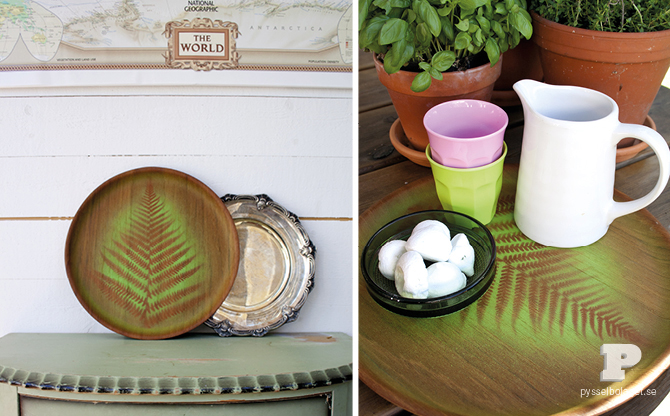 Istället för en tråkig, lite sliten träbricka har nu fått en bricka med sommarkänsla. / Instead of a boring, a bit worn wooden tray we now have a tray with a fantastic summer feel.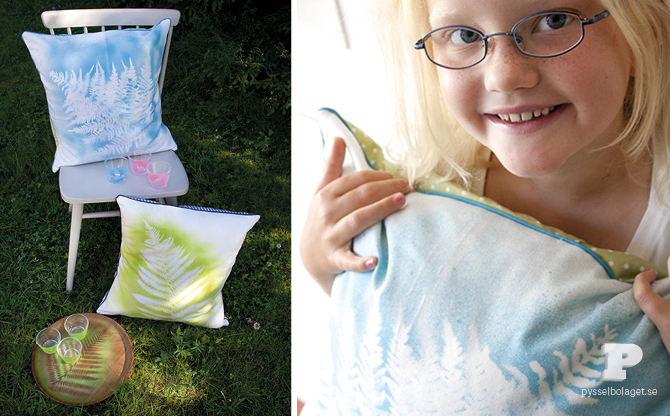 Vi har ägnat flera inlägg åt just sprayfärg, men det är ett så härligt sätt att förändra gamla prylar på. Sprayflaskorna är inte svåra att hantera och ser man bara till att ha god ventilation och oömma kläder är det ett utmärkt redskap även för barn. Lite tyg eller en tråkig leksak kan på ett par minuter få ett nytt utseende. Freja är så nöjd med sin kudde, som hon sprayat med textilfärg, och jag är nöjd över att hon är stolt. Att ha gjort något själv är en skön känsla, eller hur! / We have devoted several posts to spray paint, but it is such a lovely tool to transform old stuff with. Spray paint bottles are not difficult to manage, and as long as you make sure to have good ventilation and protect you clothing is an excellent tool even for children. A little piece fabric or a boring toy instantly get a new look. Freja is so happy with her pillow that she sprayed with fabric paint, and I am pleased to see her proud. To have made something yourself is a great feeling, isn't it!