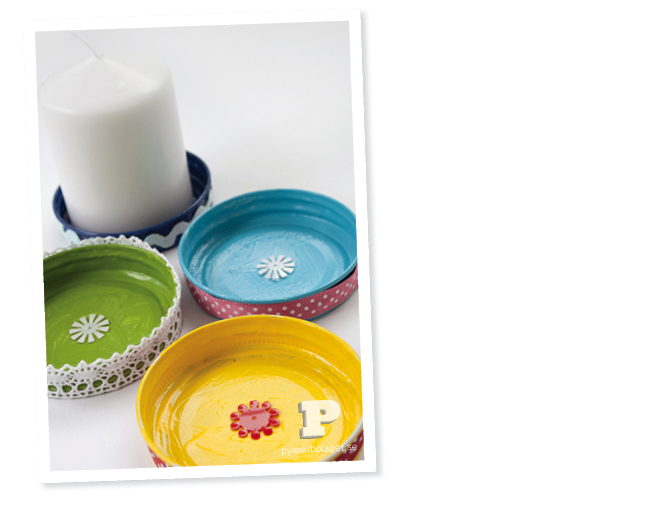 När vi gjorde våra Halloween lyktor fick vi ett helt gäng lock över. Som alltid när det blir saker över kliar det i fingrarna på oss att hitta på något att göra med dem. Men vad gör man med lock? Den här gången blev det små fat till block ljus.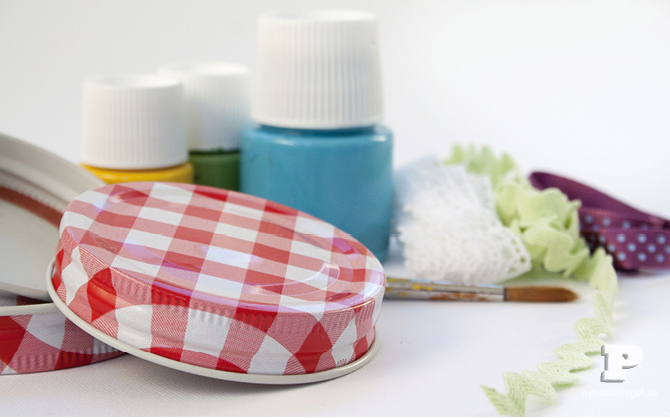 Ni behöver överblivna metallock, hobbyfärg, pensel, klister och fina band och spetsar.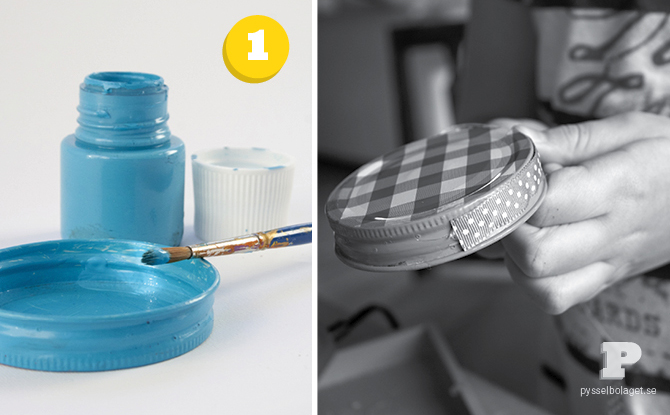 1. Börja med att måla locken med hobbyfärg. Våra lock krävde ett par lager färg innan de blev som vi ville ha dem.
2. Låt locken torka ordentligt och dekorera dem sedan med fina band eller annat fint ni har hemma. Som ni ser låter jag Freja använda limpistol. Jag finns alltid i närheten när limpistolen är igång, i fall hon skulle bränna sig, men hon har visat sig försiktig. Har ni mindre barn, eller barn som inte är vana vid limpistol, så går det förstås bra att använda vanligt hobbylim.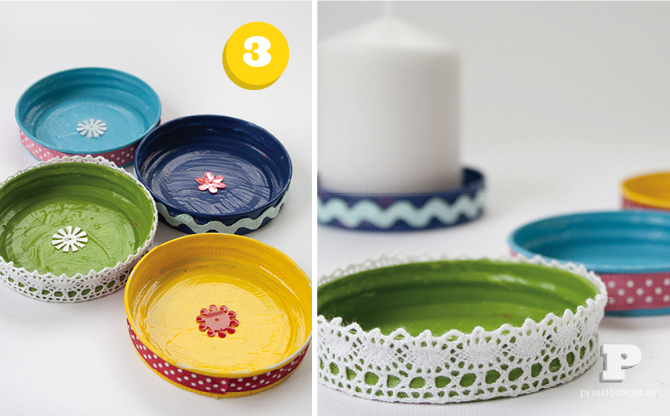 3. Vi avslutade med att sätta dit en liten paljett i botten. Tänk bara på att det som sitter i botten måste vara platt, så att ljusen inte står ostadigt. Då var vi klara!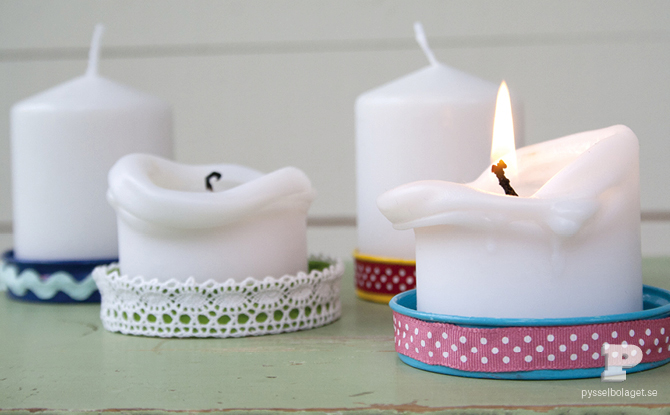 Fyra tråkiga överblivna lock är nu fyra fina små fat till blockljus.
When we did our Halloween lanterns we got a whole bunch of lids leftover. We don't like leftover things – we had to find something to do with them. But what do you do with the lids? Candle plates, of course!
You need leftover metal lids, hobby paint, brush, glue and fine ribbons and lace.
1. Begin by painting the lids with hobby paint. We had to add a couple of layers of paint before our lids looked the way we wanted.
2. Let the lids dry thoroughly and then decorate them with beautiful ribbons or lace. As you can see, I let Freja use the glue gun. I am always nearby when glue gun is in use, in case she would burn herself, but she has proved to be careful. Do you have small children, or children who are not accustomed glue guns, use plain craft glue.
3. We attached a little sequin on the bottom of the lid. Make sure the sequins is glued flat to the bottom or the candle will be unstable. Done!
Four boring leftover lids are now four tiny candle plates for our block lights.