Sugrör i papper ser man numera ofta i bak- och inredningsaffärer. De kommer i fina mönster och granna färger och lockar verkligen till lek. Visst, vi använder gärna sugrör på kalas – men vi pysslar nästan hellre med dem! Idag gör vi en namnskylt till Freja. Häng med! / Paper straws are often found in baking and interior design shops. They come in beautiful patterns and bright colors and they spur ones imagination. Sure, we like to use straw at our birthday partys – but we love to do crafts with them! Today we make a nameplate for Freja. Check it out!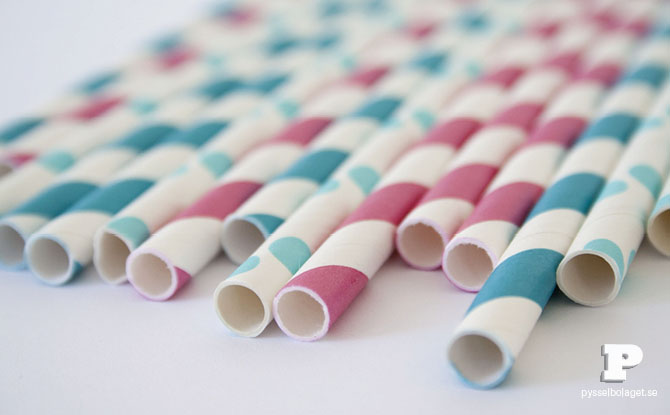 Ni behöver papperssugrör i olika färger och mönster. Våra är inköpta på resor och mässor men Helena har underbara sugrör i hennes webbbutik Make & Create. Vi har också använt en limpistol, sax och en liten träbräda att fästa bokstäverna på. / You need paper straws in different colors and patterns. Our are purchased on trips and fairs, but Helena has wonderful straw in her web store Make & Create. We also used a glue gun, scissors, and a small wooden board to attach the letters on.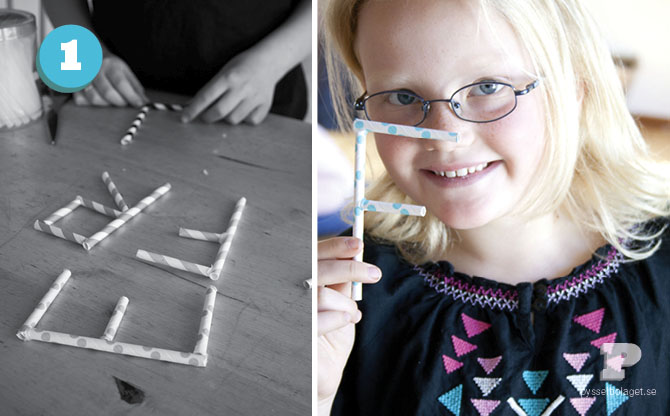 1. Börja med att bestämma hur bokstäverna ska se ut och klipp sedan till sugrören i önskad längd. Det kan vara lite trixigt att få till bokstäverna. Freja hade turen att både ha lätta bokstäver och ett kort namn. / Start by deciding how the letters should look and then cut into straws in length. It can be a little tricky to shape the letters. Freja is fortunate to have both easy letters and a short name.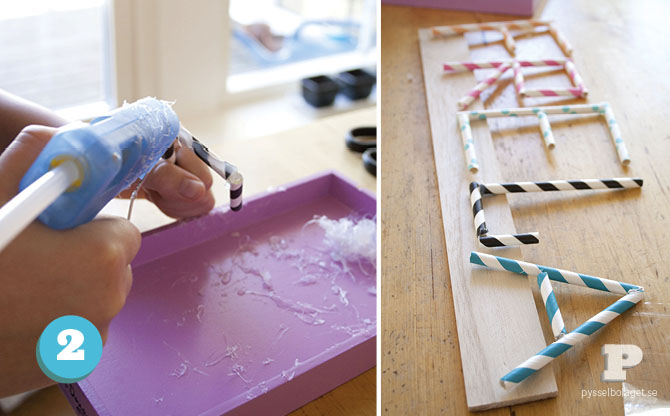 2. Limma sedan ihop bokstäverna med en limpistol. Det är lätt att bränna sig när man använder en limpistol. Ett tips är att ha ett glas kallt vatten när till hand. Då kan brända fingrar, stora som små, snabbt svalkas av. För att få ihop Frejas bokstäver fick vi hjälpas åt, och vi fick båda doppa fingrarna i vårt vattenglas. När bokstäverna är klara fäster ni dem på en träbräda eller kartongbit. Vi använde en bräda som blev över från vårt kreativa pussel. / Glued the letters together with a glue gun. It's easy to burn fingers when using a glue gun. It's a good idea to have a glas of cold water at hand. Then the burnt fingers, large and small, can rapidly cool off. To glue together Freja's letters, we had to help each other, and we both had to dip our fingers in the water. When the letters are done you attach them to a wooden board or a piece of cardboard. We used a board that was left over from our creative puzzle.
Namnskylten är färdig och konstnären nöjd. Sugrör är ett billigt pysselmaterial men många funktioner. Kolla även in våra tidigare sugrörspyssel – födelsedagskort, granar, hoppbanan och våra monogram. / The nameplate is done and the artist happy. Straws are inexpensive as craft material and can be used for many things. Check out our previous paper straw crafts – birthday cards, trees, a jumping arena and monograms.