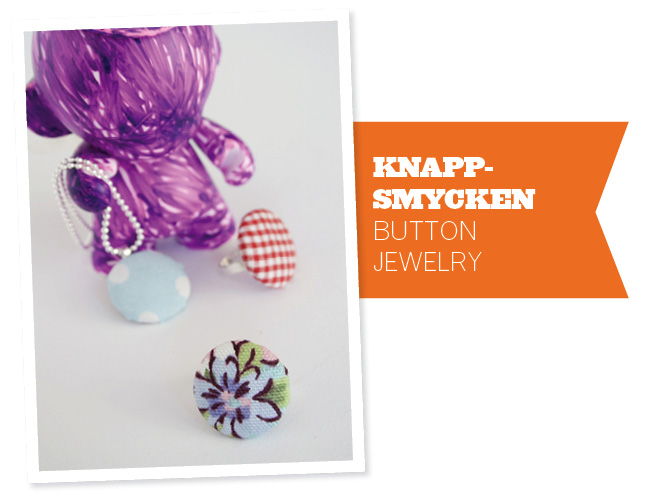 Att klä knappar med tyg är ett lätt och roligt sätt att piffa upp sina gamla kläder. De klädda knapparna är också roliga att göra annat av, till exempel smycken. Idag gör vi ringar och halsband av våra klädda knappar. / To cover buttons with fabric is an easy and fun way to spruce up old clothes. Fabric covered buttons are also fun to do other things with, jewelry for example. Today we make rings and necklaces of our fabric covered buttons.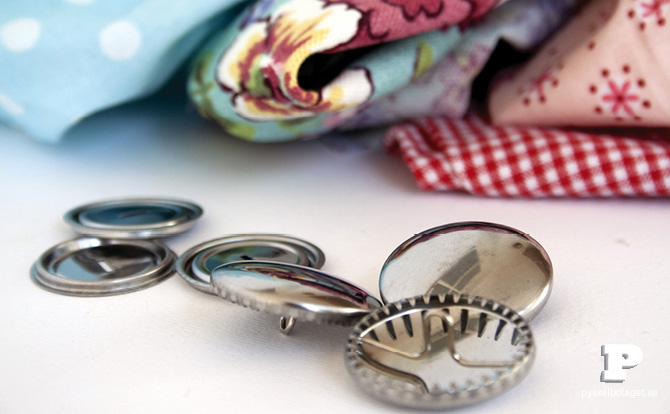 Ni behöver tyg, sax, nål och tråd, klister samt metallknappar att klä. Vi har köpt våra här. / You will need fabric, scissors, needle and thread, glue and metal buttons to cover. We bought our here.
1. Metallknappen består av två delar, en som täcks med tyg och en som blir baksidan av knappen. Börja med att klippa en tygbit som är större än framsidesdelen. / The cover button consists of two parts, one that is to be covered with fabric and one that becomes the back of the button. Cut a piece of fabric larger than the front side button.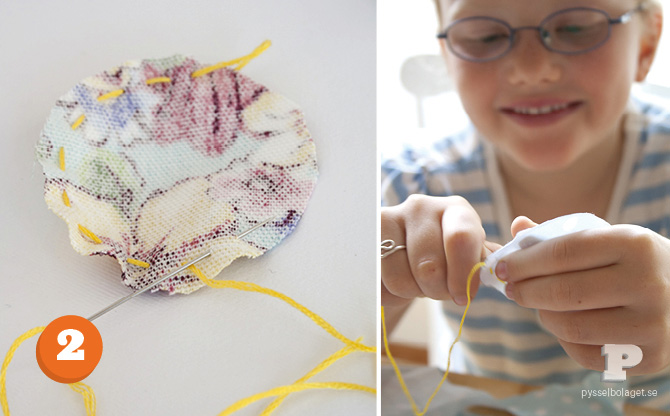 2. Sy sedan en söm runt ytterkanten av tyget… / Sew a seam around the outer edge of the fabric …
3. … och dra åt kring metallknappen. Tryck sedan fast baksidan av knappen, då hamnar knut och resttyg på insidan. Lätt och smart! Man kan få ta i när man trycker ihop knapparna. Tur att Freja är stark. / … and tighten it around the metal button. Press on the back side button, and the knot and fabric edges will be safely covered. Simple and smart! You might have to work a bit to get the button parts together. Lucky for me Freja is strong.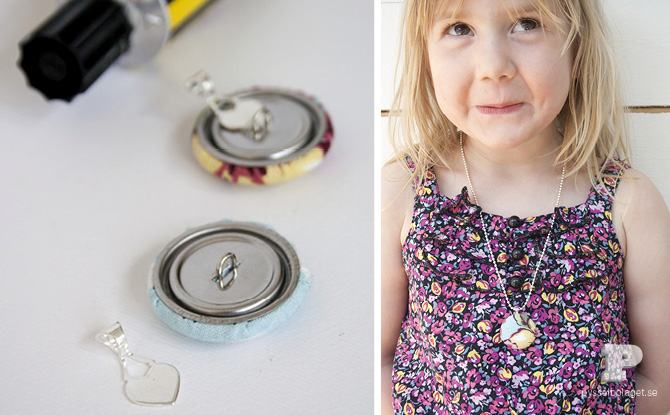 Nu är knapparna färdiga att göra smycken av! Klistrar ett bakstycke på knapparna och vips – så har vi ett halsband till Lisa. / Now the buttons are ready to be turned into jewelry! Glue a pendant setting on to a button and voilà – a necklace for Lisa is made.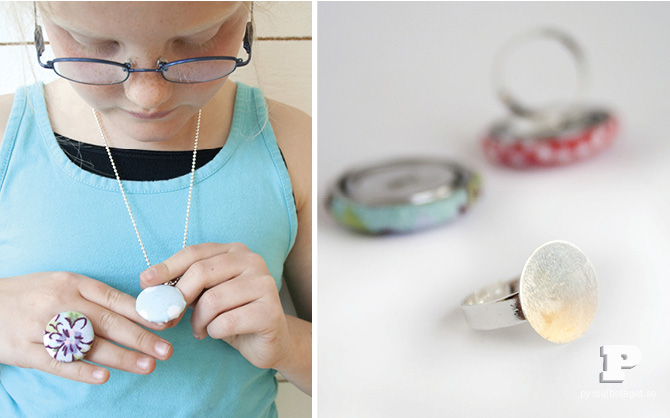 Tar man bort öglan på baksidan av knappen och klistrar knappen på en ringstomme, så blir det en fin ring. / Remove the loop on the back of a button, and glue the button to a ring frame, and the button is turned into a nice ring.
Smyckena är lätta och roliga att göra. Vi använde små tygbitar av älskade tyger som tidigare använt till prinsessklänningar i olika storlekar. Något säger mig att klänningarna inte kommer att användas så mycket längre, men tygerna lever vidare i våra smycken. Vad skulle du helst göra ett smycke av? / The jewelry is easy and fun to make. We used small pieces of loved fabrics, previously used to make princess dresses in various sizes. Something tells me that the dresses will not be used as much anymore, but the fabrics live on in our jewelry. What would you make your jewelry from?