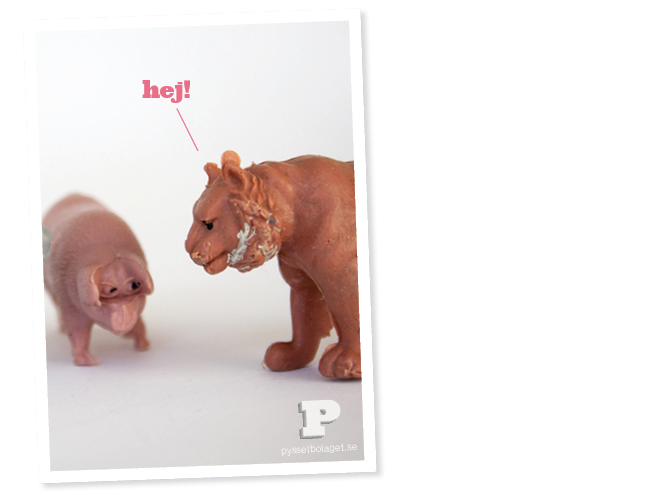 We think it's so fun to find new uses for old toys. Today we make nice pendants of those uglies.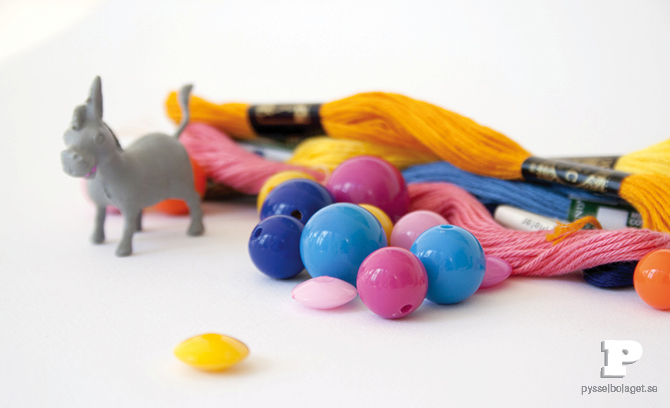 You need plastic animal, yarn, beads, and a drill.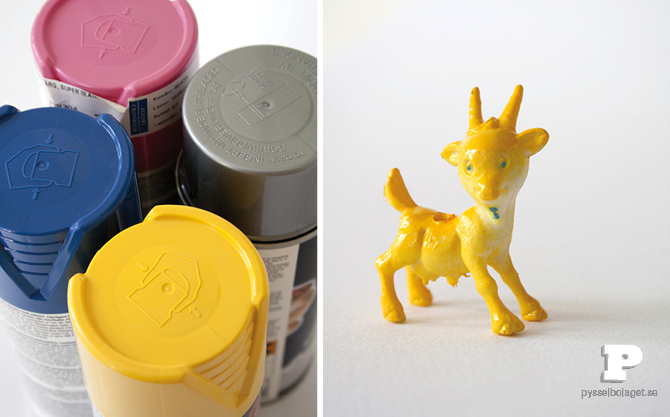 You also need to spray paint.
We get some questions about spray paint and what we use for the type of paint. We buy our color in our local paint store and all the colors do not cover super. One must either spray many times or be content with the show through a bit. When one takes care of the children usually patience running out quickly so we content ourselves with color covers almost everything. Little impact is just charming!
We've said it before but it bears repeating: the color is very difficult to remove so do not spray on surfaces you're afraid of. The paint also smells very strong and the best thing is to stay outdoors when you use it. Read the color of the can instructions before you start.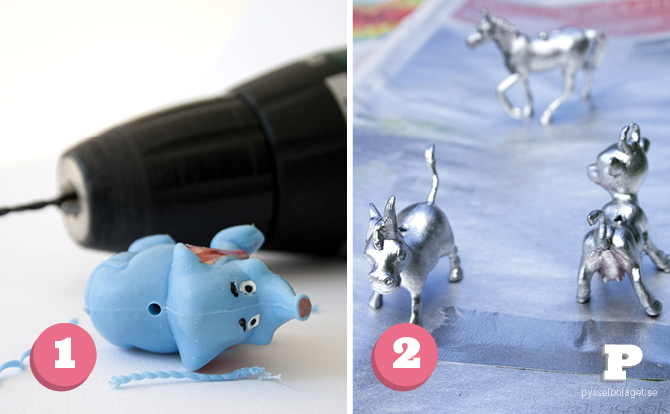 1. We begin today's craft by carefully drilling holes in place the animals. Make a small hole with a hammer and nail first so linters not drill. 2nd Then we go on with spray paint!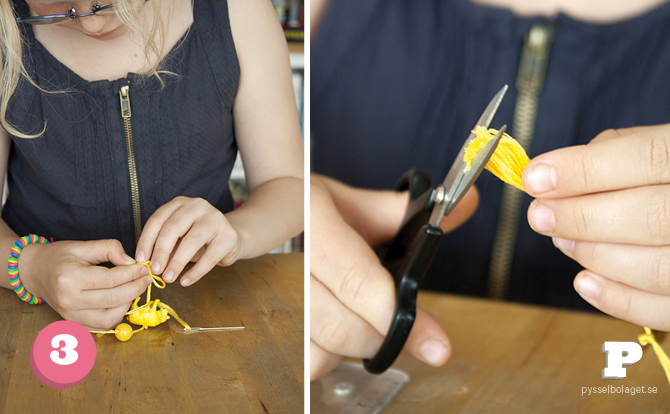 3rd The idea is to make it small pendants with animals and beads. Take a piece of yarn of any length, the yarn will be double. Wood then beads and animal and finish with a bench seat.
4th Something like this had we imagined.
5th As you can see the yarn twice, we have alternated pearls and animals with knots that hold them in place. 6. We conclude with a tassel. Do you want to see how to make small, simple tassels we have described on these here .
How great was our pendants!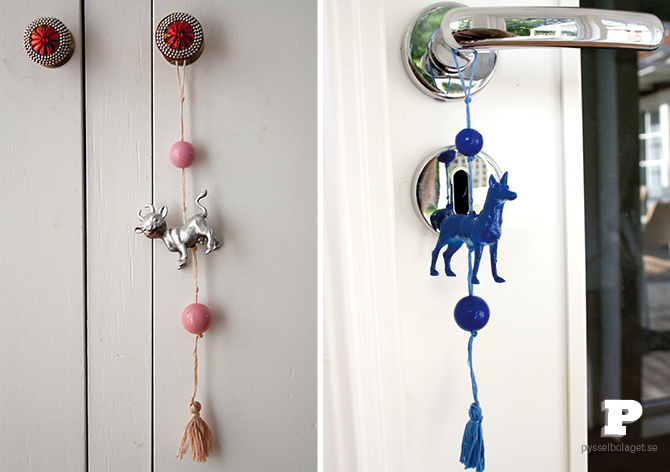 Little bull may adorn dolls house and the dog ends up on the office door.
Do you want more ideas on what to do with old toys? Check out our toy lamp , småburkarna , beach game and animal hooks .
Craft Company

Crafting together is fun. Here are simple fun crafts that do not require much knowledge, equipment or time. Crafts Company is comprised of Freya, who is 9 years old, and Freya's mother Karin, who is in his prime. Read more about us here.

-------------

Crafting together is fun. Here you find crafts That do note The require a lot of knowledge, equipment or time That both kids and parent will have great fun creating. We are Freya, 9 years old, and Freya's mom Karin who is in her prime and constantly Improving.

Copyright

Crafts Company cooperates with other blogs and media. You may borrow a few photos to your blog but always reveal the source, link to Pysselbolaget.se and keep our mark on the pictures. We do not allow use of the entire descriptions, linking instead to the blog. If you use our photos please send an email to us (at) crafts company (dot) se.

If you want to use our content for commercial purposes please contact us.

-------------

Crafts Company loves to Collaborate with other blogs and media. You are welcome to use one or two photos, but please always mention the source, link to Pysselbolaget.se and do not remove the watermarks from the pictures. We do not allow Unauthorized use of full tutorials / blog posts, link to the blog instead. If you are using a photo for your blog please notify us by e-mail us (at) crafts company (dot) com.

If you want to use any material commercially contact us prior to use.