[slideshow_deploy id='3041′]
Vi närmar oss höst och halloween. Då kan vad som helt hända. Idag förvandlar vi vanliga mjölkpaket till hiskeliga halloweenhus. Häng med om du törs!
———
We are approaching autumn and Halloween. It's the time of year when anything can happen. Today, our milk cartons will be turned into haunted Halloween houses. Check it out – if you dare!
Ni behöver ursköljda och torkade mjölkförpackningar, svart hobbyfärg, sax och en nål. Ni behöver också värmeljus och ljushållare i glas.
———
You need rinsed and dried milk cartons, black hobby paint, scissors and a needle. You also need tealights and candle holders in glass.
1. Först målar vi mjölkförpackningen i svart! När färgen torkat klipper vi kartongen som ett hus. Vill ni göra ett hus precis som vårt finns en mall att ladda ner här.
———
1. First we paint milk carton black! When the color is dry, we cut the carton as a house. If you like to cut a house just like ours, you can download a template here.
2. Använd nålen och tryck försiktigt hål på kartongen. Ni kan trycka hål enligt ett eget mönster eller bara slumpvis. Se till att akta fingrarna, vi vill inte se blod redan.
———
2. Use the needle and gently punch holes on the black. You can punch hole in pattern or just random. Mind your fingers, we don't want to draw blood already.
3. Även om mjölkförpackningen är behandlad på insidan är det fortfarande gjord av papper. Ställ därför inte värmeljus direkt i mjölkförpackningen. Använd en ljushållare i glas eller ett vanligt glas att ställa värmeljuset i.
———
3. Although milk cartons are coated on the inside, they're are still made ​​of paper. Therefore don't put the tealights directly in the milk carton. Use a candle holder in glass or a plain glass to the tealights in.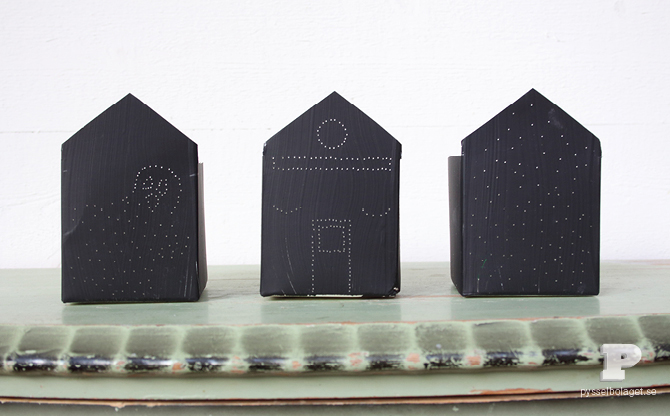 På dagen syns inte våra mönster så tydligt…
———
During the day the patterns doesn't show …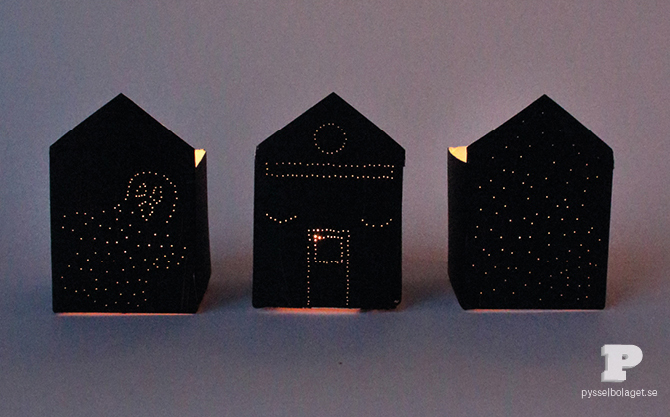 … men när ljusen tänds på kvällen lyser det genom hålen på husen.
———
… but when the tealights are lit at night, it glows through the holes in the houses.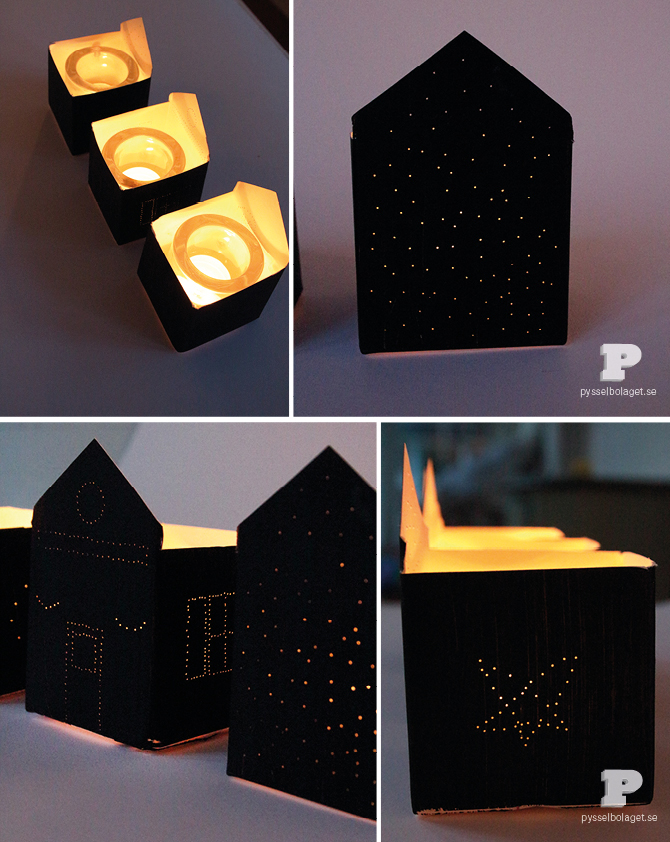 Ha en rysligt härlig halloween!
———
Have a frightfully delightful Halloween!