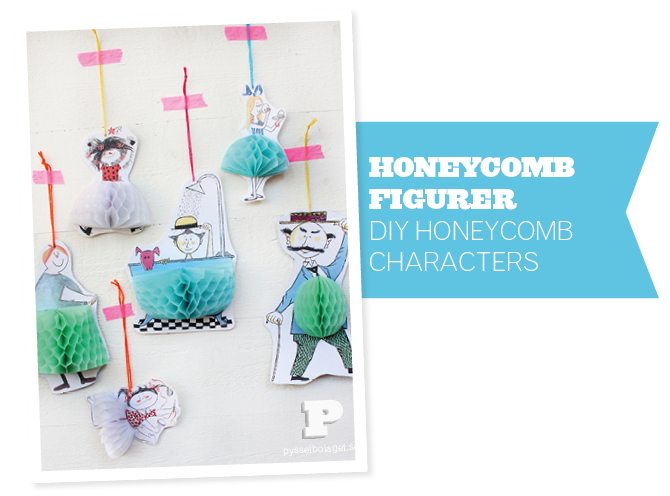 I Sverige är pappersbollar i honeycomb papper väldigt populära. Överallt på bilder och i affärer syns de vackra skira pappersbollarna. Illustratören Ingela P Arrhenius har gjort ljuvliga figurer med honeycomb detaljer. Vi vill förstås gärna göra egna figurer, men vad gör man om man inte kan rita? Varför inte klippa ut!
———
In Sweden honeycomb balls are very popular. You see the beautiful delicate paper balls everywhere, in pictures and in shops. The illustrator Ingela P Arrhenius has made lovely characters with honeycomb detail. We, of course, want to make our own characters, but what if you can't draw? We're using scissors instead!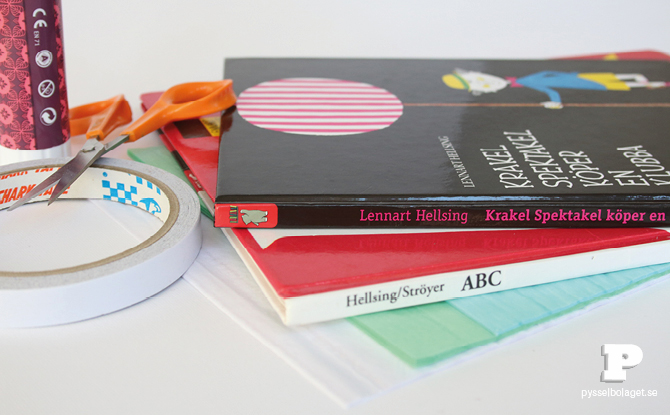 Ni behöver bilder av figurer som ni gillar. Vi har valt att använda några älskade figurer ur barnens bilderböcker. Ni behöver också honeycomb papper, också kallat dragspelspapper, sax, klister och dubbelhäftande tejp.
———
You need pictures of characters that you like. We have chosen to use beloved characters from the children's picture books. You also need honeycomb paper, scissors, glue and double sided tape.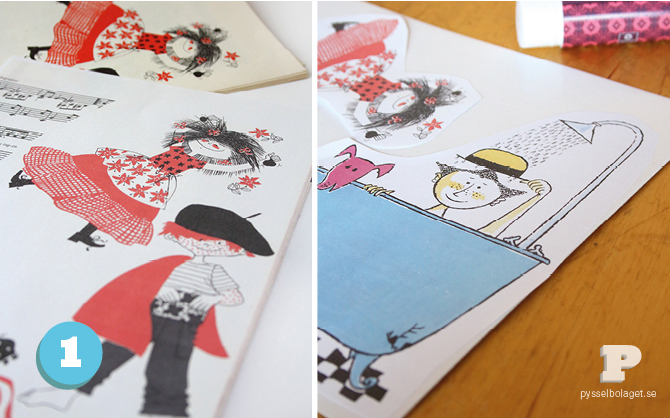 1. Börja med att klippa ut, eller kopiera och klippa ut, de figurer ni vill använda. Tänk på att figurerna ska ha en bra yta att sätta en boll eller en kjol på. För att figurerna ska blir stabila så klistrar vi dem på bitar av kartong.
———
1. Start by cutting out, or copy and cut, the characters you want to use. Keep in mind that the characters need a good surface to put a honeycomb on. To make the paper characters more stable, we paste them on to pieces of cardboard.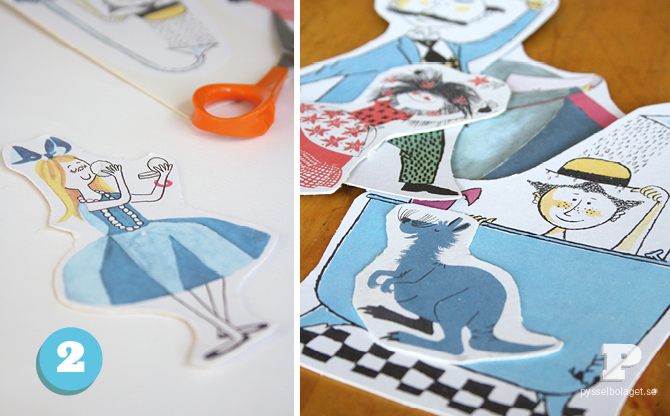 2. När klistret torkat klipper ni ut dem ur kartongen. Man behöver inte var så noga, det gör ingenting att det är en vit kant kvar runt figuren.
———
2. When the glue has dried cut your characters out of the cardboard. Don't cut too close to the drawing, it doesn't matter if there is a white border around the characters.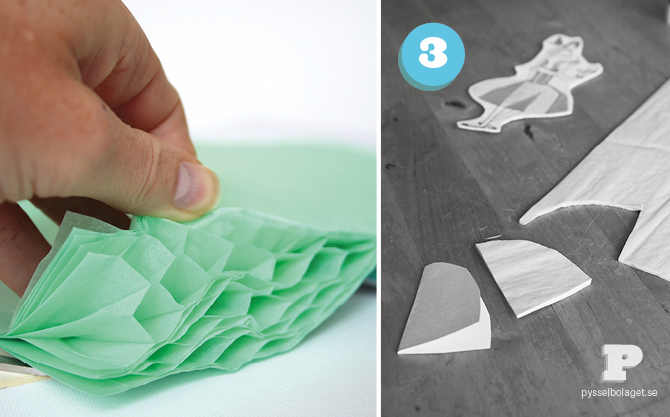 3. Nu är det dags att klippa i honeycomb pappret. Pappret har två riktningar. Se till att ni klipper med pappret i rätt riktning. Gör en mall av ett vanligt papper, så att ni ser att mallen täcker den yta ni vill klä. Vik mallen dubbel och klipp ut formen i honeycomb papper.
———
3. Now it's time to cut the honeycomb paper. The paper has two directions. Make sure you cut the paper in the right direction. Make a template of a plain paper, so that you can see that the template covers the area you want to dress. Fold the template and cut out the shape in the honeycomb paper.
4. Honeycomb detaljen fäster ni sedan lättast med bitar av dubbelhäftande tejp. Tejpa först fast den ena sidan, och vik sedan försiktigt upp och fäst på den andra sidan.
———
4. Attach the honeycomb shape to your characters with pieces of double sided tape. Attach one side first, and then gently fold up and attach the other side next.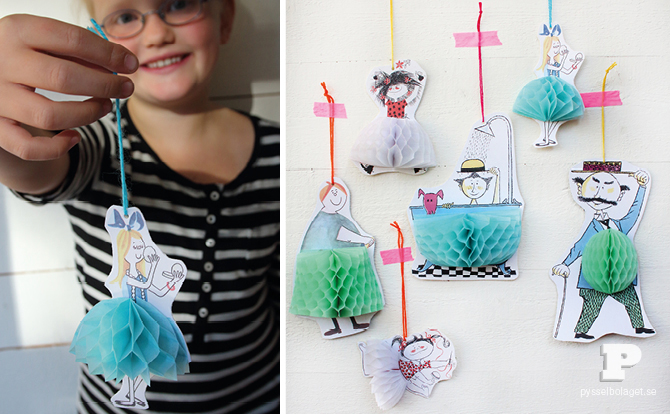 Ballerinan har fått en ny kjol! De andra figurerna är också dekorerade.
———
The ballerina has a new skirt! The other characters are also decorated.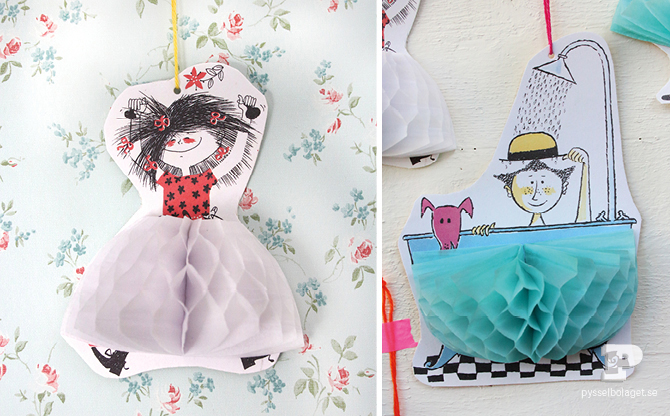 Figurerna hänger nu på väggarna i olika rum, alla utom kängurun. Den fick toppa en kaka istället!
———
The characters now hang in different rooms – all except kangaroo. It has been used as a cake topper instead!