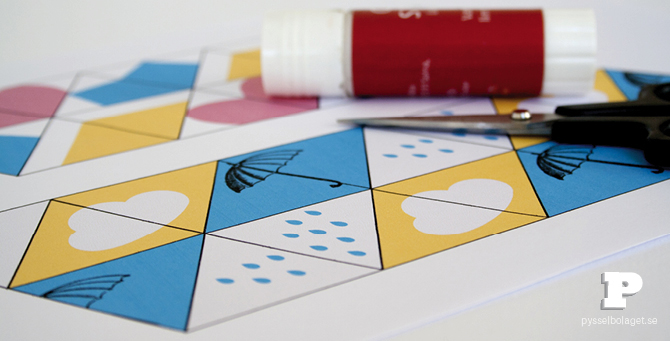 Summer is here and we are starting to prepare for the summer holidays. Hopefully it will be a sunny summer, but what if it rains all summer? Here's a suggestion.
You will need scissors, glue and a flexagonmall. You can print our in   This color and black / white here . You also need a great deal of patience.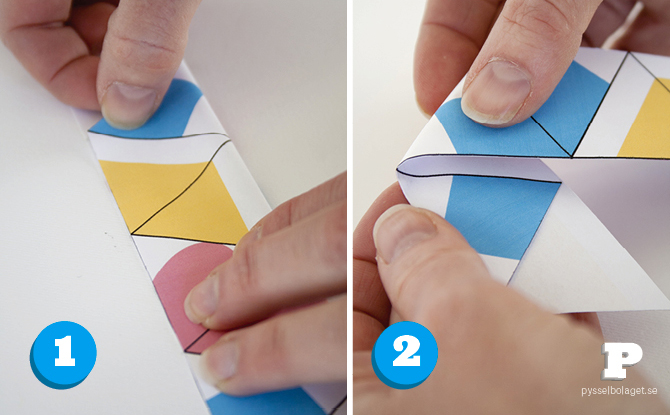 1. To fold a flexagon needs to be accurate. In order to better comply with the instructions, we suggest you cut out the flexagon as shown in the photo. When you cut it out, put glue on one side and fold it so that you have a long strip of paper with patterns on both sides.
2nd Now begins the fold. Be sure and keep your tongue in your mouth now. Hold the strip so that the outer triangle is white and triangle number two is blue. Now makes a fold forward, after the blue triangle, so that the blue pattern emerging from the other side.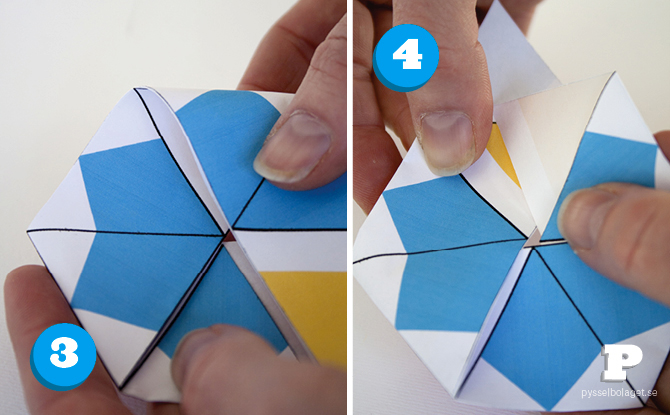 3rd The next bay is the next blue triangle pairs. Again, you fold over the paper so that the blue pattern from the other side will arrive. Are you with me?
4th The next threesome after the blue will now be yellow. Emphasize the white triangle at the beginning of cardboard strip in front of the yellow.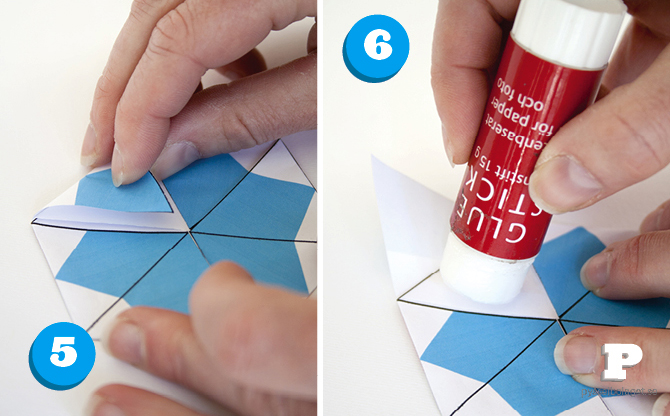 5th If everything is correct, you should now be able to fold over the protruding triangle and it will then be blue ...
6. ... And it will be glued on the white. Be careful lest you get glue all over the triangle.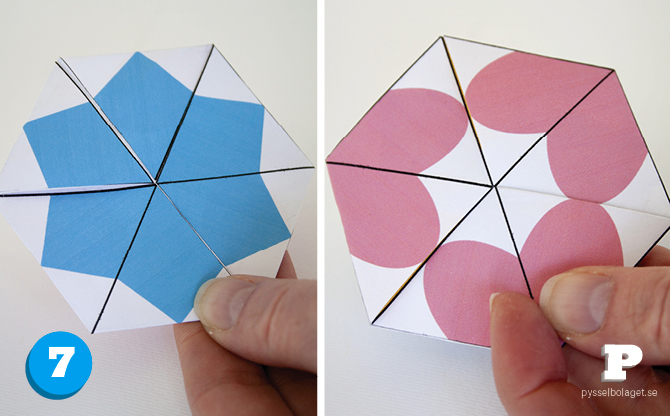 7. The finished result should now look like this, blue on one side and pink on the other. Hope your well, it is!
8. To our flexagon to be smooth, we now need to fold the edges. Make a proper bay along one of the lines, then unfold out and repeat along all lines.
9. Now, three of the edges folded in, so flexagonen becomes an arrowhead like the picture, but for it to work their edges folded down to be "whole", that is without a joint, and the edges sticking up must have an opening. When flexagonen is weight on the blue screen, carefully open it from the tip ... until the yellow image.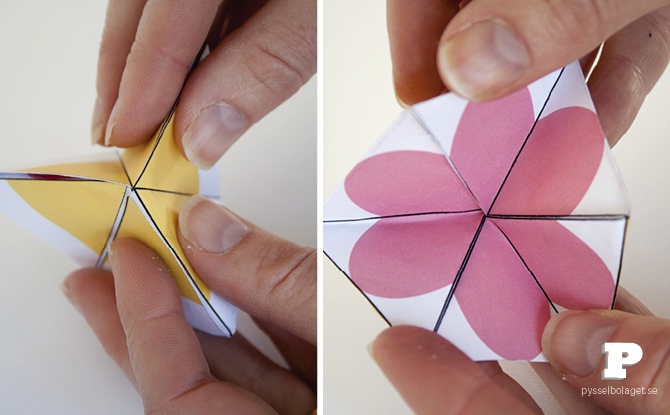 Squeeze the yellow an arrowhead and unfold ... the pink.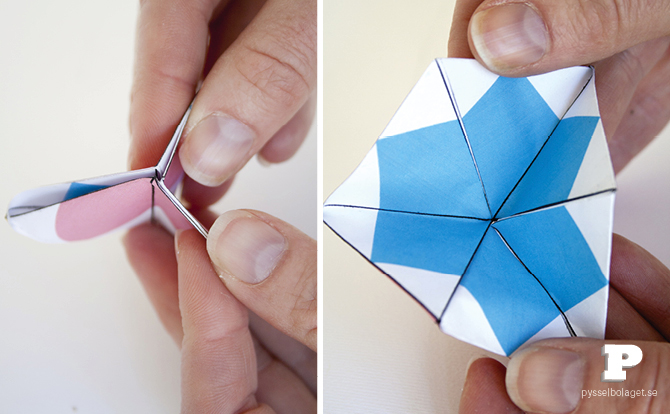 Squeeze the pink to the arrowhead and flexagonen turned blue again. Check this out!
Magical, is not it! Do you think that our instructions were difficult to follow, we can recommend this link on youtube. More patterned flexagoner from industrious crafter you get if you are looking for a fantastic online. Good Luck!
Craft Company

Crafting together is fun. Here are simple fun crafts that do not require much knowledge, equipment or time. Crafts Company is comprised of Freya, who is 9 years old, and Freya's mother Karin, who is in his prime. Read more about us here.

-------------

Crafting together is fun. Here you find crafts That do note The require a lot of knowledge, equipment or time That both kids and parent will have great fun creating. We are Freya, 9 years old, and Freya's mom Karin who is in her prime and constantly Improving.

Copyright

Crafts Company cooperates with other blogs and media. You may borrow a few photos to your blog but always reveal the source, link to Pysselbolaget.se and keep our mark on the pictures. We do not allow use of the entire descriptions, linking instead to the blog. If you use our photos please send an email to us (at) crafts company (dot) se.

If you want to use our content for commercial purposes please contact us.

-------------

Crafts Company loves to Collaborate with other blogs and media. You are welcome to use one or two photos, but please always mention the source, link to Pysselbolaget.se and do not remove the watermarks from the pictures. We do not allow Unauthorized use of full tutorials / blog posts, link to the blog instead. If you are using a photo for your blog please notify us by e-mail us (at) crafts company (dot) com.

If you want to use any material commercially contact us prior to use.