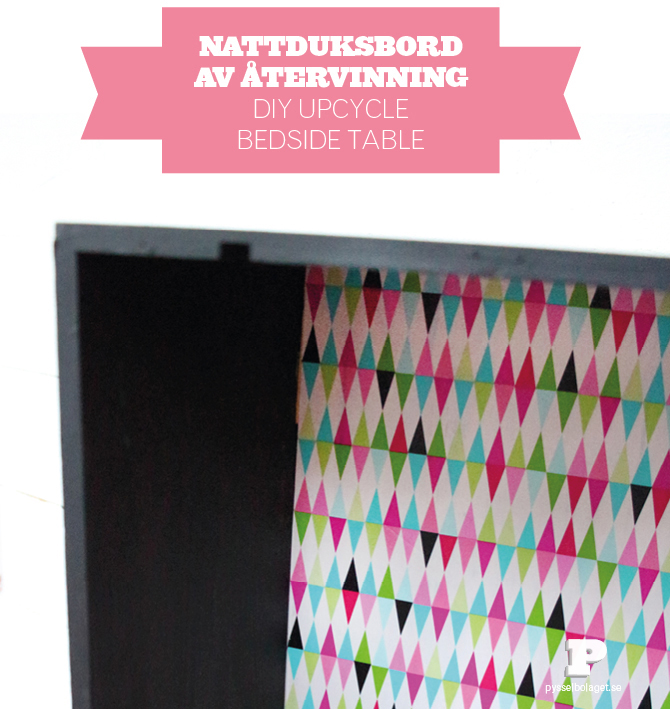 Ni som följer oss vet att vi gärna återanvänder saker vi hittar hemma. Idag återvinner vi en gammal trälåda och förvandlar den till ett nattduksbord år Freja.
———
Those of you who follow us know we are happy to re-use things we have at home. Today we upcycle an old wooden box and turn it into a bedside table for Freja.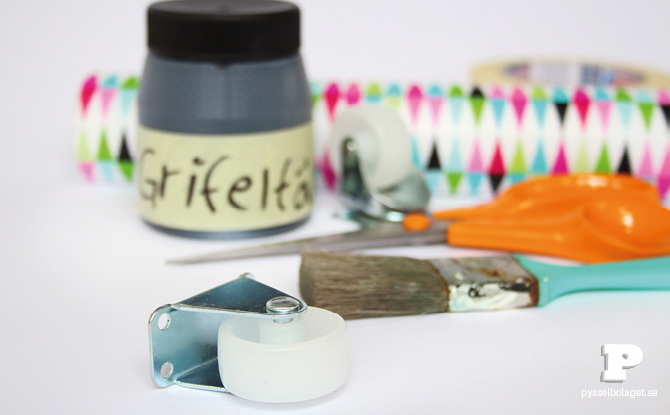 Vi har använt en vinlåda i trä, griffeltavelfärg, maskeringstejp, pensel, sax, självhäftande papper och hjul.
———
We used a wine crate, blackboard paint, masking tape, a paint brush, scissors, adhesive paper and two set of wheels.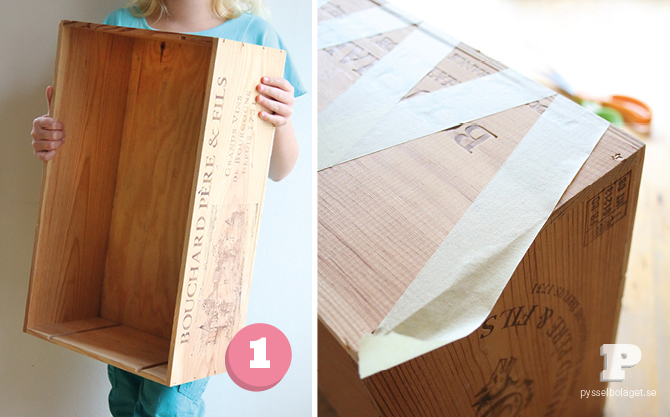 1. Vi börjar med att måla mönster på lådan. Lådan är fin även omålad, så vi lämnar vissa partier som de är. Vi använder tejpen för att maskera av de områden vi vill skydda.
———
1. We begin by painting the box. The box is beautiful even unpainted, and we leave some areas unpainted. We use the tape to mask the areas we want to protect.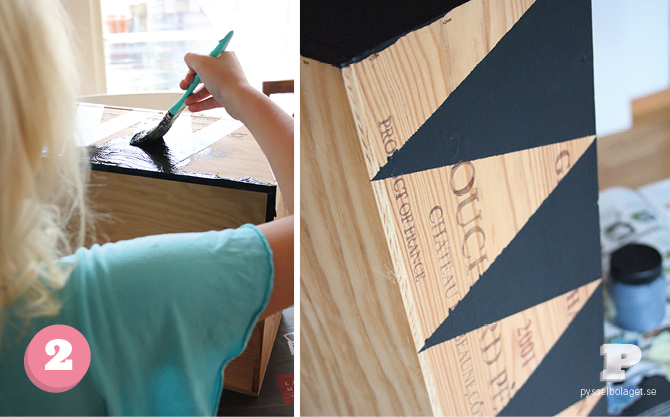 2. Måla sedan lådan. Freja har valt en griffeltavelfärg, så att hon sedan ska kunna rita på lådan om hon vill. När färgen torkat drar ni bort tejpen.
———
2. Then paint the box. Freja has chosen a blackboard paint, that way she can later draw on the box if she wants. When the paint is dry, we pull off the tape.
3. Botten på lådan klär vi med ett självhäftande papper vi använt tidigare. Kanske ni känner igen det från klockan vi gjorde förra veckan. Ni kan också använda bitar av tapet eller fina presentpapper. Skruva sedan fast hjulen.
———
3. We dress the bottom of the box with a self-adhesive paper. Maybe you recognize the paper from the clock we did last week. You can also use pieces of wallpaper or gift wrapping paper. Then attach the wheels.
En överbliven trälåda är nu ett fint nattduksbord.
———
A leftover wooden box is now a fancy bedside table.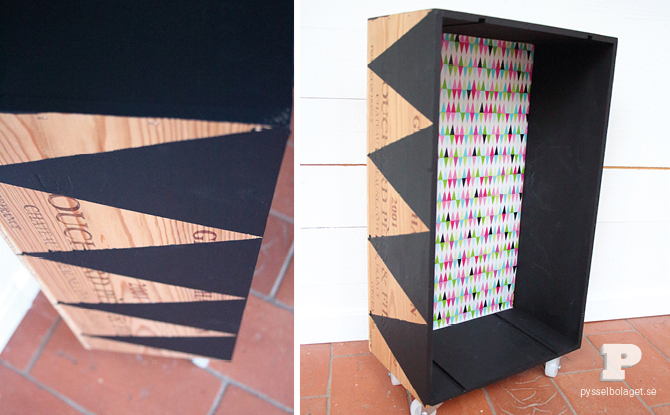 Vad hittar ni för smarta pysselmaterial i er återvinning? Har ni något bra tips att dela mer er av? Hör gärna av er till oss!
———
What clever craft materials can you find in your recycling bin? Do you have any good tips you like to share with us ? Please write to us!