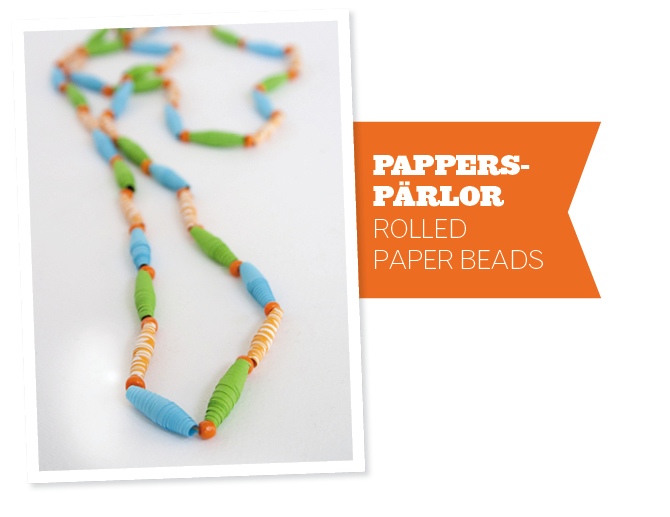 Att göra papperspärlor är något som jag länge velat prova. De pärlor jag sett är så fina och det såg inte så svårt ut. Kolla till exempel på de färgglada pärlorna Kate på bloggen Minieco gjort, Mormorsglamour-Helenas pärlor gjorda av tidningspapper eller Emmas helt vita på bloggen Design and form. Visst blir man sugen på att testa! / Making paper beads is something I long wanted to try. The beads I've seen are so lovely and it doesnt look too difficult . For example, check out the colorful beads Kate on the blog Minieco has made, Mormorsglamour-Helenas beads made of newsprint or Emma's all-white on the blog Design and form. It should make you want to try!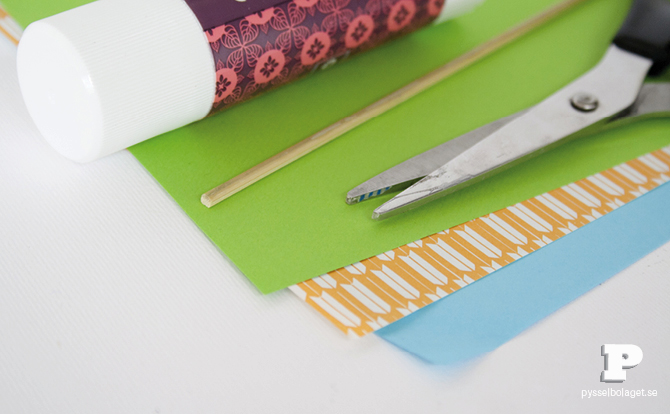 Ni behöver papper, mönstrat eller enfärgade, sax, klister och en pinne eller ett sugrör att rulla pärlorna kring. / You need paper, patterned or plain, scissors, glue and a stick or a straw to roll the beads around.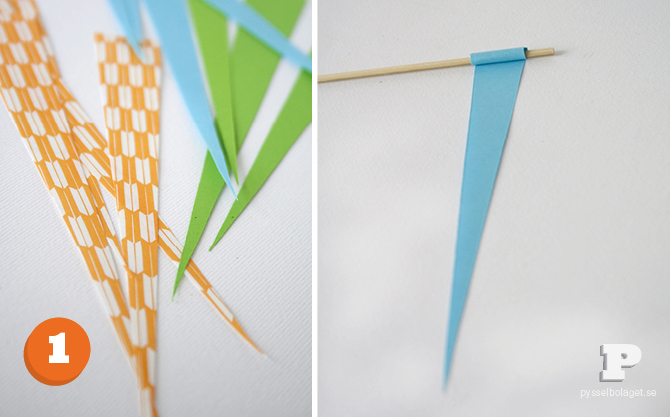 1. Börja med att klippa till avlånga trekanter. Man får olika form på pärlorna beroende på hur man klipper sina trekanter. Våra är 15×2 cm och blir långsmala. Rulla sedan pappret runt en pinne eller sugrör. / Start by cutting elongated triangles. You get different shape beads depending on how you cut your triangles. Ours are 15×2 cm and they make elongated beads. Roll the paper around a stick or straw.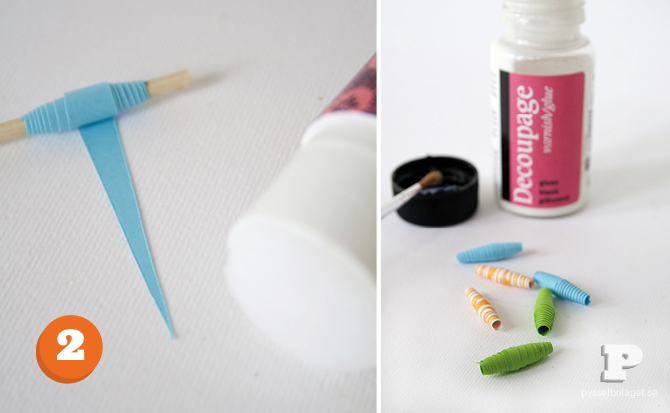 2. Sätt klister på den sista biten och rulla ihop trekanten helt. Vi valde att även lägga på ett skyddande lager lack. Pärlorna är stabila, men gjorda av papper, och det är skönt att veta att de tål ett försiktigt regn. / Add some glue on the last piece and roll up the triangle completely. We chose to also add a protective layer of varnish. The beads are stable, but made ​​of paper, and it's nice to know that they can withstand a gentle rain.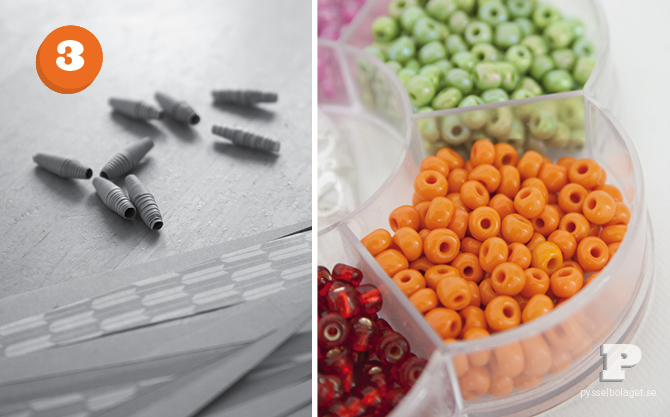 3. När pärlorna har torkat är det bara att sätta ihop dem! Vi gör halsband med en liten glaspärla mellan varje papperspärla. / Once the beads have dried, just put them together! We made a necklaces with small glass bead between each pearl paper.
Så här fint blev de! Det var inte svårt att göra papperspärlor men det tog oss lite tid. Ett utmärkt pyssel på en regnig sommardag, med andra ord. / This is how good they turned out! It wasnt difficult to make paper beads, but it took us a little time. In other words – an excellent craft on a rainy summer day.